At first sight, Roscoe's Smokehouse in Burleson seemed to violate so many rules of Texas barbecue that I almost didn't go in. The lawn is well manicured, the building looks like it's never been condemned, and the sign outside still lights up. But since I had made the trip all the way from the Fort — and since I'd heard that Roscoe's co-owners, Scott Noojin and Blair Pearce, have impressive 'cue pedigrees — I made my way inside.


Noojin and Pearce were once pit masters at North Main BBQ, a Euless barbecue joint know for its award-winning ribs and eccentric business practices. (The place is open only two days a week, and for the really good ribs, you have to know to ask for the ones "hidden" behind the counter.) Roscoe's co-owners (who, for the record, once worked for the Weekly) had always dreamed of opening their own place: The seven-month-old Roscoe's represents their inaugural foray into small-business ownership. And by the quality of their fare, they should be around for a while.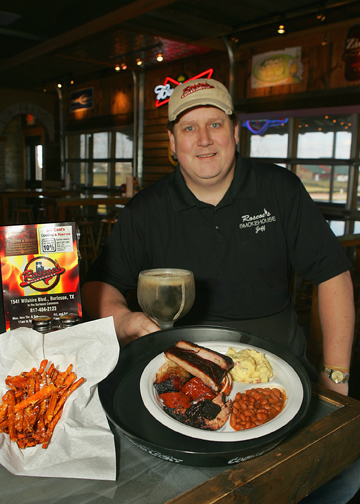 The inside of Roscoe's is more like what you would expect from a chain barbecue joint: concrete floor, galvanized tin trimmings, lots of wood trim. Oh, well. Maybe not all barbecue joints have to look as if they've burned down and been rebuilt at least twice to have good food.
Luckily, I stumbled into Roscoe's on all-you-can-eat Wednesday. Waiting in the cafeteria-style line, I watched as another North Main alumnus behind the counter loaded up my plate with an absurd amount of pulled pork, chicken, ribs, and brisket.
Good barbecue should have a smoke ring: a pink layer just below the surface of the piece of beef or pork. No smoke ring means your meat wasn't cooked in a real smoker and also means no delicious charred flavor. Roscoe's brisket, pork, and ribs all had solid smoke rings — definitely a good sign.
Texas barbecue is dominated by brisket, and Roscoe's does a pretty decent job of it: a bit leaner than I like but juicy and neither brittle like an overdone pot roast nor dried-out like shoe leather. In Roscoe's smoker, you'll always find a thin, bark-on species of hickory wood, which produces a charred flavoring that's not too acrid, and the cooks pull the brisket out at just the right temperature, maintaining moistness. The perfectly smoked meat was tender enough to cut with a fork but not stringy or liable to just fall apart. The sauce — served warm on the side — had just the right amount of spicy bite. It wasn't overly sweet, either, allowing the hickory flavors of the meat to stand out.
Even if you're not dieting, the smoked chicken breast is a must-order. Phenomenal. Not dried out or bland, the bird was just right: tender, smoky, and juicy. Don't pass it up unless it's to save room for more ribs.
North Main is known for its "Sauce and Toss" ribs — after spending a few hours in the smoker, the ribs are mopped with sauce and "tossed" on the grill. Finishing them this way yields a nice caramelized crust on the surface. The end result is a tender rib with a smoky, sweet flavor that doesn't overpower the slightly salty natural flavor of the meat. I asked one of Roscoe's co-owners if his are as good as North Main's, and he said they're the same. They're both St. Louis cuts, meaning that they're spare ribs with the tips removed. It's a more expensive cut, but it's worth it, as Roscoe's succulent ribs proved.
The only average offering at Roscoe's was the pulled pork, perhaps because it's much more of a Southern barbecue thing than Southwestern. Roscoe's was tender and juicy enough but not as flavorful as any of the other items I tried.
Roscoe's serves traditional sides: beans, potato salad, coleslaw. Nothing really stood out. The only side that rated an A-plus was the batch of sweet potato fries. (Roscoe's, unlike most barbecue joints, has a deep fryer and ain't afraid to use it.) Dessert is limited to cookies and peach cobbler with ice cream. More items will be added soon.
Don't let Roscoe's new building and non-worn-in appearance fool you. The place has an old soul.
Roscoe's Smokehouse
1541 SW Wilshire Blvd, Burleson. 817-484-2123.
11am-9m Sun-Thu, 11am-10pm Fri-Sat.
All major credit cards accepted.