If you like watching large muscular men slam each other to the ground, mark Nov. 28 on your calendar. You'll be able to attend two events answering that description, and at the second you can even do some good.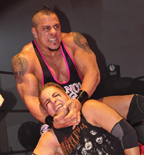 At 5pm, Cowboys Stadium hosts a Big 12 South college football clash between Baylor and Texas Tech. Of course, this would be a bigger affair if Baylor weren't anchored to the foot of the standings or if TCU weren't currently outplaying just about everyone in the country. Then again, the Horned Frogs' home game this week is against hapless New Mexico, so where's the entertainment value there? Baylor-Tech will give you the chance to cheer on Tech's high-rolling innovative offense or boo the school's annoyingly self-aggrandizing coach Mike Leach.
After the final whistle has sounded, you can make it to the Ridglea Theater for Victory Crown Wrestling's first pro bout at the venue. Even non-fans of pro wrestling might enjoy the live music by Skard Soul and Suicide Opera, and everybody can contribute to a holiday toy drive for Cook Children's Hospital, run in conjunction with Austin's irresistibly named Hearts and Headlocks. The holiday season is the time to remember the less fortunate, and the pro wrestling kicks are just gravy.
Baylor vs. Texas Tech kicks off at 5pm at Cowboys Stadium, 1 Legends Way, Arlington. Tickets are $40-100. Call 214-373-8000.
Victory Crown Wrestling starts at 8pm at Ridglea Theater, 6025 Camp Bowie Blvd, FW. Tickets are $10-14. Call 817-983-9725.