For years, Fort Worth sisters Adrea Deems and Shelley Wright cooked, packaged, and distributed by h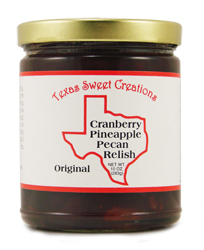 and a holiday cranberry relish that made friends and family salivate. But it was only last year that the sisters finally realized they had a small-business opportunity on their hands. In 2008, after digging deep into their savings, Deems and Wright founded Texas Sweet Creations.


After preparing a batch for sampling, the sisters, both near 60 and retired, talked their way into a tasting appointment with Central Market — and quickly gained a first and very important client. Texas Sweet Creations' products are available at all eight Central Market locations in Texas.
Sweet Creations' numbers from last year are pretty impressive. The sisters spent hundreds of hours in the kitchen, cooked up 2,400 jars of relish, did dozens of in-store promotions all over the state, and then sat down and tallied up the numbers. The sisters had sold every jar — at $4.99 a pop.
After working for about 40 years as an American Airlines flight attendant, Deems did not foresee spending her retirement lugging cranberry relish all over the Lone Star State. The experience has been fulfilling nonetheless. "It's very rewarding, although exhausting, to travel all over the place at our age and work these long hours," she said. "But at the end of the day, when we think about all the compliments and see all the jars disappearing, it's worth every minute."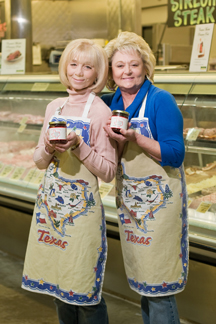 Wright previously worked at the Humane Ranch of Houston and appears to be as passionate about cooking as she is about animal rights. "Animals or people – it makes me feel good to help," she said. "I really enjoy the looks on people's faces when they taste something truly delicious."
The sisters' cranberry relish is not the gelatinized, cylindrical abomination commonly called cranberry sauce. Theirs includes pineapples, pecans, and raisins and a proprietary blend of spices. The texture is delicate but not dainty, and the flavor is powerful: sweet, tart, and smooth, with the raisins exploding like little flavor bombs. The relish comes in two flavors: regular and chipotle.
Like most similar products, Texas Sweet Creations' relish sells best around Christmas. But theirs is available throughout the year. To keep sales going year-round, the sisters are marketing their product as a tasty and stylish general condiment. With reason: Their product is just as good — if not better — on a plain cracker as any other fancy topping and can make even the plainest turkey sandwich taste magical. Versatility will be key to Texas Sweet Creations' future.
Deems and Wright also are planning on selling their relish via a web site that's currently under construction.
"No matter what happens in the future, we already feel like we're a success," Deems said. "This was a recipe we made for friends, family, and fun. To market it and realize that people from all over Texas really like it and buy it has been extremely rewarding. We're proud of each other, and we're proud of the product."