Los Hombres Mexican Café sits in the spot where Tunero Mexican Cuisine used to be. It's on an enviable corner near the southern end of the North Side, next to the fortune teller/psychic who promises to take the curse off your lover. A friend I invited along almost couldn't contain his excitement. Apparently he loved Tunero's cheap lunches, served in a room with a wide view of the non-Billy Bob's part of North Main Street. Los Hombres even has the same phone number as his late, lamented favorite, although it's not owned by the same folks.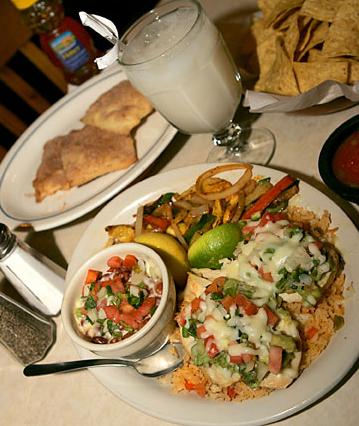 The first clue that you're not in Tunero anymore may be the handwritten "BYOB" sign in the window. Los Hombres folks are planning to make use of their teeny bar space but don't have their liquor license yet. It's coming, but if you forget your emergency wine, there are two convenience stores within blocks of the restaurant. Hombres staffers will helpfully offer to keep your hooch in their cooler and also proffer icy cold glasses. Or you can take your chances with the menu's selection of American and Mexican sodas.
Los Hombres' complimentary salsa is served warm. If zesty cooked-not-cooled salsa isn't your thing but you still want something warm to dip the chips in, you might be tempted to order the queso blanco. The opposite of spicy, the "white cheese" included chunks of green peppers.
The menu offers a wide variety of Tex-Mex and Mex-Mex dishes. The guisado de puerco was the evening's winner. On the menu, the dish is described as "soft, marinated chunks of pork smothered in red or green sauce." We chose the green — a spicy, finger-licking good green, by the way — and the pork was absolutely fall-apart fantastic. There also was plenty of sauce left over to mop up with fresh corn or yeasty flour tortillas. Served with passable rice and tasty refried beans — along with a mouth-scorching pico de gallo-topped salad — the dish was a wonderful, unadorned Mexican stew with enough heat to combat the recent cold snap.
The Banderas enchiladas were meant to be a combo plate consisting of a beef enchilada with red sauce, chicken enchilada with sour cream sauce, and a cheese enchilada with a verde sauce – providing, obviously, the tricolor of the Mexican flag. I got two chicken enchiladas wrapped in thick, yummy corn tortillas, both with green sauce, and a beef enchilada that didn't have a lot of the savory ground beef inside. I wasn't sure if there was a communication issue with the server or if the menu was inaccurate. The food tasted fine, but it wasn't the best enchilada I've ever had.
The chile rellenos were also a mixed bag. The kitchen uses round, slightly boggy poblanos and fills them with your choice of taco meat, shredded chicken, or jack cheese. We ordered one of each but again got something else: two chicken-filled rellenos and one beef. The shredded chicken was pleasant (moist, not too spicy), the wonderfully airy, eggy breading was tasty, and the slightly mushy pepper packed just enough heat.
Then there were the soft tacos, stuffed with marinated pork, brisket, or chorizo. Served with cilantro and a little lime, each was a handful of spicy, slightly crunchy goodness. The marinated pork taco was especially flavorful. Los Hombres also offers traditional Mexican favorites such as tortas (sandwiches) and huaraches (thick corn tortillas stuffed with cheese, salad fixin's, and your choice of meat). Lunch specials run between $4.99 and $7.99, and menudo is served on the weekends.
The food at Los Hombres was tasty, and the portions were generous. What the place lacks in ambience, it makes up for in location. Its giant first-floor windows make for a great place to kick back (with the beer that you've brought) and watch the cars and people roll to and from the Stockyards.
Los Hombres Mexican Café
1549 N Main, Ste 101, FW. 817-625-6324.
11am-9pm Mon-Thu, 11am-10pm Fri-Sat, 9am-8pm Sun. MasterCard, Visa accepted.