A campy chuckwagon vibe permeates the recently opened Tillman's Roadhouse, as if Liberace were the proprietor and all of the kitchen help French culinary school grads. In reality, Sara Tillman is a co-owner, and chef Dan Landsberg (Dallas' Stephan Pyles and Seventeen Seventeen) created the menu. The Fort Worth restaurant is Tillman's second — the other, in Dallas' Oak Cliff neighborhood, is still going strong after 18 years.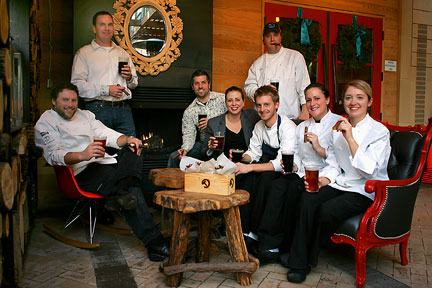 Located in the West 7th Street corridor, Tillman's Roadhouse is a flamboyant, spacious lounge festooned with chandeliers and with ornately framed photos and carved wooden animal heads on the walls. Landsberg's ambitiously detailed versions of familiar appetizers and entrées define what happens when "extra" meets "ordinary."
A good example of how Tillman's transforms dusty, ho-hum menu items into novel gems was the quesadilla appetizer. The restaurant house-smokes beef and pork sausage, ribs, and brisket in a stove fueled by hickory, oak, and Texas pecan — that's where the tender shredded pork and the beef brisket inside the quesadilla come from. The miracle was how you could utterly discern the brassy beef and pork flavors inside the soft grilled flour tortillas. The smooth white cheeses inside were a mix of Oaxacan and Chihuahuan — they remained velvety and firm inside the tortilla rather than gooey, enhancing the smokiness of the meats.
The chicken-fried hanger steak was also superb. "Hanger steak" is the flank-like cut that rests between the cow's diaphragm and ribs. Some people know it as "butcher's steak" because industry lore has it that meat merchants always saved this piece for themselves. There's only one hanger steak per cow, and its juiciness and rich flavor are thought to be the result of resting so close to the animal's kidneys.
Anyway, the server will ask how you want the meat cooked, a question that might surprise chicken-fried steak fans. As always, if you enjoy a little pink and some extra flavor in your beef, it's best to ask for medium rare. We did, and found the taste to be slightly reminiscent of beef liver in the best, most savory sense.
The steak arrived as two lightly breaded pieces atop a pile of silken, buttermilk-infused mashed potatoes. The pale brown cream gravy was applied sparely, and rightly so — the stuff is poblano chile-fired and uncommonly assertive. Nearby rested a small stack of thin, crispy green beans that had been braised so long with cured bacon that a subtle pork flavor was detectable to the snappy core of the bean but did not overwhelm the veggie's natural flavor.
The mouthwatering venison Frito pie was equally down-home and uptown. Arriving with two sack-lunch sized bags of salty corn chips on the side, it was a bit of a DIY affair. When we combined all the ingredients — including zesty bits of chopped scallion, a small mound of chilly sour cream, shredded white cheddar, and a generous serving of deer meat chili — the result was a hot gooey mess of roadhouse wonderful. The venison was tender and not at all stringy or gamey and seasoned with more than one variety of chile to light a small, soothing fire on your tongue. That signature blend of extremes — high-falutin' and frisky, elegant, and bootscuffed — should make Tillman's Roadhouse an enduring attraction in the Fort's dining scene.
Tillman's Roadhouse
2933 Crockett St, FW. 817-850-9255.
11am-11pm Mon-Thu, 11am-2am Fri-Sat,
10:30am-11pm Sun. All major credit cards accepted.