Ray Russell has been playing blues guitar around Fort Worth for more than 25 years. For the past year, he has been a busker, meaning that he performs on the street instead of playing in traditional venues. He says he earns more in tips on the street than he would in a club. He's not alone. Fort Worth police and the performers themselves say the number of buskers performing in Sundance Square has increased significantly over the past few years.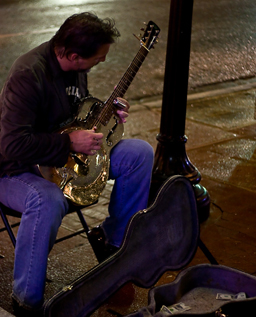 Soon after Russell started performing in Sundance Square, however, some other buskers told him he was not allowed to ask for tips. Russell was nonplussed. He figured that he could just open his guitar case and let whatever tips he generated lie there, possibly inspiring further tips.
But the bicycle officers who patrol downtown soon told him that he could not even leave the money in his case. "If anyone throws a dollar in my guitar case now, I have to get it out immediately," he said. "I think that's going too far. I've seen a decrease in the amount I make in a night, probably down by 60 percent."
Fort Worth Police Capt. Billy Cordell, whose division includes Sundance Square, equated money in a guitar case with panhandling. "It's a fine line with regards to performers," said Cordell, who heads the police department division that covers Sundance Square. "If you're sitting there with the guitar case open, and there's a lot of money in it, and people are coming up and putting that in, I'll ask you as a citizen, 'Do you reasonably think [buskers] are soliciting money by doing that?' I think the reasonable answer is, 'Yes, they are.' And they are not supposed to do that. There's a value to street performers, but we don't want people out there harassing citizens, begging them for money."
However, a federal appeals court recently ruled that busking is not begging since the person giving the money is paying for a service. In a case called Berger v. Seattle, the Ninth Circuit Court of Appeals held that "speech that solicits funds is protected by the First Amendment."
Fort Worth has no specific ordinance regulating busking. The police are using the city's panhandling ordinance to address busking. Both Cordell and Sgt. Pedro Criado, a Fort Worth Police Department spokesperson, said they were unfamiliar with the Seattle case and would not comment.
Not all local street performers object to the restrictions. Musician Ron Boyer, who has been performing in Sundance Square for years, feels the restrictions are reasonable. "If you're not offensive, [the police] don't hassle you," he said. "You can't look like you're asking for money. You can't say, 'Put $5 in, and I'll play you a song.' [The police] say that if you can ask for money, then we can't stop the panhandlers."
Amplification is another issue causing some tension between the buskers and the police. With more and more people living downtown, some buskers said officers have been selectively enforcing the noise ordinance only against buskers and not against clubs. Russell, who uses a 15-watt amplifier, tried to challenge this double standard. "The thing is not even as loud as a trumpet," he said of his amp. "But after 11 p.m., I have to turn it off.
"At the same time," he continued, "I'm sitting on the corner of 5th and Houston in front of the [bar formerly known as] Aqua Lounge, and I can hear their music, and I can hear the music from 8.0 [Restaurant & Bar] down the street."
Russell recently asked a police officer to issue him a ticket so he could argue the issue in court. "He said, 'I won't write you a ticket, I'll take you in.' " Russell complied with the officer's request to unplug.
Criado said that in a situation like Russell's, the best option is for a busker to accept the ticket and then ask to speak with a supervisor. If the cop refuses to put the musician in touch with a supervisor, the department spokesman said, the musician should wait for the officer to leave, then "call the non-emergency number … and ask for a supervisor."
Cordell said there's no clear answer on the issue of noise — whether it's coming from an amp or a nearby club. "If you ask if the speed limit is 60, and someone is driving 65, is that a violation of the law? Yes," he said. "If you're asking me does this amplifier violate the law when it's sitting next to a club where the music is louder from the club than it is from the amplifier, then that's not a simple answer.
"We're no different than any other large city that has a growing residential population downtown," he continued. "It's interesting: People move into a downtown area because of the entertainment and the value of the area, but sometimes the entertainment, when you're trying to sleep at night, becomes an issue as well. So the compatible space issue is a tough balance for us: not interfering with a businessperson's right to have their business and not interfering with the residential population. We struggle with that one on a regular basis."
Cordell did concur with Criado on asking for a supervisor. "That should not be offensive to our officers," Cordell said. "If it is, I'll take corrective conversations with them on that."