Here's a prediction: You won't find a more gripping ensemble performance in North Texas this year than the performance by the five actors who kick up passionate sparks in Circle Theatre's current production of Opus. Michael Hollinger's dramedic script concerns the brutal disintegration of a critically lauded string quartet as it prepares to deliver a risky command performance at the White House.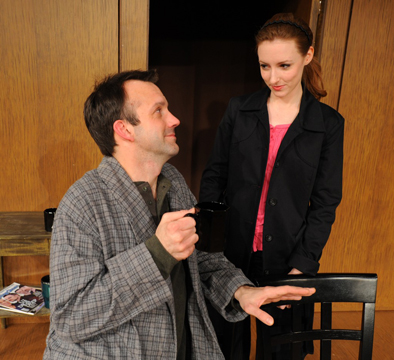 "Frenemies," that apt word coined by today's kids, describes the fractious relationships pitch-perfectly conjured on the Circle stage by Meg Bauman, Jakie Cabe, David H.M. Lambert, Mark Shum, and Elias Taylorson as they debate the tiny details of grand compositions and pitilessly scrutinize one another's private motives. "We talk [to one another] in short hand," declares Taylorson as the snobby violinist Elliot. That sums up the fraught emotional undercurrents that director Alan Shorter helps his quintet of performers to mine: Their clipped rapport is such that even these actors' mundane exchanges come loaded with explosive intentions.
So why did I want to throw my program at the stage after the show ended? Playwright Hollinger takes the delicate elements of comedy, drama, and tragedy that he's been weaving together so eloquently and, during the last 10 minutes, orchestrates an awkward five-character pileup for the sake of a flashy dramatic payoff.
This review of Opus contains spoilers, so if you're interested in the show so far, go ahead and buy a ticket — fans of plays about romantic and professional rivalries among temperamental artists will find much to enjoy regardless of the finale. The fictional chamber ensemble depicted here is known as The Lazara Quartet. Their fragile and unpredictable violist Dorian (Shum, full of nervous, wry energy) abruptly cuts off contact with the group and disappears. The other members — violinists Elliot (Taylorson, appropriately savoring the sound of his own voice) and Alan (a mellow, wisecracking Cabe) and cellist Carl (Lambert, gradually removing layers to a tightly wound core) — seek a replacement and audition Grace (Bauman, exuding both caution and confidence). She's a viola prodigy who remembered The Lazara Quartet when they visited her high school and later watched a notorious documentary that chronicled the group's volatile internal disputes. With Grace halfheartedly onboard, the quartet decides to tackle Beethoven's legendarily troublesome Opus 131 for their impending White House appearance. That's when Dorian resurfaces and ignites a furious struggle for the group's soul.
Thanks to director Shorter, Opus is anything but dry and insider-ish. He guides the actors to convey their characters as essentially lonely people who, in the words of Alan, feel like pieces of baggage carried from airports to taxis to hotel rooms to concert halls while on constant tour. Only when they are channeling the great composers do they come alive. (Set designer Clare Floyd DeVries underscores the starkness of the musicians' existence by rendering their respective apartments in drab wooden panels.) Dorian, who was born equipped with a preternatural ear for the delicate textures of European classical music, compares the experience of live performance to either "making love or drinking Drano." With the stakes so high, and the potential consequences so drastic, it's no wonder they would react to criticisms and professional setbacks as if their very lives were on the line. (The sudden, offstage diagnosis of cancer in one player and a clandestine love affair that ends bitterly between two others only aggravate the tension.) Their hostility acquires an almost animalistic desperation, until a single, shocking act of violence near the show's close caused several audience members to flinch. It was a wholly credible moment of rage that Circle's superbly calibrated production delivered like a gut check to ticketbuyers.
So what's my problem with the last 10 minutes of Opus? Playwright Hollinger couldn't maintain that fine balance of turbulent personalities until the end. He had to jerry rig a showdown that — again, spoiler alert! — involves an outlandish scenario: On the night of The Lazara Quartet's biggest artistic triumph, an ex-member with bipolar disorder who won't stay on his meds convinces the group that he should abruptly replace its longtime violinist, who also happens to be his former lover. Sound like one of those overheated weekly updates from Soap Opera Digest? I enjoy melodrama as much as anyone, but when a play like Opus is serving a juicy, top-dollar sirloin for most of the performance, the last-minute switch to a Hamburger Helper climax is a little off-putting.