The commercial building just east of Green Oaks Road and Interstate 20 has been cursed by its awkward location. The only access is from the eastbound lanes of a busy frontage road. At least three establishments have come and gone there, including Harrigan's, Saltimbocca, and, most recently, Salut.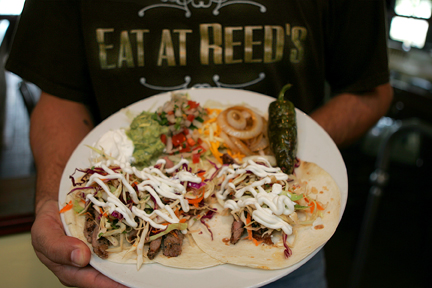 But the owner of the newest dining establishment to open there believes he has reason for optimism. Chris Mendez, owner of Reed's American Grill and Tavern, lives nearby and was aware of the location's history. Mendez, who's been a chef and local restaurateur for almost two decades, also owns North Texas Catering and says that the space provided him a large kitchen for the catering side of his business. And Reed's is rapidly becoming popular with the locals, as evidenced by the full parking lots. This may be due in part to the bar.
The appetizer choices were almost overwhelming. Fortunately, the deluxe combo app gets you a good sampling: hot wings, cheese sticks, onion rings, cheese quesadillas, calamari, and chicken tenders. The calamari, onion rings, and fried cheese were adequate but bland and probably from a freezer. Ditto the chicken wings. The best thing about them was the spicy, finger-licking good sauce that covered them. In contrast, the chicken tenders and cheese quesadillas were both tasty surprises. The quesadillas were plump and full of peppers, and the cheese was deliciously gooey. The plate comes with four sauces: honey mustard, marinara, ranch, and a scrumptious tartar sauce that paired well with everything but the quesadillas, of course.
The rest of the menu is equally diverse, with pasta, steak, burger, sandwich, and salad options. Reed's has some classic grill-type offerings, and Nolan Ryan's All-Natural beef is the only meat used for the burgers and steak. The cheeseburger packed a lot of charcoal flavor, wafting a nostalgic memory of backyard grills loaded with briquettes. It was impressive in size, extremely flavorful, and cooked as ordered.
Reed's also dishes up some interesting and trendy delights. Mike's Tacos included perfectly marinated rib-eye bits and a coleslaw-mix topping, everything rolled into nice flour tortillas. An even better choice: the rib-eye sandwich: spicy, tender beef with piled-on grilled onions on a huge bun. It was a little greasy in the pleasantly juicy kind of way and incredibly flavorful. The sandwiches and burgers come with your choice of fruit or fries. The wedge fries were nicely seasoned and tasty, although not housemade or particularly unique.
The spinach salad was tasty but fairly standard: spinach topped with eggs, nuts, bacon, and your choice of dressing. It came beautifully presented and was too large for one person to reasonably eat at a single sitting.
The desserts were mostly from elsewhere and not made in-house. The strawberry shortcake actually tasted slightly freezer-burned. On the other hand, the chocolate layer cake was a fresh, multi-layered triangle swamped by thick chocolate sauce. The best was the sticky toffee cake: a gooey puddle of heaven on a plate. A rich slice of amber-colored cake embedded with caramel and with more sticky caramel "icing," it was possibly one of the best desserts ever and a great way to end the meal.
The restaurant has a nice ambience, with a kind of wine-cellar charm (aided by actual racks of wine everywhere). There's some cute kid-made art in the space near the restrooms. The service was efficient and friendly. All in all, Reed's is a pleasant addition to the chain-dotted South Arlington restaurant landscape.
Reed's American Grill and Tavern
5900 I-20 W, Arlington. 817-478-9090. 11am-11pm daily.
All major credit cards accepted.
Cheeseburger $7.99
Deluxe appetizer combo platter $14.99
Mike's Tacos $9.99
Rib-eye sandwich $8.99
Spinach salad $7.99
Chocolate cake $3.99
Sticky toffee cake $3.99