Patrizio Pizza Pasta and Vino has been a fixture in Dallas' Highland Park Village for decades. It has a welcoming ambiance, thanks mainly to the walled patio shaded by oak trees and equipped with umbrella-covered tables and oversized fans (or heaters, as the weather dictates). The moderately priced menu features a wide array of dishes. Free valet parking makes the experience hassle-free.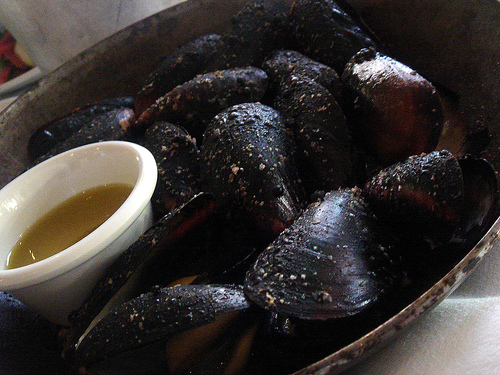 There was plenty of anticipation when fans learned that another location of the Dallas eatery would open in Fort Worth's West 7th Street corridor. A visit just after it opened revealed an impressive look: expansive elegance instead of Dallas' rustic style. A two-story marble-floored entryway houses an enormous French sofa. Beyond are five spacious seating areas, with chandeliers, upholstered benches along the walls, and black granite-topped tables. A bar with a generously sized dining area and big-screen TVs is off to the right as you enter. There's also a patio, although it will be some time before the young trees planted there can offer the same sort of shady comfort as its Dallas counterpart.
The menu, thank goodness, is the same and starts with eight appetizers, including melon wrapped in prosciutto and chilled asparagus topped with tomatoes, black olives, capers, and Parmesan cheese. My favorite app is a meal in itself: the crab cakes served on a bed of greens. The long list of pasta dishes features tortellini with sun-dried tomato pesto, ravioli with artichoke hearts in wine sauce, and angel hair pasta with artichokes. Pizzas in every combination imaginable and calzones are also available.
The kitchen is still working out the kinks. In Dallas, the complimentary bread (dinner rolls and a sweet dark rye with raisins) shows up soft and hot. In Fort Worth, it was cold and crisp. The noodles at the bottom of the chicken-and-mushroom lasagna were tough, though the zesty flavor was as delectable as I remember from Dallas. The eggplant Parmesan was excellent, and the angel hair pasta in sweet marinara sauce was ambrosia. The double chocolate espresso mousse was as good as it sounds, although it had an unusual crystal-like texture, as if it had been refrigerated and not completely thawed before being served.
On a return visit a few days later, the bread was warm but still hard. Never mind. The house salad was a heap of mixed greens with remarkably fresh tomato wedges, carrots, paper-thin beet circles, seeded cucumber slices, and black olives with Romano cheese. The fettuccini Pappagano was a marvel of bacon, tomatoes, basil, and chili flakes, but the chicken Romano –– breaded chicken breast over bowtie pasta in alfredo sauce with steamed vegetables –– was just mezza mezza. Though the pasta was tender yet firm and the veggies deliciously crunchy, the chicken was a little chewy and the breading crisper than I like. An attentive waiter saw me poking around my plate and asked if everything was all right. I explained that it wasn't what I thought it would be, and he immediately substituted the chicken-and-mushroom lasagna for my entrée. This time, the dish was first-rate. The pasta was tender, the cheese gooey, and the tomato sauce dense and delicious.
The restaurant shares one particular drawback with its Dallas cousin — the noise level is deafening when the dining rooms are full. In Dallas, the patio makes it possible to eat and hear your dinner companions without everyone shouting. On the second visit to the Fort Worth location, I discovered that the dining room farthest from the entrance seemed to be the quietest, probably because the floor is carpeted. The daily specials offered in Dallas haven't made it to Fort Worth yet, nor has front-door valet parking. However, the garage across the street offers valet parking at street level, and it's only a few steps from there to the restaurant.
Patrizio Pizza Pasta and Vino, 2932 Crockett St, FW.
817-698-0003. Sun-Tue 11am-10pm, Wed-Thu 11am-11pm,
Fri-Sat 11am-midnight. All major credit cards accepted.
Chicken-and-mushroom lasagna
$10.15 (lunch), $12.96 (dinner)
Chicken Romano
$13.66 (lunch), $16.89 (dinner)
Eggplant Parmesan
$8.57 (lunch), $12.40 (dinner)
Fettuccini Pappagano
$8.68 (lunch), $12.24 (dinner)
Double chocolate espresso mousse
$6.34 (lunch), $6.95 (dinner)