Appointing itself ad hoc spokesperson for the 80 zillion Mexican restaurants in Tarrant (note to self: check that figure), Chow, Baby is more than a bit offended by the slogan of Red Cactus (3005 S. University Dr.): "Fresh Mexican Food." What are you implying — as opposed to the rotten, stale, bug-teeming stuff every other Mex place serves? Yeah, well, Chow, Baby can make stereotypical implications too: Any restaurant that is adored by Yelp reviewers because it's better than Chipotle, Qdobe, and Taco Bell will be lame-o. (Because chains always suck, see, so a notch above suck can't be that great.) Also Red Cactus is near TCU.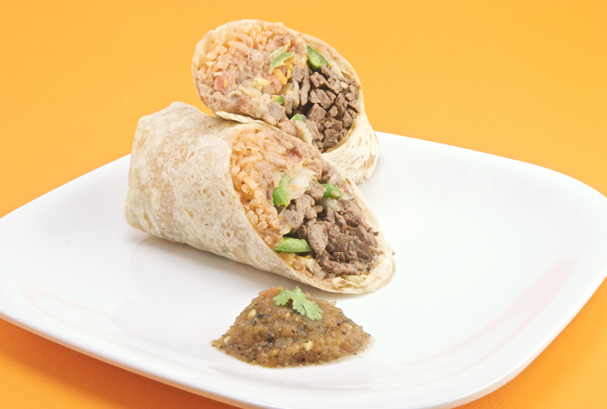 Bigoted stereotypes (mine) aside, the actual fact is that Red Cactus is pretty good. And indeed everything looks quite fresh: Meats, beans, and toppings are laid out Subway-style, inset in a long sneeze-shielded counter. So when your tacos ($1.85-$2.25) get to the end of the line, the counterperson will ask what you want on them, which is discombobulating to people who aren't used to having choices other than "cilantro and onions" or "no thanks." But Chow, Baby rallied, choosing three different fresh-looking cheeses for the beef fajita taco; fresh-looking onions and hot salsa for the fish taco (good choice, as the fish was bland); and fresh-looking pico for the lots-of-shrimp taco. "Fresh" was indeed the dominant flavor, with the savory fajita meat a close second.
Chicken enchiladas ($5.99) were surprisingly good for a daily special (Thursdays), which one generally expects to have been made early and left sitting around all day. These, however, had no crusty edges, just fork-shredded chicken and queso fresca wrapped in still-whole tortillas and drenched in a very nice, slightly tingly verde sauce. Even at midnight snack time, it tasted fresh. The star of Chow, Baby's personal dining show was the house special, tacos planchados ($6.25 with rice and beans), which are a lot like quesadillas but more stuffed (shredded beef, refried beans, Monterrey jack, and cheddar, with pico on the side) and thus the perfect college/snack/hangover food. The tacos were grilled while Chow, Baby watched, and they sure did taste — well, let's just say Chow, Baby is going to let Red Cactus keep its slogan.
T-Bird's Bun
Now this is Chow, Baby's kind of holiday special: Through Dec. 15, The Eatery (3257 N. Beach St.) is compiling "Thanksgiving on a Bun": turkey, gravy, dressing, and cranberry sauce on a way-too-small roll ($5.95). This is such a great idea you wonder why nobody every thought of it before. Oh wait, we did: It's called the Day After Thanksgiving, Chow, Baby's second-favorite holiday (after T-Day itself).
The Eatery's version is soothingly homestyle, as you might expect from this seriously old-school breakfast/lunch spot, where the meat-and-twos ($5.95-6.99) include pot roast, chicken-fried steak, and King Ranch casserole with daily sides like homemade mashed, simmered squash, and sorry-we-just-ran-out mac & cheese (darn). Oh, and the flaky-crust pies, yum: Of course pumpkin ($2.95) was the side of choice for Chow, Baby's sandwich, the perfect creamy balance for the spicy cranberry chutney and rich cornbread dressing. The only nitpick Chow, Baby had was with the thin-sliced, pre-packaged-looking turkey — what a Dagwood like this really needs is a thick slab of juicy white meat, roasted with love by Chow, Baby's mom. See you on Thursday Mommy!
Contact Chow, Baby at chowbaby@fwweekly.com.