It's taken a while, but Texas Ballet Theater finally has quarters that allow it to rehearse in the same size space as the Bass Performance Hall stage, TBT's main performing venue. The benefits were seen in season-opening performances of Cinderella, here and at Dallas' Winspear Opera House, where opening nights were free of the sometimes tentative look of the dancers as they explored the extra room.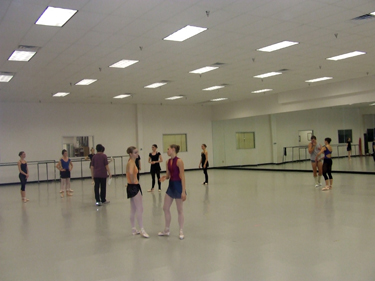 The new headquarters is a large white building at the corner of Green Oaks Road and Genoa Street in West Fort Worth, a traffic light south of TBT's old location. The building still advertises the previous tenant, Pump Up, on the south wall, which doesn't sound too out of place for a dance motto. There are three rehearsal rooms. The largest is 85' by 66', with space for seating three or four rows of observers down front. There's also an enormous wardrobe enclosure, more than 30 yards long, much to the delight of long-time wardrobe mistress Masako Parshall, who fits costumes to individual dancers and used to store her treasures in a hallway.
Dancers and staff, for the first time, have a break room, and staffers who previously doubled with colleagues or had desks in a corridor have their own offices, small but private. There's also room to store office equipment and files out of sight. Cost per square foot is less than the previous rental, and the additional space hasn't pushed the budget out of shape, adding only $1,000 to the monthly rent. The company is debt free since a grassroots fundraising effort in 2008, which saw dancers going door to door seeking donations, the board chipping in with extra contributions, and new friends stepping up with gifts, according to managing director Margo McCann.
While the debt was retired, the operating budget also was cut to prevent future financial calamity. The chief casualty has been live music at performances. The cost of hiring the Fort Worth Symphony Orchestra for a season is about $600,000. Plans to have the orchestra in the pit for this season's closing performances of Don Quixote were penciled in but had to be dropped when the extra money couldn't be raised, according to company finance assistant Cynthia Stancil. TBT will try again next season to have the orchestra for at least one production.
Artistic director Ben Stevenson is eager to get live music back. "In 50 years with ballet, as performer and director, I've never worked with a company that didn't have a live orchestra," he said recently. "It's so important to the performance."
In Houston, where he led the Houston Ballet for 27 years, he eventually had to form his own orchestra. "The Houston Symphony schedule grew to the point where they couldn't fit us in, so we established our own, which we shared with Houston Grand Opera," he said.
When he left, the musicians presented him with a large framed photo of the ensemble. It now hangs in his office, signed around the border with personal expressions of gratitude, including "Thank you for making our experience so wonderful" and "Thank you for your love of music and dance."
"I've always gotten along well with unions," Stevenson said. "The stagehands in Houston gave me a gold member's card when I left. But here, somehow, I've become the bad guy."
The local musicians' union picketed all of TBT's programs here last season, laying the blame for not using a live orchestra at his feet. McCann has indicated that as soon as money is pledged for live music, the orchestra will be brought back with open arms.
Until then everybody suffers. The only major drawback to the Cinderella openings was the canned sound of the music. It's a tossup as to which house has the worst sound system. Certainly the dancing was first rate, with Carolyn Judson and Lucas Priolo doing lead honors as Cinderella and her Prince. They followed Stevenson from Houston: Judson from the Ben Stevenson Academy and Priolo a junior member of the Houston Ballet. Both have grown and prospered as principals with TBT. Thomas Kilps, the unsung hero of many bravura roles, was a standout as the court jester, and the ugly stepsisters were joyously performed by Mark Troxler, Peter Zweifel, Alexander Kotelenets, and Eddy Tovar.
The company has evolved into a first-rate dance ensemble. All that's needed to complete the picture is the return of live music. l