Añejo, roughly translated, means "serious hangover." OK, not really. Añejo is the kind of tequila that's aged the longest –– at least a year, maybe two or three. Añejo is supposed to be the best tequila, the kind you sip instead of shoot. And probably the kind that doesn't find its way into happy hour-priced beverages that often.
In North Richland Hills, there's a bar/restaurant that takes its name from the Mexican hooch. With a name like Añejo House of Tequila, I had visions of mercados and an old building. The reality: The place is in a newish shopping center, behind a Starbucks, and there's nothing remotely classic about it.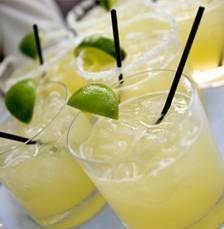 The location is far, far away from my homeland, but I traveled there one afternoon with two brave 'rita-loving companions, one of whom had, in all seriousness, never even been to North Richland Hills! Our objective: Añejo's weekend-extending happy hour, wherein house margaritas on the rocks are $1 each. You heard me. A buck. All day Mondays, Tuesdays, and Wednesdays. Añejo's management calls the special a "Three-Day Getaway," and after a Thanksgiving house load of company, which included three dogs and a toddler, I truly needed said getaway on the post-Turkey Day Monday.
So you're probably thinking, "How good could a dollar margarita be?" And "I'll bet it's probably not very strong." I was thinking those same things when I walked in. The 'rita, for the record, was on the sweet side, maybe a little heavy on the Triple Sec. But it was strong. As in, after one, I was feeling it in my knees. And after two, I was feeling my friend's knees. And giggling. Giggling like we hadn't a care in the world. The management says the little green monsters are 110 proof and 100 percent agave. I couldn't tell agave from an avocado, but I can attest to the fact that these drinks were potent and tasty. And the color of the mix was a pale green, not the neon antifreeze color of some cheaper margaritas. Or the neon green of Añejo's napkins and signage outside. (Neon green is apparently Añejo's signature color.)
In case you don't like your 'rita on the rocks, you can take advantage of Añejo's regular happy hour special: Frozen house margaritas and swirls are $4 all day on Sundays and Mondays and from 11 a.m. to 7 p.m. Tuesdays through Thursdays. In case you don't like margaritas –– and hey, I don't judge –– you can also get $2.50 domestic beer and $3.50 imported beer and well drinks on the aforementioned days and times.
Since Añejo's House of Tequila is also a restaurant, there's no smoking and lots of food options if the añejo goes to your head. I wasn't that fond of the chips, which were thick and greasy. However, the salsa had that lovely fire-roasted pepper flavor to it and packed a hefty, spicy punch. The generous side of guacamole that we ordered (because on a Monday afternoon, in a tequila bar, what else are you going to order?) was fresh but probably cut with a little sour cream to extend the avocados. It had that too-creamy, too-light color to be otherwise. But the appetizer still tasted darn good. And, in a fit of giggly ooh-this-looks-good decadence, we also got the mango crème brûlée, which was possibly the best dessert I've ever had, sober or otherwise. The fruit was actually puréed into the custard, and the whole thing came with a caramelized sugar crust so thick you could practically skate on it. I am not embarrassed to say that I finished the whole thing, down to the little fresh mango garnish. I blame the añejo.
–– Laurie Barker James
Contact Last Call at lastcall@fwweekly.com.
Añejo House of Tequila
9159 Blvd 26, N Richland Hills. 817-485-9900.