To all of our guests: Welcome to The Show. Hope you have a great time, drop a lot of dough, and, in general, stay out of trouble. Before we get into specifics of our guide to the 817 (that's our area code in Tarrant County), let us lay a few pieces of advice on you. Just think of it as part of the hospitality package: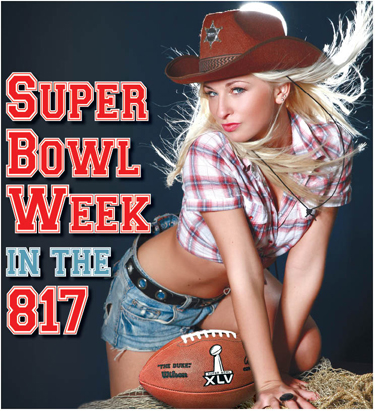 • Try to determine what city/town you are in before opening your mouth too wide. First clue: If you're reading this newspaper, you probably are not in Dallas. It does matter. Place to buy Dallas merchandise: Dallas. Place to see authentic (and not-so-authentic) pieces of actual local Western history: Fort Worth. Place to see great art, if that's part of your Super Bowl plan: Either city. Do the people you meet keep their hands in their pockets and ask you how much money you make? You're probably in Dallas. Is there at least a rudimentary system of public transportation? Dallas. Friendly people aplenty enjoying themselves at restaurants, clubs, movie theaters, bookstores, and concert halls downtown during the evenings? Fort Worth. Can't find a downtown? Arlington. Get a jaywalking ticket? Dallas –– if we're lying, we're dying.
• If your computer or cell phone or whatever tells you that the most direct route to wherever you are going involves a toll road, be very suspicious. In fact, just don't go there. You can't use cash of any description. And since you probably don't have a toll pass, that means a few months from now when the bills finally track you down and you open the envelope and read the amount you owe, you might faint into the snow and freeze to death.
• The above observation might make you think that perhaps instead of driving around these parts, you should take public transportation everywhere, maybe just cab it wherever you go. Dream on. Yes, there is public transit –– in Dallas. Yes, Fort Worth will offer special fan trains, fan buses, and shuttles, and, yes, Fort Worth's regional airports and (some) of the city's hotels will have taxis. But will you be able to step outside the club where you just got sloppy drunk and hail a cab? Don't hold your breath. North Texans who haven't traveled a lot think that cab-hailing is just a creation of Hollywood moviemakers. Figure you'll be able to leave the stadium and walk to the bars/restaurants/anything in the surrounding neighborhood? Uh-uh. Another argument for driving: When you're in downtown and most other parts of Fort Worth, parking is usually not a problem. The city has invested big bucks in parking garages.
• You may not be able to understand some things we say, and vice versa. Weekly associate editor (and native Pittsburgher) Anthony Mariani has undertaken to explain yinzers to Texans (page 6). For those of you from Green Bay, here are a few tips: That little device in public places that lets you get a drink of water –– it's a water fountain, not a bubbler. We're not sure what you collectively call Coke, Pepsi, and Mountain Dew where you come from, but here they are referred to generically as "cokes" or "soft drinks." Just not "pop." Asking a new local acquaintance here, "Do you want a pop?" is not quite as bad as a Brit's asking a new female acquaintance if he can knock her up in the morning, but it's not good. Just to be safe, ask them if they want a beer –– no translation problems there. And … if you really want to tickle the locals, go along with the gag when they ask you to say something in Pittsburghese or whatever the locals speak in Green Bay.
• Unless you're drinking fancy coffee or anything at Starbucks, the refills on tea and coffee are probably free. Yes, we drink iced tea during what is called winter here. And if you go to breakfast and find a little mound (or big ol' bowl) of white stuff served alongside the eggs and bacon, that's not mashed potatoes. It's grits. Give it a whirl.
• Most of us don't know your players' names, and except for a few short hours on Sunday, we really won't care. But as long as you don't precede your excited team-rah-rah utterances by insulting the Dallas Cowboys (even if they deserve it), the locals will probably treat you very kindly when you start running your mouth, kind of like you're a goofy cousin visiting from, you know, Dallas.
• When you see people wearing boots, jeans, and Stetsons, they are not historical re-enactors set to wander the streets for your amusement. Even if they're not actual working cowboys or cowgirls, the outfit is likely what they wear on most days of the year. One of the greatest rodeos in the world is going on in town during the runup to the Super Bowl, and lots of those folks will be sharing the city with you. If you think that, as out-of-state fans here for a big game you have a license to start a little trouble, remember that a lot of the cowfolk are also from out of town and similarly feeling their oats. And a bunch of them are used to hefting weighty hay bales, wrestling extremely large and unruly animals around, and generally working under tough conditions. Think twice before picking fights. If they're wearing spurs and/or Carhart coats or vests or have a paper square with a number tacked to their back or work gloves sticking out of their back pocket, think three times. Also, when men keep their hats on indoors, don't take it personally. And if the cop who's talking to you is wearing a cowboy hat, yes, he or she is still very much a cop. Pay attention.
• We may not have pierogi on most restaurant menus, but there's a lot more to North Texas cuisine than Tex-Mex, barbecue, and steaks, though we indeed can offer you some fine eating in those areas. Thai, Vietnamese, German, Italian, Middle Eastern, Korean, soul food, seafood, vegan food –– you name it, we've got it. Ditto music: Yes, there's some excellent country-Western music to be heard around these parts, but, believe it or not, there's a lot more rock, punk, funk, hip-hop, and jazz. Ask around. Or better yet, read the Weekly. We really are the local authority on those things.
OK, enough with the warnings. This is a great town, and you're fixing to have a wonderful visit (oh, "fixing to" is something we say). The Weekly writers have put together some ideas to help you get around in our part of the world, for dining, drinking, shopping, and entertaining yourself in the days leading up to that thingie that's happening over in JerryWorld (the stadium) on Sunday. Elsewhere in the issue you'll find our thoughts on stadium-area food, Super Bowl foodie events this week, and local music. Y'all be good, now, and say hi to your mom. — Gayle Reaves
---
TUESDAY
We'll begin gently and simply since you may still be jet-lagged. Fort Worth is all about cowboys and culture, and today you're going to get knee-deep in both. But first you'll need nourishment. Mexican restaurants make the best breakfasts, and the mecca for that is the North Side. The $2 breakfast tacos at Chalio Mexican Restaurant (2020 N. Main St., 817-740-0465) are like little slices of heaven wrapped in tortillas. Tourists and locals love lunching at Joe T. Garcia's Mexican Restaurant (2201 N. Commerce St., 817-626-4356), but we recommend Joe T.'s itself only for its margaritas, enjoyed later in the day amid its beautiful complex of patios. For breakfast, the champ is Joe T.'s sister restaurant, Esperanza's Bakery & Café (2122 N. Main St., 817-626-5770). Try the huevos rancheros –– it's the Tuesday special ($4.75) and comes with beans, potatoes, and tortillas. Say "howdy" to lovely waitress Norma Rodriguez. All better now? Good, let's work off that breakfast.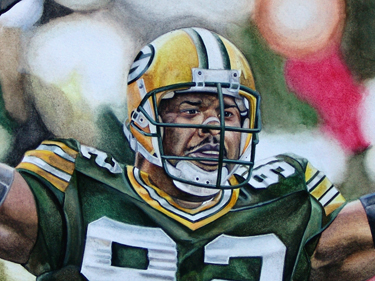 Fort Worth is Cowtown, so get thee to a cow. Better yet, see an entire herd of majestic longhorns amble down a red-bricked street twice a day at 11:30 a.m. and 4 p.m. at the Fort Worth Stockyards (corner of North Main Street and Exchange Avenue). Hot tip: Parking is free at the large lot at the east end of Exchange Avenue across from Stockyards Station (130 E. Exchange Ave., 817-625-9715). Hot tip No. 2: You're going to a rodeo tonight, so you'll need proper duds. Fincher's Whitefront Western Store (115 E. Exchange Ave., 817-624-7302) offers reasonably priced cowboy hats, shirts, and jeans in a funky building that dates back a century. You'll find more showy attire across the street at Maverick Fine Western Wear (100 E. Exchange Ave., 817-626-1129), as well as Western home décor and even an embossed silver food bowl for Fido. Handmade cowboy boots are king at M.L. Leddy's (2455 N. Main St., 817-624-3149) –– look for the big boot perched on the side of the building. Or if you're adventurous, you might order a custom pair at Ponder Boot Co. (2358 N. Main St. 817-626-3523). The place is dinky and cluttered, and it takes a while before your boots are finished, but Tanya Tucker, Bette Midler, and other stars have bought exotic footwear there.
It's still early to start drinking on a Tuesday, but no trip to the Stockyards is complete without visiting the world's largest honkytonk, Billy Bob's Texas (2520 Rodeo Plaza, 817-624-7117). And you might pop into the White Elephant Saloon (106 E. Exchange Ave., 817-624-8273), which doubled as CD's Bar and Grill in all those Walker, Texas Ranger episodes. Next door, the Bull Ring (112 E. Exchange Ave., 817-624-2222) serves up gourmet ice cream, and its walls boast a staggering collection of paintings by Texas' earliest and some of its best painters. If you're still jonesing for Western art, there's no admission to check out the beauties at the Sid Richardson Museum (309 Main St., downtown, 817-332-6554) and the celebrated Amon Carter Museum of American Art (3501 Camp Bowie Blvd., Cultural District, 817-738-1933) with its Frederic Remington and Charles M. Russell collections.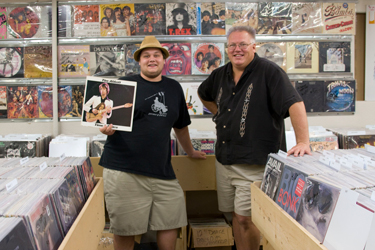 Ready for lunch? Locals dig Northside hole-in-the-wall joints such as El Asadero (1535 N. Main St., 817-626-3399), Amy's (1537 N. Main St., no phone), and the new and lovely Nuevo Leon (1544 Ellis Ave., 817-625-0757). But Mexican food isn't the only good grub around. See that big downtown skyline just south of the Stockyards? Head that way if you want a delicious, Texas-sized chicken-fried steak or upscale cowboy cuisine at Reata Restaurant (310 Houston St., downtown, 817-336-1009). The ribs and brisket are legendary at Mom's (1509 Evans Ave., southeast of downtown, 817-348-8558), the recent winner of our food critic's quest to find the best in town. Many locals, though, swear by the old standby Angelo's (2533 White Settlement Rd., north of the Cultural District, 817-332-0357).
All right, pardner, it's time to cowboy up. For a real cowboy experience, mosey on over to the 115th Annual Fort Worth Stock Show & Rodeo (3401 W. Lancaster Ave., Cultural District, 817-877-2400). You can spend an hour driving around looking for the extremely limited free parking, so your best bet is to fork over $8 and park in one of the lots off Gendy Street near the Will Rogers Memorial Center (3401 W. Lancaster Ave., 817-392-7469). There's livestock aplenty to ogle in the barns, a large carnival midway outside, and indoor rodeo events at 2 p.m. and 7 p.m., so families are guaranteed a great time.
Afterward, surely you will have worked up a thirst and be ready to delve into the cowboy tradition of blowing off steam over a cold beer. The Rodeo Roadhouse (just north of the Will Rogers auditorium) gets fairly lively each night after rodeo performances. Show them your daily grounds admission, souvenir pin, or that day's rodeo ticket, and you won't have to pay the $10 cover charge.
The Roadhouse closes at 11 p.m., but fear not. Honkytonks aren't scarce in these parts. One of the oldest and most authentic is the Stagecoach Ballroom (2516 E. Belknap St., East Side, 817-831-2261). If you're cowboyed out and seeking something different, check out a favorite little dive (some call it an old hippie bar): Tanstaafl Pub (409 N. Bowen Rd., Arlington, 817-460-9506). They've got ice-cold draft beer, dartboards, friendly folk, and a kickass jukebox. Or just cruise along the old Fort Worth strip –– Jacksboro Highway –– and drop into one of the little bars where Willie Nelson, Delbert McClinton, and other stars used to play their music before becoming famous.
---
WEDNESDAY
OK. Real cowboys? Check. Rodeo? Check. Barbecue? Double-check. So, Fort Worth, what's your encore?
Quite a bit, in fact, from culture to cuisine to entertainment. And one of the best places to get a feel for all of this is the Amon Carter Museum. Yes, you should go in and check out the marvelous art collection, heavy on photography and American art. But first, stand outside on the steps and look east at the beautiful view over the Cultural District and the Trinity River to the downtown skyline. The Trinity used to flood badly, and in 1949 its waters reached the second floor of what is now the nearby Montgomery Plaza building (2600 W. 7th St., 800-577-4919).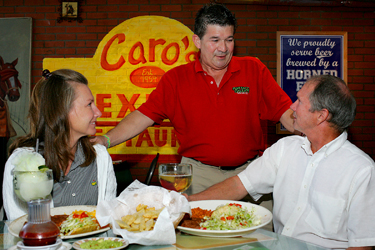 On the northern end of downtown is the beautiful old courthouse, seen often in the Walker, Texas Ranger TV show. The other end of downtown, years ago, was known as Hell's Half Acre, a district of bars, saloons, brothels, and other shady attractions back when this town was a major stop on the Chisholm Trail. Many of the museums and public places you see are named for some of the leading lights of the city, including the Carter and the Will Rogers Memorial Center.
If you're at the Carter, you're amid a set of world-class museums within easy walking distance of one another. The Fort Worth Museum of Science and History (1600 Gendy St., 817-255-9300) is an interactive, family-friendly place designed to teach patrons about history and the natural world. The National Cowgirl Museum and Hall of Fame (1720 Gendy St., 817-336-4475) celebrates the often-unsung contributions of women to the American frontier and Western heritage. The Kimbell Art Museum (3333 Camp Bowie Blvd., 817-738-9215) focuses on international fine art from all cultures and eras –– the current show is Salvator Rosa: Bandits, Wilderness, & Magic, about the 17th-century Italian painter whose visceral portraits and landscapes are filled with action, romance, and magic. The Modern Art Museum of Fort Worth (3200 Darnell St., 817-654-1034) showcases the best 20th- and 21st-century artists from around the world. The current show, Road Tested, is a major exhibit of paintings, photos, and drawings by artist Ed Ruscha about the American road and our love affair with cars.
The Cultural District and nearby West 7th Street corridor are also excellent places to shop. The gift shops at the Modern and the Kimbell both offer exhibit-related books, recordings, decorative art, and children's items. Just down the street, Uncommon Angles (2600 W. 7th St., Montgomery Plaza, 817-335-9933) offers fused and mosaic glass pieces, functional and ornamental sculptures, clocks, and accent furniture by local and national artisans. Milagros (851 Foch St., 817-332-1818) features jewelry, candles, bath and body accessories, and locally produced original artwork.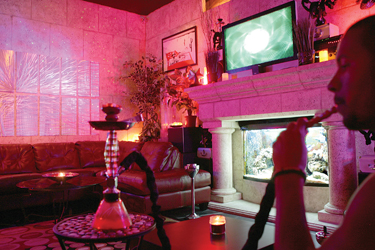 By now you're probably famished. Fort Worth and surrounding towns offer an excellent selection of restaurants with menus ranging from burgers to barbecue to fine dining. But we're particularly proud of our international and specialty fare. Thai Tina's (600 Commerce St., downtown, 817-332-0088) is a hot spot that serves some amazing spring rolls, green curry with chicken, and pad Thai with shrimp. If you're feeling a little more like Mediterranean, Istanbul Grill (6204 S. Cooper St., Arlington, 817-557-3377) serves up some terrific lamb and chicken kebabs, falafels, baba ghannouj, and gyro sandwiches. For freshly made, down-home vegan food, Spiral Diner & Bakery (1314 W. Magnolia Ave., South Side, 817-332-8834) has yummy wraps, sandwiches, and dips as well as organic wine and beer.
When the sun goes down, relax and listen to some live music or do a little club hopping and meet the locals. On Wednesday, 8.0 Restaurant & Bar (111 E. 3rd St., downtown, 817-336-0880) has an 8-10 p.m. show by the wonderful local alt-Americana group The Whiskey Folk Ramblers, and Scat Jazz Lounge (111 W. 4th St., downtown, 817-870-9100) hosts a New Orleans jazz revue at 9 p.m. called "Nawlins Nights" that features jazz drumming great Adonis Rose. And because there are plenty of gay and lesbian football fans coming to visit the city, we recommend Best Friends (2620 E. Lancaster Ave., East Side, 817-534-2280) as the friendliest gay and lesbian bar in town. The weekly karaoke party launches on Wednesday nights at 9:30 p.m.
THURSDAY
Beyond the clean corners of downtown, the tourist-y Stockyards, and the spacious, almost stately Cultural District lie hidden locales that are alive with underground spirit, where the real Fort Worth thrives. The artistic community here is probably pretty different from any preconceived "Cowtown" image you might have, and the streets are friendly, so do a little exploring. Don't be afraid — we don't bite.
Caro's Mexican Restaurant (3505 Bluebonnet Cir., TCU area, 817-924-9977) sits on the far side of a traffic circle, a small park around which some establishments opened since the 1960s still stand. Caro's, though, dates back to the 1950s. The recipes, which rely on bold spices and puffy masa harina tortilla dough, haven't changed since the place opened. Watch how owner John Whitten, a.k.a. "Puff Taco Daddy," seems to know every diner who walks into his dimly lit room, and you will begin to realize the kind of familiarity that can exist in a town nearing a million residents.
Looking for more traditional Southern soul food with an extra helping of Texas? Try Drew's Place (5701 Curzon Ave., West Side, 817735-4408). The diner offers all of the old standbys, from smothered pork chops to collard greens, and you won't find fresher fried chicken anywhere in the Fort.
In Arlington, there's the divey Airways Burgers (1106 N. Collins St., 817-461-1601) or the zany Taco Loco (930 N. Collins St., 817-459-4040). The former serves sliders, burgers, sandwiches, fries, and floats in a slightly weird atmosphere, and the latter is the perfect spot to sample a wide array of Tex-Mex favorites all day long, starting with breakfast.
If you need to stock up on incense or vaporizers disguised as CB radios, go to Fusion Inc. (2205 W. Berry St., TCU area, 817-921-5500), a tobacco and glass pipe shop. The place should be crawling with some of the Fort's youngest underground movers and shakers by the afternoon hours. If you have any notion that this town is in any way drab, spend a few minutes in the hookah lounge and mellow out to the house speaker system. Or ask the friendly employees about local disc golf options.
Shops in Fort Worth cater to every taste and budget. Shoe Gypsy (2966 Park Hill Dr., TCU area, 817-927-7700) sells all kinds of fancy footwear, which will help both men and women feel stylin' while exploring the Fort. For old-school records and clothing, plus a selection of local music, you can't beat Doc's Records & Vintage (2211 Montgomery St., Ste. B, West Side, 817-732-5455). For heavenly candles, be sure to visit the quaint Dee Jay's Candles (2828 W. 7th St., West 7th Street corridor, 817-737-2355). The mix of aromas is downright intoxicating.
If you're headed out to drink, Fort Worth offers more bars and clubs than anybody could possibly visit in a week. While a lot of the downtown establishments are nice, they can also be a little sterile. The local cognoscenti love Malone's (1303 Calhoun St., 817-332-5330), an Irish pub near the train station. The bar is a haven for genuine Fort Worth people, and the jukebox spins some local music. Ask the bartenders what to play –– they are some of the nicest and most sarcastic around. The regulars will probably also jump at a chance to talk to you and prove how friendly we Fort Worthians really are.
For live music, try The Grotto (517 N. University Dr., Cultural District, 817-882-9331), a popular and unpretentious joint that attracts a mix of local and touring acts. The Grotto has an especially mellow vibe, and on Thursdays, DJ The Whole F'n Show spins a mix of funk, hip-hop, and hot electronica.
One must-visit bar-bar is 7th Haven (2700 W. 7th St., West 7th Street corridor, 817-744-8550), a chill establishment with cheap drinks, a rooftop patio, excellent bartenders, local art on the walls, and a safe environment. From happy hour to the late-night hours, the joint will be hopping with a cool crowd of local barflies. Feel free to join them, and while you're there, grab a taco at the adjacent Taco Heads food cart.
---
FRIDAY
So today, maybe your fat-cat friends are hitting town. And you, now a veteran of Cowtown and its charms, are ready to show them the fanciest, shiniest good time that the Fort and its environs have to offer.
Start with a little art appropriate to Big Game Weekend: The Arlington Museum of Art (201 W. Main St., 817-275-4600) has a show of football paintings by Steve Moya, while Fort Worth's Milan Gallery (505 Main St., downtown, 817-338-4278) is displaying works by NFL Films president Steve Sabol.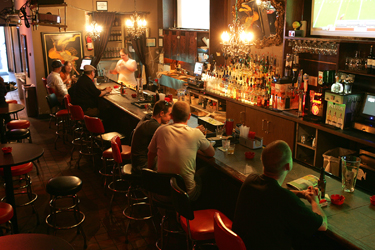 Another kind of art anchors the development at I-30 and Hulen Street. The Marty Leonard Chapel, a breathtaking Modernist work, is easily worth a look. Then, almost as exciting for foodies, perhaps, a visit to Central Market just down the hill, with exotic and organic produce and foodstuffs lining the shelves, all part of the Chapel Hill Shopping Center.
For friends who want shopping on a grander scale, drive them a few miles north to the vast open-air shopping mall of Southlake Town Square (1256 Main St., 817-329-5566), with a great many more shops featuring haute couture among other things, plus restaurants like the divine seafood place Truluck's. Does your group want to stick closer to Super Bowl central? Much better laid out is Arlington's own esthetically pleasing Merchants Row, located at Cooper Street and I-20, with a decent selection of shops and restaurants.
For dinner that's glitzy or simply great, choose among three areas in Fort Worth. The newest dining and shopping mecca is along West 7th Street just beyond downtown and the Trinity River. Bailey's Prime Plus (2901 Crockett St., 817-870-1000) and Eddie V's Prime Seafood (3100 W. 7th St., 817-336-8000) both serve up prime beef and seafood in lush surroundings. Brownstone (840 Currie St., 817-332-1555) also offers steaks, though it's better known for its excellent Southern haute cuisine made with local ingredients, and So7 Bistro (2401 W. 7th St., 817-878-4311) serves up fantastic French and Mediterranean food. For diners who are feeling a tad more adventurous, Lanny's Alta Cocina Mexicana (3405 W. 7th St., 817-850-9996) somehow brings off French-Mexican fusion cuisine in great style.
The eateries along West Magnolia Avenue on the South Side are more laid-back than those on West 7th, but they're no less excellent. These include Ellerbe Fine Foods (1501 W. Magnolia Ave., 817-926-3663), possibly the finest restaurant in the city, bar none, as well as bustling Lili's Bistro (1310 W. Magnolia Ave., 817-877-0700) and nearby Cat City Grill (1400 W. Magnolia Ave., 817-916-5333), both with cosmopolitan menus of American dishes done up with continental flourishes. Meanwhile, Italian cuisine purists swear by Nonna Tata (1400 W. Magnolia Ave., 817-332-0250).
For all this, downtown Fort Worth still is no slouch in the fine dining department. Pittsburghers who've spent time in Philly or New York may already be familiar with Del Frisco's Double Eagle Steakhouse (812 Main St., 817-877-3999) via its other locations, but the venerable institution with the jacket-and-tie dress code still serves up steak with the best of them. The place's old-school opulence is the direct opposite of the ultra-hip bustle you get at Piranha Killer Sushi (also with an Arlington location), which slings some dazzlingly inventive and very tasty rolls. If you're more in the mood for Italian cuisine, Ferré Ristorante e Bar (215 E. 4th St., 817-332-0033) offers traditional Tuscan dishes with a distinctive contemporary twist and a view of the beautiful Bass Performance Hall and its angels just across the street.
Finally, though it's located slightly off the beaten path, no account of Tarrant County fine dining would be complete without a mention of Bonnell's Fine Texas Cuisine (4259 Bryant Irvin Rd., Southwest Fort Worth, 817-738-5489), with superstar chef Jon Bonnell working some wildly creative variations on local food.
Top your night off with drinks at some of our more exclusive clubs. M Lounge (835 Foch St., West 7th Street corridor, 817-850-9900) offers a huge array of specialty martinis and an impressive cigar bar as well. On the other hand, if you hate smoke, check in at The Usual (1408 W. Magnolia Ave., South Side, 817-810-0114), a retro nonsmoking place that serves cocktails ranging all the way back to the Prohibition years. The tony downtown spot Bar 9 (900 Houston St., 817-348-9991) offers bottle service and VIP rooms.
---
SATURDAY
Big night last night? Nonstop Super Bowl mania starting to wear a little? Well, just kick back today — relax, eat a late breakfast, or skip it all together and go for a big lunch. Shop a little, maybe even burn off a few calories with some exercise. There's a historic golf course to play, plenty of good cheap grub, and, if you're so inclined, one of the best microbreweries in America at which to while away a couple of hours.
For late breakfast with the locals (but not too late), the Montgomery Street Café (2300 Montgomery St., near West Side, 817-731-8033) is a diner with counter seating, serving big traditional breakfasts for about six bucks. The Paris Coffee Shop (704 W. Magnolia Ave., South Side, 817-335-2041) has some of the best biscuits and creamy gravy around (a Southern breakfast standard that is very filling). Ol' South Pancake House (1509 S. University Dr., TCU area, 817-336-0311) features, of course, pancakes. An order of six buttermilk, buckwheat, or corn pancakes comes with a choice of nine toppings (chocolate chips, bananas, or strawberries, among others) for only $5.45.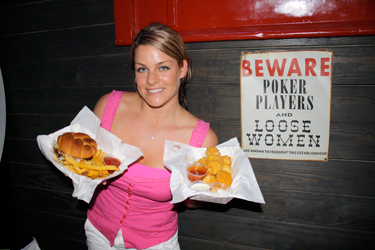 Note the Saturday hours at these three eateries: Montgomery Street Café serves until noon and the Paris Coffee Shop until 11:30 a.m.; Ol' South is open 24 hours.
Not surprisingly, a good burger isn't hard to find in a place known as Cowtown, formerly home to several major meatpacking companies. You Steeler fans may not be ready to give up your Primanti Brothers sandwiches for any of these, but they're fine nonetheless.
Dutch's (3009 University Dr., TCU area, 817-927-5222) is named for legendary Horned Frogs coach Dutch Meyer. It offers a good assortment of big burgers, shakes, malts, and a great plate of chili cheese fries. Fred's Texas Café (915 Currie St., West 7th Street corridor, 817-332-0083) has won numerous local awards for its burgers. The best bet: the Diablo Burger, with spicy hot chipotle chiles and creamy Swiss cheese. Wash it down with a beer in a chilled fishbowl mug. Not far away is the M&O Station Grill (200 Carroll St., 817-882-8020), with a wide variety of burger choices, including, for those not worried about calories and cholesterol, one stuffed with chorizo (spicy Mexican sausage).
If you're up for relaxing for a few hours in the afternoon with great beer, head out to Rahr & Sons Brewing Company (701 Galveston St., South Side, 817-810-9266) for its 1-3 p.m. Saturday tour. A cover of $7 gets you a pint glass and three tokens for some award-winning beers. Sitting at picnic tables with live music playing in the warehouse is a great scene. Food (barbecue and burgers, usually) is available for a little extra charge.
Looking for a little more exercise than bending your elbow? The Trinity Trails in Fort Worth are a system of 40 miles of paved paths along the river, linking many parks, downtown, the Fort Worth Zoo, and the Stockyards. It's a great place to jog or walk, with great views of downtown and the city's riverside parks. The trails are also popular among cyclists. Trinity Bicycles (207 S. Main St., South Side, 817-484-6825) has rentals available and is close to the downtown and West 7th Street trailheads.
One of the most historic golf courses in America is in Fort Worth, and it's worth an afternoon if the weather is OK and golf is your passion. Glen Garden Golf Club (2916 Glen Garden Dr., East Side, 817-535-2177) was built in 1912, and famed golfers Ben Hogan and Byron Nelson caddied there together in the 1920s. Nelson won the caddy championship in 1927 against Hogan by one stroke. Given its age, it is a rather short but quirky course, including the par-five 12th hole, with a huge electric transmission tower in the middle of the fairway. Greens fees are just $35 (including carts), but you can't rent clubs here. If you need rentals, go to www.golfclubsaway.com and have a bag delivered to your hotel.
If you went to the rodeo earlier in the week, you may not have made it to the Will Rogers Memorial Center in time to do justice to the stock show that is an integral part of that historic event. If you skipped the stock show before, it's the perfect venue for entertaining the kids for an entire afternoon. A ticket for grounds admission alone (no rodeo) lets kids get close to all sorts of livestock and stock events, wander through the art show and myriad exhibits, and enjoy the midway rides. This year a ticket ($10/adult, $5/children 6-16, under 5 free) includes admission to the Fort Worth Museum of Science and History and the National Cowgirl Museum and Hall of Fame, all in the same Cultural District complex.
For shopping, we suggest two great areas. The West 7th development just west of downtown includes a Super Target for those basic on-the-road needs, along with chain and local retailers of everything from shoes to clothes to office supplies. Teskey's Uptown (2913 Crockett St., 817-332-2525) is a funky Western store with boots, cute Western wear, and even saddles and rope for real cowboys. Flirt Boutique (2952 Crockett St., 817-744-7250) sells women's clothing that is chic yet affordable.
If by this time you need a more traditional shopping fix, check out the huge retail restaurant plaza complex known as Arlington Highlands (3901 Arlington Highlands Blvd., 817-701-2981). They've got everything from Tobacco Lane and The Walking Company to Red Swagger Fashions and Kidcore Toys.
Pleasantly tired after your laid-back day, you might want to return to West 7th for an equally relaxed evening. All within walking distance are choices like Fred's, offering country music on a heated patio, and Lola's Saloon (2736 W. 6th St., 817-877-0666), which offers a wide variety of great local music. Good sports bars in the area include The Wild Rooster Bar (3204 Camp Bowie Blvd., 817-332-9453), Delaney's Irish Pub (2973 W. 7th St., 817-289-2711), and The Pour House (2725 W. 7th St., 817-335-2575).
The preliminaries are done. The Ex-El-Vee Super Bowl is on the other side of a good night's sleep. Hope it's an entertaining game and your team wins.
Come back soon.
Compiled by Fort Worth Weekly staff writers and contributors.