There are plenty of restaurants in the West 7th Street corridor, so when my party of five walked into Fireside Pies to be told there was a 20-minute wait, we were a little surprised. Sure, it was a Friday night, but there are, literally, a dozen restaurants within a mile. And Fireside Pies is no Eddie V's. I moseyed up to the bar, thinking I'd kill the wait time with a happy-hour special –– but Fireside has no happy-hour specials.


Resignedly, I asked the bartender what he liked from the list of about 30 wines, none of which I'd ever heard of. And that's when things started looking up. The guy spent a good 10 minutes talking about the characteristics of the different wines he liked. The attention to detail was amazing and sums up the Fireside Pies dining experience.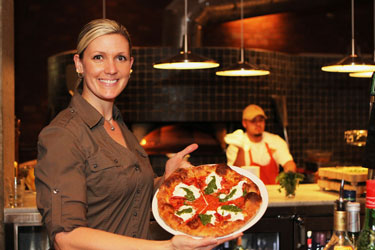 Server Rebekah was absolutely unflappable and cheerful, despite the busy evening and the hungry group at our table. We started with the meatball appetizer: six braised meatballs with grated fontina cheese and a marinara-style sauce, along with perfectly toasted crostini. The meatballs were about golf-ball-sized and dense, with a wonderful flavor. The most exceptional thing about the appetizer was the fresh tomato ragu. Tangy-sweet, with just a hint of garlic and basil, the bright, fresh sauce was good on the meatballs. And on the crostini. And really on anything else we could lay hands on.
We couldn't decide between the Caesar salad and the seasonal salad. The Caesar looked a little like modern art: a plate of whole endive hearts, a huge fluffy pile of pecorino Romano cheese, more of the crostini doubling as croutons, and a sweeter-than-normal creamy dressing. It was tasty, but the table's favorite was the seasonal salad: a huge pile of everything but the kitchen sink. Or maybe "everything including the washing machine" since the red oak and endive lettuce came studded with Maytag blue cheese, along with julienned bits of pears and apples plus almonds and dried cranberries. The tart champagne vinaigrette blended beautifully with the sweet fruit and piquant chunks of blue cheese. Both salads were ample enough to share with everyone at our table.
You get only thin, crispy, delicately sauced pies here: fair warning if you're a thick-crust, goopy-toppings aficionado. Fireside offers both a traditional crust and a gluten-free version. Both are hand-stretched and charmingly bubbly because of the extreme heat of the pecan wood fuel for the oven. In addition, the toppings list features fanciful ingredients like house-made lamb or chicken sausage and Gruyère cheese atop a soft-baked egg. However, you can get plain pepperoni or sausage if you don't like frou-frou ingredients. The chicken sausage pie came with beautifully, oddly shaped organic mushrooms and peperonata (a mix of sweet red pepper, tomato, onion, and garlic). And on a whim, we ordered the Thirteenth Pie, the special of the day that, for our visit, included baby mussels, lemon, Parmesan, and red pepper flakes all mingling in spicy, chewy goodness. We almost couldn't tell the difference between the traditional and the gluten-free crusts. The only complaint about the pizza came from one diner who thought it didn't have enough sauce. That small issue was rectified with a side of the marinara.
Perhaps ironically, there's no pie on the dessert menu. There's classic Italian (cheesecake, tiramisu), along with two dishes that merge warm and gooey delights with ice cream. The molten cocoa brownie would have been enough of a dessert by itself. Add a river of sea-salted caramel, toasted hazelnuts, and a generous scoop of vanilla ice cream, and you get an over-the-top luscious dessert experience. The Granny Smith apple crisp was fairly traditional, with the addition of plump golden raisins, but the dish was made a little more special by some real cinnamon ice cream.
As we left, we noticed that the 20-minute wait we'd experienced was now stretching closer to 40 minutes for later arrivals. And people were still sitting, sipping wine, and waiting. Even with a dozen other restaurants around. That seems the best testament to Fireside Pies. If it's good enough, people will wait.
Fireside Pies
2949 Crockett St, FW. 817-769-3590.
4pm-10pm Sun, 5pm-10pm Mon-Thu, 4pm-11pm Fri-Sat. All major credit cards accepted.
Braised meatballs $10
Seasonal salad $13
Caesar salad $12
House-made chicken sausage pizza $13
Warm cocoa brownie $8
Granny Smith apple crisp $8