WED ? 9
The Super Bowl is over, but at least one museum has kept up its football-themed art show. Grit and Glory: Six Man Football is an exhibit of photographs by Laura Wilson, who spent the 1990s in small Texas towns documenting people keeping the flame burning for this sport with deep roots in our state. The show runs thru Apr 23 at Meadows Museum, 5900 Bishop Blvd, Dallas. Admission is $8. Call 214-768-2516.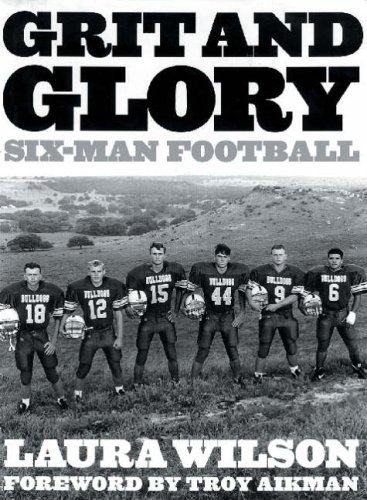 THU ▪ 10
The repetitively named Texas Legends, Before They Were Legends is a program at the Modern screening short films done by Texas filmmakers at the start of their careers. Richard Linklater and Robert Rodriguez are represented here, but the centerpiece will probably be the original short version of Wes Anderson's Bottle Rocket, filmed in 1992 and starring Owen and Luke Wilson. The event starts at 7pm at 3200 Darnell St, FW. Tickets are $8-10. Call 817-738-9215.
FRI ▪ 11
One of Shakespeare's more inscrutable comedies, Love's Labour's Lost is about a king and three lords whose vow to live an ascetic lifestyle is shot to pieces when a French princess and her three ladies-in-waiting drop in for a visit. Stolen Shakespeare Guild will try to make it accessible for modern-day viewers. The play runs Feb 11-20 at Fort Worth Community Arts Center, 1300 Gendy St, FW. Tickets are $15-16. Call 866-811-4111.
SAT ▪ 12
There's no shortage of Valentine's Day events, including Arts Fifth Avenue's Jazzy Valentine and Rose Marine Theatre's Noche de Amor. The real alternative pick here, though, is Moxley Manor Haunted House's Blood, Chainsaws, and Valentine's, putting a Halloween spin on the lovers' holiday. The house is open at 7pm at 510 Harwood Rd, Bedford. Tickets are $12. Call 469-288-6276.
SUN ▪ 13
After their Saturday game against Rio Grande Valley, the Texas Brahmas are running a for-women-only Ladies Hockey 101 clinic this afternoon designed to teach the sport's finer points. Is it really just the women who need the education? Out here in football country, plenty of men could probably use the course, too. The price of the event also includes a gift bag and dinner at ZuRoma, the restaurant at the NYTEX Sports Centre. The seminar is at 5:30pm at 8851 Ice House Dr, North Richland Hills. Registration is $35. Call 469-422-5106.
MON ▪ 14
Fort Worth Museum of Science and History's newest exhibit is Children of Hangzhou, designed to teach us about the Chinese city that's slightly larger than the Phoenix metropolitan area. A producer of high-quality silk and green tea, the city's also known for its West Lake, a scenic spot that's home to marine life forms that live nowhere else. The show runs Feb 12-May 8 at 1600 Gendy St, FW. Admission is $10-14. Call 817-255-9300.
TUE ▪ 15
The British-born, Brooklyn-based artist John Beech is known for ferociously abstract sculptures and photographs of urban decay that have been painted over or drawn on with a ballpoint pen. The artist appears at the Modern this week for the Tuesday Evenings at the Modern series, which has started up again. The event is at 7pm at 3200 Darnell St, FW. Admission is free. Call 817-738-9215.