The Health and Harmony House just feels welcoming. After walking through the front door, you may feel the stress of the outside world just melt away. The "house" (a fancy term for "storefront") offers a full coffee bar, limited food menu, classes (from yoga to creative writing to hand drumming), and, on Friday nights, live music. No matter why a visitor enters in the first place, he or she will probably leave feeling refreshed, if a tad jittery.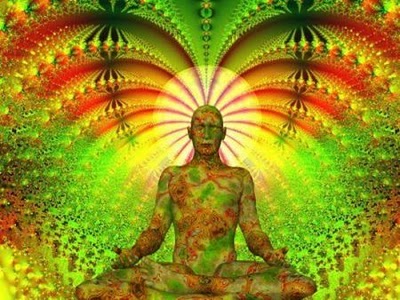 The Health and Harmony House is nestled in cozy, pedestrian-friendly downtown Arlington, a commercial district that seems worlds away from the busier city centers to the east and west. Many of the house's customers seem to be students at the nearby University of Texas at Arlington, who get a 10 percent discount, but people of all shapes, sizes, and ages will probably feel perfectly comfortable here. With locally produced art for sale on the walls next to Tibetan prayer flags, a feng shui mirror, and an American flag, the owners clearly took extra measures to make the place eclectic and inclusive.
The coffee bar, which is front and center between the yoga and seating areas, offers a wide array of teas and coffees. The beans, from Mawker, are locally roasted and can be manipulated in all the ways of the big coffee chains. My Irish cream caramel macchiato came out piping hot and was every bit as good as I had hoped. The numerous tea choices, also from Mawker, can be served any way, from plain to latte. Avery, who was working behind the counter on a recent Saturday afternoon, calmly and kindly took orders, rang them up, and applied his special magic to the drinks. A note on his tip jar promised that he would work for hugs or money, but considering that my affection wouldn't help him pay his rent or get through school, I gladly contributed some cash.
Avery also ran out food orders. Chefs Angel Johns and Nicky Smith designed the coffee house-type menu, a mix of sandwiches, soups, and salads. The kitchen continues the mind-body-spirit theme with the Harmonizer sandwich (bacon, ham, turkey, three cheeses, garlic ranch dressing, olives, and more on Italian Rotella's bread) and the Edgy Veggie (an amalgam of savory vegetables on fresh wheatberry bread). A display case proudly pimps the house-made brownies, cookies, and other delectables. Many of the offerings are organic.
The kitchen didn't seem to be in any major rush filling orders, but Health and Harmony House has a patience-is-a-virtue vibe. Everywhere you look are entertaining visual stimuli. The back wall of the room features a mural of Venice at night, complete with gondolier. Some of the tables hold both chessboards and bamboo plants. Bookshelves are stashed in every corner. Anyone who doesn't bring a laptop but wants to do a little reading can choose from several years' worth of National Geographic magazines or from New Age-y manuals such as Grace for the Moment, Vol. Two or One Small Step Can Change Your Life –– The Kaizen Way.
The place also is filled with artwork and crafts, including handbags (one made of actual vinyl records), aromatherapy oils, and more. The placemat for one table was a hand-drawn yellow eagle. Each corner of Health and Harmony House has its own personality, and the furniture is eclectic but comfortable.
Classes were not in session during a recent visit, but from hatha yoga to mind yoga to couples yoga, there's something for everyone. The house also hosts belly-dancing classes, woodworking lessons, and guitar workshops. Each session costs about $10.
A P.A. system sat unused in the corner, but on Friday nights, musicians and poets are welcome to bring their instruments and perform. Call ahead and sign up early. The word about this cool new joint is spreading quickly throughout Arlington, and lots of happy hippies are clamoring to be part of the action. –– Caroline Collier
Health and Harmony House
208 S Mesquite St, Arlington. 817-274-4477.
Contact Last Call at lastcall@fwweekly.com.