WED ? 30
The United States has far more tornadoes than any other country in the world, thanks to its large stretches of flat land flanked by two north-south mountain chains that funnel cold Arctic air into collisions with warm air from the Gulf. The Fort Worth Museum of Science and History rings in tornado season with Tornado Alley, an IMAX presentation about the scientists who study these phenomena. The film runs thru Oct 31 at 1601 Gendy St, FW. Tickets are $6-7. Call 817-255-9300.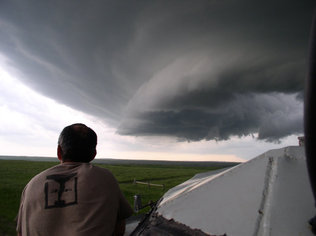 THU ▪ 31
In the tradition of the Texas Gridiron, put on for many years by the Fort Worth chapter of the Society of Professional Journalists, local politicians and celebrities will participate in Fools Rule, a night of bipartisan political humor and beer sponsored by the League of Women Voters of Tarrant County. The event starts at 6:30pm at Rahr & Sons Brewing Company, 701 Galveston Av, FW. Tickets are $25. Call 817-348-8683.
FRI ▪ 1
Noël Coward wrote musicals, but his Hay Fever is a non-musical farce, so it's not included in the Big Ticket. The slenderly plotted play about a bohemian family that inflicts its eccentricities upon guests can be terrifically entertaining when done properly. It's also a nice choice for a time when allergy season's in full swing. Stolen Shakespeare Guild's production runs Apr 1-10 at Fort Worth Community Arts Center, 1300 Gendy St, FW. Tickets are $15-16. Call 866-811-4111.
SAT ▪ 2
Last season the Monster Energy Supercross saw top riders and rivals James Stewart and Chad Reed suffer season-ending injuries early on, giving an opening to rookie sensation Ryan Dungey to seize the championship. Now the new champ has to deal with Reed and Stewart, both back in competition. You can watch it all play out at 7pm at Cowboys Stadium, 1 Legends Way, Arlington. Tickets are $40-55. Call 800-745-3000.
SUN ▪ 3
One of America's great conductors comes to North Texas this evening to rehearse with the Lone Star Wind Orchestra, and you can watch for free. Leonard Slatkin, who single-handedly molded the St. Louis Symphony Orchestra into an international force, will be at UNT to run the orchestra through Holst's Second Suite. The event is at 5pm at Winspear Hall, 1200 N Texas Blvd, Denton. Admission is free. Call 972-744-4650.
MON ▪ 4
Your best bet on a slow Monday is the National Cutting Horse Association Super Stakes and Super Stakes Classic. Four-year-old horses compete in cutting cattle from a herd in the Super Stakes, while 5- and 6-year-olds face off in the Super Stakes Classic. The event runs thru Apr 16 at Will Rogers Memorial Center, 3401 W Lancaster Av, FW. Admission is free. Call 817-244-6188.
TUE ▪ 5
It's not often you get to hear a Van Cliburn Competition medalist play for free, but that's the opportunity waiting for you at Rose Marine Theatre this evening. Silver medalist of 2009 Yeol-eum Son takes the stage. She'll play some Liszt transcriptions, plus music by Tchaikovsky and Debussy. The recital starts at 7:30pm at 1440 N Main St, FW. Admission is free. Call 817-624-8333.