WED ? 11
Get an advance look at next month's Q Cinema festival, or just take in the fabulosity of a drag queen beauty pageant at the Miss Q Cinema. Contestants will compete in talent, evening wear, and lip-syncing events. The show is at 8pm at Best Friends, 2620 E Lancaster Av, FW. Admission is free. Call 817-723-4358.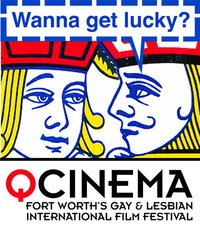 THU ▪ 12
The question so many artists have to ask themselves is: How can they work in an established tradition while still keeping their art relevant to the present day? That's up for debate in Keeping It Current: Contemporary Artists Working in Classical Style, a panel discussion with Hudson River School devotees Jacob Collins, Stephen Hannock, and Valerie Hegarty. The talk is at 6pm at Amon Carter Museum, 3501 Camp Bowie Blvd, FW. Admission is free. Call 817-989-5030.
FRI ▪ 13
Who doesn't like pizza? This year's Main Street Days will have a dozen different pizzerias in the Grapevine area giving out free samples of their pies. Those will go nicely with either the locally made red wine or a frosty glass of beer. The event runs Fri-Sun at historic downtown Grapevine. Tickets are $5-20. Call 800-457-6338.
SAT ▪ 14
The South Side of Fort Worth will be dotted with short-term art shows for Arts Goggle. In addition to live music at Avoca Coffee, TMA Architects, and other places, there'll also be art exhibits. Some venues like SiNaCa Studios and American Ceramic Supply Co. will have art events going all weekend. The festival is Sat at various locations. Check Calendar for locations. Admission is free.
SUN ▪ 15
The title Potiche translates as "trophy wife." François Ozon's bubbly farce is set in 1977 and mimicks the saturated look of French comedies from that time. Catherine Deneuve stars as a trophy wife who suddenly turns into a progressive business leader after her cheating husband is taken hostage by some striking workers at the umbrella factory that he owns. The film runs Fri-Sun at Modern Art Museum of Fort Worth, 3200 Darnell St, FW. Tickets are $6.50-8.50. Call 817-738-9215.
MON ▪ 16
Spectrum Chamber Music Society's latest concert focuses entirely on music for pairs of instruments. The wide-ranging program includes Samuel Barber's lyrical Cello Sonata and Michael Colgrass' incisive, dramatic Variations for Four Drums and Viola. The concert is at 7pm at First United Methodist Church, 800 W 5th St, FW. Admission is free. Call 817-377-0688.
TUE ▪ 17
Central Market's two-week Pasaporte España showcases Spanish food and wine. Today, Jorge Ordóñez will conduct tastings of white wine, including Albariño (a Galician wine said to be a perfect accompaniment to seafood when chilled) and Txakoli (an extremely dry Basque wine that's usually green in color). The event runs May 11-24 at 4651 W Fwy, FW. Check Calendar for admission prices. Call 817-989-4700.