In classical music, each new work is tasked with keeping the art form alive, and each live performance of a contemporary piece of music is an event and an occasion for taking the cultural temperature of a local audience. So we make allowances for new stuff, knowing that music groups that perform new music are taking a risk.


Formerly an afterthought in the city's classical music scene, Fort Worth Opera has become a vital part in the last few years, and one reason is the troupe's willingness to present contemporary works. All this makes it more painful that I found their production of Philip Glass' 1990 piece Hydrogen Jukebox to be such an unpleasant experience. This failure both is and isn't the fault of Fort Worth Opera. It isn't their fault, because they've done very well with such flawed material. It is their fault for picking the material in the first place.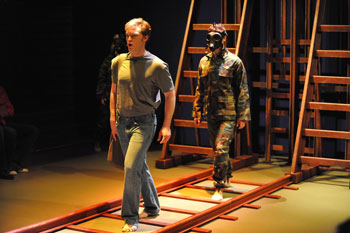 The opera is a plotless musical setting of selections from Allen Ginsberg's poetry ranging from more than 40 years of his work. The musical ensemble is limited to six singers, two percussionists, two clarinet/sax players, and two keyboardists (conductor Steven Osgood doubles as one of the latter). Even though the Hardy Sanders Theatre, where this production takes place, isn't a large space, the singers still wear headsets to make themselves heard over the electronically amplified band. Hydrogen Jukebox has been performed in concert halls as a song cycle, but here it's given a staging in the round, with singers using the aisles to enter and exit the performance space. The scenery is mostly abstract, with two large freestanding ladders mounted on wheels serving as car seats, airplane seats, and a throne. The singers easily switch costumes from combat fatigues and gas masks to business suits to HazMat outfits. Occasionally they're clad in nothing but their underwear. (The men here, especially, look good in their underwear.)
My problem with Hydrogen Jukebox is simple: I don't like Philip Glass' music. His work tends to be filled with repeated figurations and arpeggiated chords that other listeners find mesmerizing. I just find them intensely boring. This opera is somewhat more diverse than Glass' previous work. He evokes klezmer in his setting of Ginsberg's "Aunt Rose" and sleazy jazz in the section of "Howl" ("Moloch! Solitude! Filth! Ugliness!") that opens the opera's second half. Apt as these choices are, Glass' versions of these musical styles that are foreign to him are less than convincing.
His more characteristic music at times achieves beautiful results, like the hushed, low, close harmonies during an early selection from "Iron Horse" ("Who is the enemy, year after year?"). Far more often, though, Glass proves deaf to the most basic qualities of Ginsberg's words and makes the poetry sound more tendentious than it is. The composer misses the humor in the poet's lines from "Cabin in the Rockies," doesn't do anything with the singsong rhythm of "N.S.A. Dope Calypso," and renders the lush homoeroticism of "The Green Automobile" as sterilely as everything else. Surely it's damning that the opera's best moment is when the music relegates itself to the background. The first half closes with a spectacular setting of "Wichita Vortex Sutra," which is recited rather than sung over exalting figures reeled off by a piano. This is the only time that the opera taps into the incantatory power of Ginsberg's poetry.
At least the cast is talented. The opera's lack of traditional structure made it hard to pick out individual voices, but bass Justin Hopkins did a terrific job with the aforementioned "Wichita Vortex Sutra." Baritone Dan Kempson was memorable as well, especially during the opening and in "To P.O.," much of which he sang while lying on his side. (Try singing opera while lying on your side some time. It's not easy.)
Director Lawrence Edelson was occasionally too much in thrall to the styles of theatrical giants Peter Sellars and Robert Wilson, but then, how else would you stage a Philip Glass opera? His staging was clever, with a railroad track laid down in the middle of the performance space at the beginning being picked up in sections to evoke fences. The intimate space of the Sanders Theatre was used to maximum effect.
Still, the whole thing left me with an overwhelming urge to rent last year's movie Howl, featuring spoken performances of Ginsberg's work by James Franco that were far more galvanizing and beautiful than anything in Hydrogen Jukebox. Missteps like these are inevitable when you're presenting new material every year: I have faith that Fort Worth Opera will turn its talents to better stuff in the future.
Fort Worth Opera Festival
Thru June 5 at Bass Performance Hall, 525 Commerce St, FW, and Sanders Theatre (Fort Worth Community Arts Center),1300 Gendy St, FW. $15.40-157.80. 817-731-0726.