Jack's Porch advertises itself as an "American Sports Grill." Yes, the menu is full of traditional "American" stand-bys (burgers, fries, wings), and the walls are covered in flat-screen TVs. But Jack's is in Southlake, which means the menu also offers some non-sports-grill fare (chicken parmesan, baby-back ribs, pulled pork) and that the place has marble-topped tables and leather chairs. In keeping with the semi-upscale vibe, golf ruled the television screens on the day some friends and I visited (although I heard that every TV in the place was tuned to the Rangers last October). Jack's, which opened in 2009, does have a lovely porch with about a half-dozen tables, and on a late spring day, that's a lovely place to have lunch.


The portobello fries proved to be an ideal appetizer: long, thin slices dipped in a tempura batter, fried, and dusted with parmesan cheese. Frying the meaty 'shrooms can be tricky: Since they tend to be moist, the batter doesn't always stick to them, and they can become a soggy mess. Not the case here. The appetizer came beautifully presented in a silver cone, and the crisply battered mushrooms retained their texture and crunch throughout the meal. The dish is served with a parmesan-enhanced ranch dressing, which was also pretty tasty.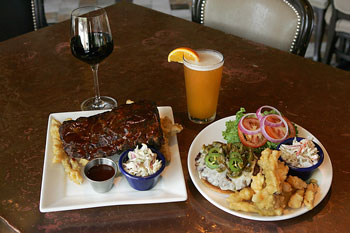 Unlike at most sports grills, it's possible to eat fairly healthily at Jack's. The house salad turned out to be a plate of dark, leafy lettuce mix with slivered almonds, blue cheese, and cranberries accompanied by a delicious, fresh blue cheese dressing. The salad was almost enough for lunch all by itself.
The Porch Burger was well seasoned with salt, pepper, and some kind of secret grill spice and arrived open-faced, topped with a slice of avocado and melted jack cheese. The accompanying Porch Fries –– dipped in tempura batter –– were sheer decadence. The inside of the potatoes was soft and creamy, almost the texture of mashed potatoes, while the outside was delightfully crunchy.
The dish that provoked the most envy from the other folks in my party was the shrimp grits. Huge shrimp and andouille sausage came bathed in a spicy, creamy base studded with slices of jalapeño peppers. Instead of a bed of traditional grits, a triangle of polenta sat upright amid the shrimp and sausage. The spice level was intense –– it was pronounced "not for amateurs" by my spice-loving friend. The shrimp were perfectly cooked, not rubbery, and the sausage provided a little oomph
of flavor.
The lunch special was chicken with an avocado-and-shrimp salsa. Two large chicken breasts had been pounded flat and grilled beautifully. The dish came with green beans, which were lukewarm, and broccoli, which was actually cold. Still, the chicken tasted good, and the zesty kick was much appreciated.
When Jack's Porch opened, there was some unpleasantness surrounding co-owner Jack Layman's move from the management at Rockfish to open his eponymously named joint. Although there are several fish offerings on Jack's menu, the only thing the restaurants really have in common is the Southlake location. And in an area where looking good is expected, Jack's goes beyond pretty to offer fresh, inventive food and generous portions.
Jack's Porch
1239 Main St, Southlake. 817-251-6776. Sun-Thu 11am-11pm, Fri-Sat 11am-2am. All major credit cards accepted.
Portobello fries……………………………………………. $ 6.00
Shrimp grits………………………………………………… $13.00
House salad……………………………………………….. $ 4.00
Porch Burger …………………………………………….. $ 8.00
Chicken w/avocado-and-shrimp salsa…………… $11.50