Come heat or high water, the Ballet Concerto Summer Dance Festival will be held Thursday through Sunday in the pavilion at Trinity Park. Margo Dean Dance Studio's traditional summer outing is now in its 28th season, and the 2011 version will feature the same three works each night, including a staging of the suite from Raymonda by Webster Dean, associate director of the company, based on the original Petipa choreography created for the old St. Petersburg Ballet. The grand pas de deux will be danced by company regular Michele Gifford with Shea Johnson. Gifford formerly danced with Texas Ballet Theater, and Johnson was a principal dancer with Metropolitan Classical Ballet in Arlington before joining the Arizona Ballet.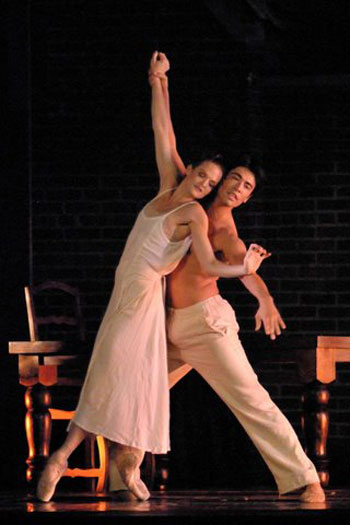 A revival of Luis Montero's ballet House of Bernarda Alba and its look at the havoc wrought by a repressive matriarch in a family of five daughters is also on the bill. Based on the well known novel by Federico García Lorca, the story explores the tensions in a household condemned to eight years of mourning imposed by the mother on the death of her husband. Marriage, and even mingling among young people, is banned, which creates an explosive situation ripe for tragedy. Leading dancers include Grant Dettling and Katie Keith, who are married and dance with the Dayton Ballet in Ohio, plus Gifford, Sunni Thomason, and Brandon Nyugen, who will join the Atlanta Ballet in the fall.
Christine Hay's salute to George Gershwin, Gershwin Gold, will close the evenings on a light note. Songs include "I Got Rhythm," "Summertime," and "Walking the Dog." Recorded music will be used throughout the festival. –– Leonard Eureka
Ballet Concerto Summer Dance Festival is 8:30pm Thu-Sun at Trinity Park Pavilion, 2300 W 7th St, FW. Admission is free-$25. Call 817-738-7915.