Fort Worth filmmaker James Johnston is getting a lot of buzz for his new short, Knife: A Portrait of Revenge. After the Weekly wrote a cover story on him, ("Cool Customer," June 1, 2011), he popped up in a New York Times story about the Palm Springs International Shortfest. Knife, which Johnston wrote and directed, is now making its Fort Worth premiere at the Modern.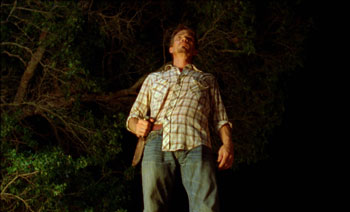 Shot partly in Fort Worth, the film follows a young unnamed man harboring a seething hatred. Lead actor Charles Baker, a veteran of the Fort Worth theater scene, will be familiar to viewers of the multi-Emmy-winning AMC series Breaking Bad, in which he plays Skinny Pete. The short was produced by Alec Jhangiani, artistic director of the Lone Star Film Society and a filmmaker in his own right.
Shorts by Johnston and by frequent collaborator David Patrick Lowery will also be screened. You can also expect to see some of the gang's music videos and other cinematic surprises. The event will conclude with a Q&A with the filmmakers and Baker. — Zack Shlachter
Knife premieres Thu at the Modern Art Museum of Fort Worth, 3200 Darnell St, FW. Admission is free. RSVP at info@knifemovie.com.