Here's a sign of great service: The owner of a recently opened restaurant on a busy Bedford freeway spends long minutes on the phone directing potential customers through road construction to get to his place. Phongphang Chokbengboun guided a friend and me patiently and with good humor right to the front doors of his Thai Steak House, a small strip-mall establishment. The cream-colored walls and tablecloths and the soothing flute and string music soon calmed us down and prepared us for a solid, satisfying meal.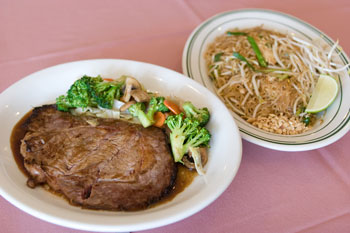 The meal started with a divine bowl of tom yum with chicken, a spicy, sour, reddish-gold soup heavily infused with savory lime juice. Thinly sliced green onions and flecks of pungent cilantro floated atop the broth while thick wedges of tomato and fresh (not canned) sliced mushroom caps rested with large chunks of chicken breast at the bottom. The soup seemed like it would be an excellent hangover cure, but it tasted just as wonderful when we hadn't imbibed the night before.
As the name of the restaurant implies, the proprietors are especially proud of the cuts of meat served here. You can order beef rib-eyes, T-bones, or filet mignon cuts prepared in any of several sauces, including garlic, teriyaki, spicy, and ginger. We decided to go off the grid and order the Thai pork chop, prepared with a thin, dark, tangy garlic sauce. Two medium-thick bone-in chops arrived and were very good –– pan-fried until the edges were crispy, but the center was tender and juicy. Everything in the side of stir-fried cabbage leaves, crunchy carrot slices, and broccoli florets was fresh and tasty.
The traditional Thai entrées we sampled also didn't disappoint. Thai green curry pork came as a stew: medium-spicy, pale-emerald sauce with crisp bamboo shoots, slices of green onion, firm peas, and fresh green beans. Mixed with a side mound of white rice, the dish became a kind of fiery Asian casserole with a home-cooked flair.
Probably the best of the entrées was the pad kee mow with chicken: large, flat, thick, light-brown noodles clung together on the plate almost like dumplings. Slippery thin slices of white onion, prickly basil leaves, and Thai chili pepper seasoning actually made this noodle dish hotter than the green curry we sampled, so be advised. But like everything else about Thai Steak House, pad kee mow was a warm and inviting experience.
Thai Steak House
1725 Airport Fwy, Bedford. 817-684-8200. Closed Sun, 11am-9pm Mon-Sat. All major credit cards accepted.
Spring rolls ………………….. $5.95
Tom yum chicken …………. $3.95
Thai pork chop …………… $14.95
Thai green curry pork …… $9.95
Pad kee mow w/chicken . $9.95