What is it about Richard Diebenkorn's Ocean Park Series that is so damn intoxicating? The vague colors (perfectly undecided, like a person who thinks too damn much)? The geometries evoking landscapes? The thick but lighter-than-air brushstrokes? The subtext of seaside living? (Trés bourgeois, Dick.) Whatever it is, Diebenkorn's Ocean Park handiwork resonates, even, we would venture, with art lovers who dismiss abstract-expressionism as just so many angles, swirls, and colors.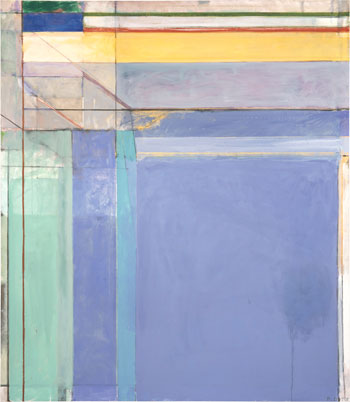 The Oregon-born, California-raised painter who passed away in the early '90s didn't start out as a fully formed ab-ex master –– he excelled as a Hopper-esque representational painter in the early '40s, before his World War II service. But in the early 1950s, he began his lifelong fascination with ab-ex painting, inspired by sources as diverse as Matisse and de Kooning. In the late 1960s, he found his way to the location that inspired Ocean Park — Santa Monica, Calif. — and pretty much spent the rest of his days obsessing over the terrain.
Co-organized by the Modern and the Orange County Museum of Art in Newport Beach, Calif., Richard Diebenkorn: The Ocean Park Series is the most comprehensive show ever of the artist's most popular and beloved oceanfront output. Hanging at the Modern Art Museum of Fort Worth from Saturday thru Jan 15, 2012, The Ocean Park Series gathers more than 75 Santa Monican paintings, prints, and drawings, spanning two decades. Many of the works have been borrowed from museums and private collections, and most are rarely seen in public. Fans of high ab-ex painting, rejoice.
Richard Diebenkorn: The Ocean Park Series runs Sep 24-Jan 15, 2012, at the Modern Art Museum of Fort Worth, 3200 Darnell St, FW. Admission is $4-10. Call 817-738-9215.