Every time I'm on 820 as it loops north of Haltom City, I see the sign. It says Redneck Heaven, and it applies to a gigantic bar and grill with motorcycles parked in front of it. And every time, I think, Oh, geez.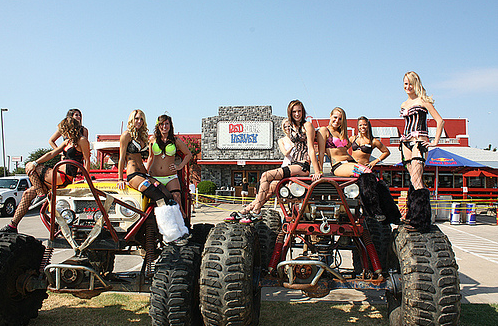 When I think of dog heaven, I figure it's packed with lots of normally forbidden furniture, ample signposts and trees on which to pee, and an endless supply of cats on which to snack. I've never really thought about redneck heaven, though I'm intrigued by what it could be. Fan-boats bearing stickers of Calvin pissing on non-fan-boats? Schaefer on tap? NASCAR wreckage? Domestic violence? I figured there would be a lot of fried food and a bunch of fat guys in shirts with the sleeves cut off. Probably cursing President Obama. Oh, and knockers. Redneck heaven is probably full of knockers.
I was right on at least that last count. As I entered, I was greeted by a cute brunette in Daisy Dukes and a really short shirt. I wanted to sit at the bar for a beer, but this being lunchtime, the bar was totally packed. If you've ever driven by this place (I think it used to be a Logan's Roadhouse or some other sort of red-meatery), imagine Cowboys Stadium and then extrapolate how many people it would take to fill the field. I didn't bother counting, because I was immediately wowed by a wall of diamond-plate steel from which hung huge flat-screens and the hood of a Pontiac Firebird, its gold, screamin' chicken oddly regal against a backdrop of visual noise made from nearby neon signs and sports bric-a-brac. The bar provides a sort of rectangular curtain wall around the taps and bottles arrayed beneath the TVs, making the boozing area into this weird sort of fort protecting a steel keep. But you know, like, inside a restaurant.
Discovering that Redneck Heaven is basically a less obviously branded breastaurant was no surprise, nor was the passenger door of a General Lee replica hanging from the wall, nor was the phalanx of sassy lasses carting around trays of beers and lunch items. I was more taken aback that a place apparently made for rednecks had only one deer head mounted on the wall.
Because the bar was elbow to elbow, my buddy and I had to sit in a booth. The beer selection includes just about every macrobrew on the market, plus stuff like Dos Equis, one Rahr on tap, and Fireman's 4. My friend ordered a pint of Coors Light and some chips and queso; I got a pint of Fireman's and an appetizer called Tinker Toast.
Our server, a lovely young lady named Shannen, informed me that the kitchen had to make a new batch of Tinker Toast, so we got our queso first. It was spicy with chunks of sausage. Perusing the menu, I saw a horde of greasy snacks ranging from jalapeño buttons (sliced japs battered and fried) to calf fries. A different menu advertised a Hooters-esque calendar, as well as a bunch of special events. If you're dateless on Valentine's Day, hit up Redneck Heaven, because apparently the servers will be wearing even less than usual; the night is actually referred to as Shred Your Ex, so I guess the resto's marketers are counting on the dateless and jaded needing to cover their feelings in gravy and shove 'em down their throats.
If Redneck Heaven were a bar-bar and maybe a little trashier (more taxidermy, less daylight, more Georgia Satellites), it would probably be a pretty fun place to hang out, though that Shred Your Ex thing sounds like it might be awesome. I liked the queso, though the chips were so oily that they kinda had that Jack-in-the-Box-taco transparency. The Tinker Toast was disgusting. I love garlic bread, so I just figured I'd ordered something similar. What I got was sliced French bread covered in bits of jalapeños and a "secret parmesan sauce … caramelized to perfection," whatever that means. I thought you did that only to onions, but whatever. Apparently, it's not quite perfect, because you can add shredded cheddar for 49 cents. Seeing as how I was about to overdose on cheese already, I'm glad I didn't bother. And anyway, the toast was floppy, salty, and gross, and no amount of cheddar could've saved it. If redneck heaven is anything like this place, I hope Death sends me somewhere else. If not, I guess I'll have another pint of Fireman's 4. –– Steve Steward
Redneck Heaven
3840 NE Loop 820, FW. 817-222-9800.
Contact Last Call at lastcall@fwweekly.com.