Only a filmmaker of Steven Spielberg's stature could convince two rival Hollywood studios to put out two films by him in the same week, and during Christmas, no less. The Adventures of Tintin is based specifically on three 1940s-vintage installments of the famous comics series by a Belgian artist calling himself Hergé. Though the comics are dated from a story standpoint, their artwork remains as accomplished and beautiful as anything drawn today, and you can easily see how their tales of an intrepid, globe-trotting reporter who barely escapes death at least once every five panels would appeal to the guy who made the Indiana Jones movies.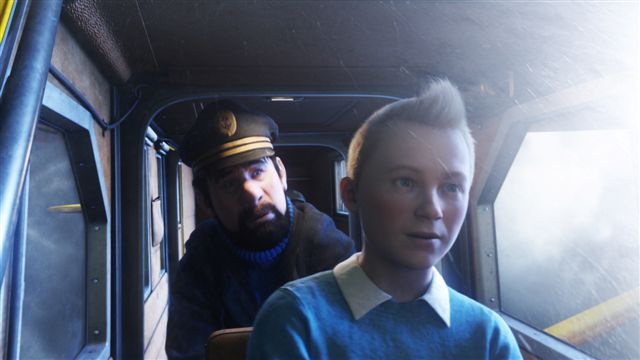 Jamie Bell provides the voice of Tintin, who buys a model ship at a flea market one day and is then surprised when a shadowy professorial type named Sakharine (voiced by Daniel Craig) is willing to kidnap and murder to get his hands on the model. Tintin's investigations lead him all the way to Morocco, accompanied by his faithful dog Snowy, two bumbling Interpol cops named Thompson and Thomson (voiced by Simon Pegg and Nick Frost), and a hard-drinking sea captain named Haddock (voiced with great zest by Andy Serkis) whose family history is inextricably bound up with the model and the hidden treasure that it leads to.
This is Spielberg's first film as an animation director, and he brings his long-established flair for staging chase sequences. The film has several good ones, but none more awe-inspiring than the complex one through the streets of a Moroccan city, with all the characters fighting for possession of three sheets of paper and involving a bazooka, a burst dam, a trained hawk, and a luxury hotel being carried by a tank. Spielberg also executes some nimble cross-cutting between Haddock's frenzied, drunken retelling of an old naval battle and the battle itself between Haddock's naval ancestor and a pirate named Red Rackham (also voiced by Craig). The performance-capture animation by the firm of Weta Digital translates Hergé's cartoonlike drawings into the polygonal look of modern video games. The three screenwriters, two of whom are talented filmmakers in their own right (Attack the Block's Joe Cornish and Scott Pilgrim vs. the World's Edgar Wright), provide smart dialogue and pointed humor, even if they do make some regrettable puns on Sakharine's name. All in all, everyone gets into the swing of Hergé's irony-free grand adventure.
The same irony-free spirit informs Spielberg's other film this week, War Horse, with much less happy results. It's based on Michael Morpurgo's 1982 book, though it only came to Spielberg's attention thanks to the celebrated puppet-theater adaptation in London a few years ago. Spielberg's movie does not involve puppets but instead tells the story in less stylized terms. Indeed, the first 20 minutes could have come straight out of a 1940s Hollywood film.
A drunken no-account British farmer named Narracott (Peter Mullan) is goaded into buying a horse that's too small to pull a plow, and only Narracott's son Albert (Jeremy Irvine) believes in the horse, naming him Joey. When the war starts, Narracott sells Joey to the British cavalry, and the film follows the horse as it changes hands during the war, touching the lives of two German deserters (David Kross and Nicolas Bro), an old French farmer (Niels Arestrup) and his granddaughter (Celine Buckens), and a German private (Rainer Bock) trying to keep his superiors from working their horses to death.
The film's sprawling canvas takes in some good performances: Tom Hiddleston, recently seen as the bad guy in Thor, here makes an impression as the kindhearted British officer who first takes Joey from the farm. There's also one remarkable scene late in the film when the horse gets entangled in barbed wire in no man's land, and one British soldier (Toby Kebbell) and one German (Hinnerk Schönemann) emerge from their trenches without their weapons to cut the horse free. Yet the power of this scene only underscores the banality of the movie surrounding it. Too many of the other characters are barely sketched in, and the PG-13 rating keeps the movie from fully capturing the brutality of war. Spielberg is trying to use the horse's tale to show us the costs, large and small, of war, but he has already been to this territory before, and he's done it better. So have other filmmakers. Compared to their efforts, War Horse is a well-intentioned bore.