With New Year's Eve falling on a Saturday this year, this weekend is a prime opportunity to let it rip as you ring in 2012. If it suits your musical tastes, you can pick the swing and big-band music offered by Fort Worth Symphony Orchestra, with guest conductor Jeff Tyzik and singer Carmen Bradford, or the show music at Stage West's end-of-year party, with Broadway performers Judy Blue and Bob Dulcie singing accompanied by a piano.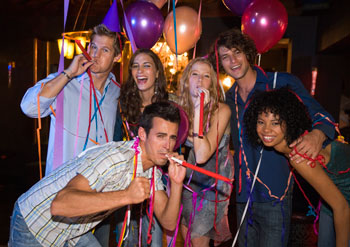 On the other hand, if your tastes are somewhat more contemporary, you can hear the R&B stylings of Analisa Bailey and the FM Band at Arlington Museum of Art's shindig. A live DJ will be on hand to supply beats for the party at Boogie Bowl and Roll, a bowling alley that will have free bowling for partygoers, as well as an admission fee that's much lower than the other fests.
Then again, you might want to end the year with comedy rather than music. If that's the case, Four Day Weekend throws its usual improv show, as opposed to The Improv Club, which will have John Witherspoon on stage to help you celebrate. Meanwhile, Hyena's Comedy Nightclub has a blowout with Nick Guerra and Kasambwe joining the weekend headliner Angel Salazar for a New Year's show. Finally, if you'd rather have a murder mystery at year's end, Runway Theatre has a cocktail-attire gala for you. While champagne figures in most of these events, they offer varying degrees of food, dancing, prizes, drinks, and traditional black-eyed peas. For more details, remember to …
Check Calendar for times, locations, prices, and contact phone numbers.