WED ▪ 4
The cavernous Metropolitan Opera was long assumed to be a bad place to stage Baroque operas, with their smaller ensembles and intimate dramas. Yet the New York venue's staging of Handel's Rodelinda, about a royal usurper and an imprisoned queen, earned raves for the Met. You can see the staging, with powerhouse singers Renée Fleming, Stephanie Blythe, and David Daniels, at 6:30pm at various movie theaters. Tickets are $12.50. Call 818-761-6100.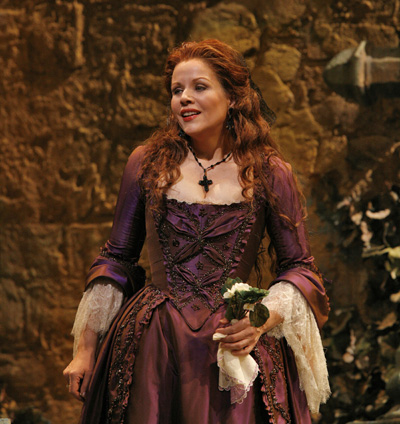 THU ▪ 5
TCU social work professor Harriet Cohen gives a presentation this afternoon at Fort Worth Central Public Library on Holocaust Survivors in Texas. The program should jibe pretty well with the play that Stage West is opening this weekend (see: Sunday blurb). The lecture begins at 2pm at 500 W 3rd St, FW. Admission is free. Call 817-871-7701.
FRI ▪ 6
Just because the holiday season is over, that's no reason to forget the poor and homeless. Hence the ¡Fiesta Gratis!, a party that will feature food, clothing, gifts, and entertainment for the less fortunate in the Denton area. The event starts at 5:30pm at Immaculate Conception Church, 2255 N Bonnie Brae St, Denton. Admission is free. Call 817-467-3087.
SAT ▪ 7
If you go to Chamber Music Society of Fort Worth's customary January performance this year, we hope you like the key of B-flat major. Three of the four works at this concert will be in that key: a string trio and a piano trio by Schubert and a divertimento by Mozart. Pianist Tamás Ungár joins the ensemble for this recital. The music starts at 2pm at Modern Art Museum of Fort Worth, 3200 Darnell St, FW. Tickets are $10-28. Call 817-877-3003.
SUN ▪ 8
Known as a writer of small comic vignettes, David Ives penned a radical departure in 2008 with his play New Jerusalem, The Interrogation of Baruch de Spinoza at Talmud Torah Congregation: Amsterdam, July 27, 1656. This well-received, mordantly funny work depicts the trial of the young Portuguese Jewish philosopher as he faces charges of breaking Dutch law by discussing religion with local Christians. Stage West's new show should make a great intro to this thinker whose radical ideas helped shape many religious and civil ideas at work today. The play runs Jan 5-29 at 821 W Vickery St, FW. Tickets are $15-30. Call 784-9378.
MON ▪ 9
We all should learn how to prepare fast dishes at home that are also healthy, and Central Market's cooking class this evening is all about that. You'll learn to make grilled salmon, pork tenderloin, tomatoes and orecchiette, and clafouti, a French baked dessert of cherries covered in thick batter. The class starts at 6:30pm at 4651 W Fwy, FW. Registration is $55. Call 817-377-9005.
TUE ▪ 10
The Military Museum of Fort Worth inaugurates 2012 with an exhibit entitled Sea Dogs and Devil Dogs. The Westside venue will display artifacts from the last 100 years of the U.S. Navy and the U.S. Marines in both world wars, Korea, Vietnam, Iraq, and Afghanistan. The exhibit runs thru May 13 at 712 Dorothy Ln, FW. Admission is free. Call 817-386-9498.