Sushi Domo Bar & Grill is tucked into a corner of a strip mall across from one of Arlington's three hospitals. There are few restaurants nearby other than fast food, so this pretty, new-ish sushi restaurant is a welcome option, even if it does seem to have a split personality.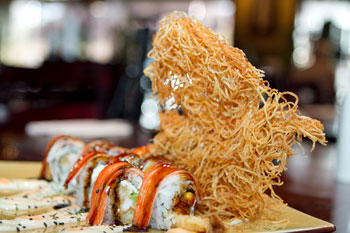 When I visited one evening with my dining companions, we got a mixed bag. Although Domo offers the standard array of sashimi, the restaurant also serves cooked rolls, which makes the place good for the sushi-timid. That's a plus. The service was polite but paced. Actually, "paced" is gracious: The place wasn't busy, and the service was slow, despite the presence of three sushi chefs. Less forgivable was the hit-or-miss quality of the food.
The Oh My God roll looked fabulous, like an Impressionist painting had exploded on the black plate. Three kinds of sauce, including wasabi and a spicy red, complemented tempura shrimp and cream cheese inside the roll with faux crab on top. Unfortunately, the sauces really got in the way: One was too sweet, one was too spicy, and there was just too much of all three.
The Cowboy roll was a better choice, especially for the raw-averse diner. Grilled beef, avocado, asparagus, and a tartly bitter spring mix came rolled with masago (capelin roe) on top. The sauce wasn't as omnipresent as on the OMG roll. The tender steak, crunchy spring mix, and creamy avocado melded into a lovely combination.
The white tuna sashimi was impressively fresh and presented beautifully if not inventively. But as long as a restaurant gets fresh tuna, it's hard to mess up sashimi. We left feeling less than full, though.
However, I returned for lunch on a recent Saturday with the same dining companions, and our experience was totally different. The service was exceptional. My daughter ordered the teriyaki chicken bento box, and we were surprised to find the "chef's choice of side dishes" (as advertised on the menu) included a crispy, tasty veggie egg roll, salad, a giant tempura shrimp, four slices of creamy California roll, and sweet-as-candy pineapple, along with a good portion of the actual teriyaki chicken. The chicken –– not too spicy, with the right amount of soy combined with red pepper and onion –– was very tasty. Overall: a delicious meal for under $10, and she wasn't hungry two hours later.
The Yakiniku bento box featured tender beef grilled with onions and red peppers, almost fajita-like. The fried rice was a lovely, smoky mélange of rice, soy sauce, fried egg, and a carrot-corn-green-bean mix.
The Captain Jack roll included tasty tempura-battered calamari, asparagus, and avocado in a giant wheel topped with smelt eggs. The whole roll perched on a creamy, sumptuous aoli-like sauce. It didn't conjure up an eyeliner-wearing Johnny Depp, but it was yummy and about half the price of the OMG roll.
Finally, the nigiri combo featured a piece each of tuna, salmon, red snapper, whitefish, eel, and shrimp, along with the choice of either the Cali or spicy salmon roll. I wasn't a fan of the whitefish, although that's not the sushi chef's fault. The eel, though, was scrumptious, and the other fish had delightfully clean flavors. The spicy salmon roll was fine –– avocado and immaculately fresh raw salmon hardly needed any augmentation.
Sushi Domo's web site boasts that the place has "the freshest and tastiest sushi in Arlington." That's not saying a lot: Although Arlington has come up greatly in the culinary world over the past few years, the city is far from a sushi Mecca. Having said that, Sushi Domo is still a lovely oasis of unexpected sophistication in an otherwise unexceptional strip mall.
Sushi Domo Bar & Grill
3330 Matlock Rd, Arlington. 817-557-3135. Closed Sun, 11:30am-2:30pm Mon-Sat, 5-10pm Mon-Thu, 5-10:30pm Fri-Sat.
All major credit cards accepted.
White tuna sashimi…………. $12.00
Cowboy roll ……………………. $9.95
Oh My God roll ………………. $13.50
Captain Jack roll ……………… $7.50
Teriyaki bento lunch box ….. $8.00
Yakiniku bento ………………… $9.00
Nigiri sushi lunch combo …. $11.00