Unlike many films that come to us from Iran, A Separation isn't overtly political, which is probably why the thuggish Iranian government felt comfortable submitting it for Oscar consideration. Don't let that put you off this searing drama about a marriage under strain; it's been nominated for Best Foreign Film and Best Original Script.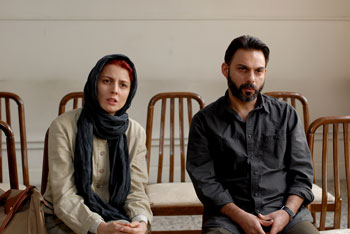 The film begins at a divorce proceeding. Simin (Leila Hatami) is a music student with a chance to study overseas, but her husband Nader (Peyman Maadi) won't leave Iran because of his father, who suffers from Alzheimer's and needs constant care. The story takes a tragic twist when Nader hires someone to take care of his dad, a poor woman named Zarieh (Sareh Bayat) who's concealing her job from her unemployed husband.
Writer-director Asghar Farhadi focuses on how external events snarl Nader and Simin's already acrimonious marriage, but he also observes the ways in which Islamic law traps not only the couple involved but also other parties and even the people administering it. (Our favorite moment comes late, when the judge hearing their case — who probably spends his days listening to spouses say horrible things to each other — grabs the bridge of his nose, as if this couple has given him a particularly severe headache.) This film that slowly builds to a potent, scarring conclusion plays at the Modern this weekend.
A Separation screens Fri-Sun at Modern Art Museum of Fort Worth, 3200 Darnell St, FW. Tickets are $6.50-8.50. Call 817-738-9215.