Big D resident George W. Bush has kept a relatively low profile during retirement after mucking things up for eight years.
He's back.
Quick question: If you were writing a historical novel that included an ex-president as a character, would you write the following dialogue for him?
"Eight years was awesome, and I was famous and I was powerful."
Your publisher and agent would drop you.
But that quote left Bush's lips in this interview with the Hoover Institute. The ex-prez is promoting a book compiled by the George W. Bush Institute about saving the economy, a fact dripping with such irony that the book covers are probably warped.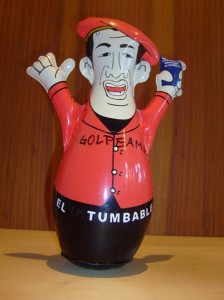 Bush wrote the foreward to The 4 Percent Solution: Unleashing the Economic Growth America Needs. I haven't read the foreward but I can imagine how it might go:
"George Here. Bad economy is bad. No good. But it's no problem. OK? Shake things up. Start some wars. Halliburton furnishes the supplies. Everybody I know gets richer. Mission accomplished. Now 'scuse me, podnuh, I've got a noon tee time."
The Bush book needs a title change. How about The 4 Percent Brain Usage: Undoing the Economic Apocalypse I Unleashed on America.