Ron Bath is not a nuclear engineer.
For about four years, Bath worked on a contract basis for the NRC in Arlington as a computer specialist in the information technology department. He reviewed Comanche Peak's computer network, among many other duties. He was happy with his job.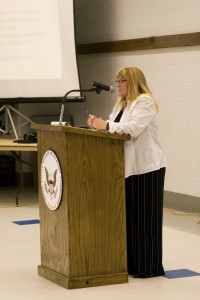 Then in 2000 a co-worker approached him about participating in a counterfeiting scheme. Two other employees were building their own satellite television circuit boards and selling them under the table to whomever was interested in adding a couple of hundred channels without paying a monthly fee.
Bath refused and used the NRC's internal grievance process to inform the agency. In an FBI sting, the men were caught trying to sell one of the circuit boards to another employee, yet were allowed to resign and avoided jail time for the felony crime.
Bath wasn't quite so lucky.
He and two other informants were ultimately fired by supervisors who made it clear they weren't happy that the trio had embarrassed the agency. Bath lost his next job, as a computer specialist for a subsidiary of Monster.com, when an NRC manager told his new boss that he was a troublemaker. His career continued its downward spiral.
"Eighty-five to 90 percent of the people at the NRC are good, honest, educated people," said Bath, who now lives in Lewisville. But what happened to him is an example of a larger culture of censuring workers and inspectors, he added. "This is not a newly surfaced problem. That's the culture of the NRC. … They ruined my life."
Markey frequently cites Bath's story in his news releases to highlight the NRC's record of retaliating against employees. Though Markey demanded the agency make amends to Bath, the NRC refused. The agency couldn't be forced to rectify the situation because federal protections for whistle-blowers didn't extend at that time to contractors like Bath.
Four of the nuclear experts contacted for this story said the Bath debacle is not entirely surprising to them. They agreed that at nearly all levels of the NRC, asking for change often means asking for a fight.
"The chairman of the NRC was forced to resign. He resigned because of pressure from the nuclear industry and the nuclear establishment," said Karl Grossman, a journalism professor for the State University of New York who has been writing about the nuclear industry since before Three Mile Island. "What's happened to [Ron Bath] down your way, that's representative of how it works right to the top."
Jaczko, who was appointed NRC chairman by President Barack Obama in May 2009, announced early this summer that he would resign after repeated clashes with others on the five-member commission. He was outspoken about the need to address big-picture safety issues.
For example, half of all U.S. reactors don't meet the NRC's own fire-protection regulations. Fire hazards are the beginning of half the scenarios that can lead to a meltdown, Lochbaum said. "The NRC knows about that and hasn't done anything about it," he said.
Jaczko also pushed for reforms after the Fukushima meltdown and helped end government's longtime push for a nuclear waste dump at Yucca Mountain in the Nevada desert.
During his controversial tenure, insiders viewed Jaczko with skepticism because his background was not in the commercial nuclear industry but in nuclear physics and policy. The other four members of the commission seem committed to acquiescing to any industry request, while Jaczko was the chairman that nuclear watchdogs had been waiting for. And now he's gone.
"Any time anyone stands up and says there are problems here — they are not listened to," Grossman said. "In fact, he or she is run out of town."
For years, workers at the South Texas Project, a nuclear facility near Bay City, have been finding safety concerns but were reluctant to report them out of fear of losing their jobs, said Hadden, the SEED Coalition leader. And for at least 15 years, Lochbaum has been getting phone calls from NRC inspectors around the country who said they had shined a light on safety concerns only to receive chastisement instead of praise.
In 1997 two inspectors at the Donald Cook plant in Michigan found a problem but didn't get the pat on the back they expected, Lochbaum said.
"They thought they were going to get an attaboy," he said. "Both of them got scolded. Their boss told them: 'I didn't send you up there to find problems.' "
Lochbaum wouldn't say if he thinks the agency has improved since then but said he still receives a handful of such phone calls every year.
"To be fair, I tend to get calls from the people who think they're being treated unfairly," he said. "The ones who are treated fairly aren't going to call me."
Asked about the Arlington letter, State Rep. Lon Burnam, a Fort Worth Democrat who's currently fighting an uphill battle against nuclear waste disposal in West Texas, said he wasn't surprised by the allegations.
Before he took office in 1997, he'd heard about problems with inspectors declining to speak up out of concern for retaliation.
"There's always been a lack of regulation at the NRC," he said. "It's a question of whether anybody speaks up about it."
********