Christmas Shmishmus — the holiday I most anticipate each year is National Taco Day at Fuzzy's Taco Shop. All of their tacos — fish, shrimp, beef, chicken, pork — are a buck apiece.
I visited Fuzzy's on Race Street and timed my arrival at 12:50 p.m. — late enough to miss the noon lunch crowd, early enough to beat the 1 o'clock crowd.
The greatest of plans can go awry. A van filled with young dudes arrived seconds before me, and they stretched the line all the way to the front door. Damn kids and their hunger pains.
About 15 minutes later I placed my order — two shrimp tacos, two crawfish tacos, one iced tea. Total cost, just under $6.
Another 20 minutes passed before my order was ready. The tacos tasted fine and the price was right.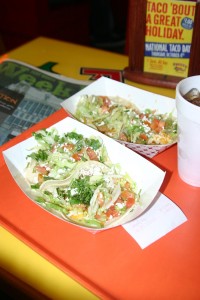 The only downside was the constant bellowing of gibberish coming from the kitchen.
Whenever an order was ready, a cook yelled out the order number. But he didn't enunciate. He just screamed something that sounded like, "ZKGHFUIDGHDIH!!!"
Diners were rattled every 10 seconds by an ear-piercing yell that sounded like a rhinoceros grunt combined with an air raid siren, and served no real purpose since diners couldn't understand a word he said.