House at the End of the Street (PG-13) It's the old familiar story: girl meets boy, girl loves boy, girl discovers that boy is keeping his raving maniac sister who murdered his parents locked up in his basement. Jennifer Lawrence plays the new-girl-in-town here, and Max Thieriot is the ostracized boy whose sweet, sensitive nature beguiles the girl. Director Mark Tonderai does a fair job of balancing the romance of the earlier scenes and the action of the later scenes, but he can't disguise the way the plot falls apart near the end. It's only Lawrence's presence that gives focus and depth to this otherwise rampagingly mediocre thriller. Also with Elisabeth Shue, Eva Link, Nolan Gerard Funk, Allie MacDonald, Jordan Hayes, and Gil Bellows.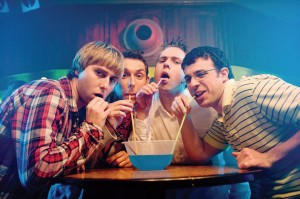 Looper (R) In his first big-budget Hollywood effort, Rian Johnson lays down a marker. Joseph Gordon-Levitt stars in this science-fiction thriller as a contract killer in 2044 who disposes of people sent back in time by his mobster bosses in the future. When his aged future self (Bruce Willis) is zapped back to him, it kicks off a complicated plot that's laid out remarkably well. Johnson's liberal, expert use of comic relief punctuates the air of gathering dread that he builds up. Even better, the movie doesn't lose focus in the second half, when the action slows down as the hero hides out at a farm owned by a single mom (Emily Blunt). Johnson's attempts at emotional catharsis are the tiniest bit off, but that scarcely matters given the scene where an assassin (Garret Dillahunt) dispatched to the farm meets a wholly unexpected end. Like the rest of the movie, it's breathtaking in its horror and ingenuity. Also with Jeff Daniels, Paul Dano, Noah Segan, Pierce Gagnon, Summer Qing, Tracie Thoms, Frank Brennan, and Piper Perabo.
The Master (R) Like most of Paul Thomas Anderson's films, this one resists easy analysis even as it impresses the hell out of you. Joaquin Phoenix plays an alcoholic World War II veteran who drifts under the spell of a cult leader (Philip Seymour Hoffman) in 1950. The story's surface resemblances to the history of Scientology are merely a jumping-off point for pondering the appeal of cults. Even though the film is meticulously composed, it never feels overly put together because of its core of boiling anger. Phoenix, Hoffman, and Amy Adams (as the cult leader's wife and ideological enforcer) are all in fantastic form here, and they contribute heavily to the film's bravura set pieces, like a full-roar exchange in adjoining prison cells midway through. This frequently enigmatic spiritual quest comes to an end that makes this small-scale story feel large. Also with Rami Malek, Jesse Plemons, Madisen Beaty, Lena Endre, Kevin J. O'Connor, Christopher Evan Welch, and Laura Dern.
Masquerade (NR) Choo Chang-min's foursquare but gorgeously photographed Korean epic stars Lee Byung-hun as both a historical 17th-century king and a bordello entertainer who's hired to act as the king's double in the face of assassination plots. The film does well with the story's farcical elements, especially in a scene with the double finding out how the king goes to the bathroom. The later scenes, when the double has to take over for a temporarily incapacitated king and discovers the responsibilities of ruling, aren't as much fun. Still, the film is handsomely appointed, and the director makes sure the proceedings don't flag. Also with Ryu Seung-ryong, Han Hyo-joo, Kim Myung-gon, Kim In-kwon, Shim Eun-kyung, and Jang Gwang.
The Perks of Being a Wallflower (PG-13) Stephen Chbosky turns his beloved 1999 teen novel into a movie, and it's well worth the 13-year wait. Logan Lerman portrays a kid navigating his freshman year of high school after a stint in a mental institution. The film is exceptionally well-cast, with Lerman doing magnificent work as a mentally fragile kid and Ezra Miller and Emma Watson forming a killer duo as a pair of senior stepsiblings who respond to the kid's shyness and take him in. The sharpness of Chbosky's comic dialogue keeps the movie's pathos from overwhelming everything else, and as a director he captures the exhilarating feeling of teenage years to create some great lyrical moments, like Watson standing up in her pickup truck while it's driven through a tunnel. This is one of the great teen movies of the last decade. Also with Mae Whitman, Dylan McDermott, Kate Walsh, Johnny Simmons, Nina Dobrev, Melanie Lynskey, Paul Rudd, and Joan Cusack.
Pitch Perfect (PG-13) A total blast. Anna Kendrick stars in this musical comedy as a college freshman who joins an all-female a cappella singing group at her school and sets about dethroning the national champions, an obnoxious all-male group that's also at her school. Kay Cannon's script is full of quotable lines, and the punchlines come from all corners, including Hana Mae Lee as a chorister who can't speak above a whisper and Elizabeth Banks and John Michael Higgins as a pair of cranky TV commentators. Kendrick's singing makes up for her sluggish performance, as she leads the group in a rousing cover of "No Diggity" and does a YouTube-inspired solo on "Cups (You're Gonna Miss Me)," while Rebel Wilson steals all manner of laughs and takes lead on "Turn the Beat Around." It's all enough to send you out of the theater singing. Also with Anna Camp, Brittany Snow, Skylar Astin, Adam DeVine, Alexis Knapp, Ester Dean, Joe Lo Truglio, Donald Faison, Har Mar Superstar, John Benjamin Hickey, and Christopher Mintz-Plasse.
The Possession (PG-13) Only the second Jewish exorcism movie I can recall, this one is better than 2009's The Unborn, though that's not saying much. Jeffrey Dean Morgan stars as a divorced dad whose younger daughter (Natasha Calis) becomes possessed by a dybbuk after buying a mysterious lidless box with Hebrew inscriptions carved into the side. Norwegian director Ole Bornedal spends the first hour or so throwing moths in our face trying to scare us, and the domestic drama is crudely handled. Things improve near the end, when reggae singer Matisyahu comes on as a Hasidic exorcist who confronts the demon with his lovely singing voice. It's a nice payoff, though better buildup would have served it better. Also with Kyra Sedgwick, Madison Davenport, Jay Brazeau, and Grant Show.
Resident Evil: Retribution (PG-13) The cinematic equivalent of a greatest-hits compilation by a band that was never that good, this fifth installment in the series brings back a number of actors from the first four films. Milla Jovovich stars once again as a warrior whose battle against an evil corporation and the zombies they created brings her into contact with clones of people she's met before. Paul W.S. Anderson continues to slowly improve as an action director, but neither his visual style nor the flimsy excuse for a story can hold our interest for long. This series is a zombie, continuing to run around and cause damage long after it has died. Also with Michelle Rodriguez, Aryana Engineer, Sienna Guillory, Li Bingbing, Boris Kodjoe, Johann Urb, Kevin Durand, Iain Glen, Thomas Kretschmann, Oded Fehr, James Purefoy, Wentworth Miller, and Ali Larter.
Seven Psychopaths (R) The second blood-soaked comedy by Martin McDonagh (In Bruges) doesn't come to much, but its characters are fun to be around for a couple of hours. Colin Farrell plays an alcoholic Irish screenwriter in Hollywood whose actor buddy (Sam Rockwell) drags him into a bloody caper after they kidnap a dog belonging to a vicious mob boss (Woody Harrelson). The action slows down radically in the second half as the main characters hide out in the desert, but McDonagh's discursive writing style yields comic treasures (Gandhi's "an eye for an eye leaves the whole world blind" gets deconstructed here) that are well-delivered, especially by Rockwell and Christopher Walken as his partner in crime. Also with Abbie Cornish, Olga Kurylenko, Tom Waits, Linda Bright Clay, Long Nguyen, Christina Marzano, Michael Pitt, Michael Stuhlbarg, Harry Dean Stanton, and Gabourey Sidibe.
Taken 2 (PG-13) Liam Neeson kills more of them dirty, swarthy, godless foreigners in this sequel that's even more paranoid, xenophobic, and all-encompassingly stupid than the 2010 original. This time, Neeson's retired CIA agent and his family are vacationing in Istanbul — you'd think that family would avoid international travel for a while — when they're targeted by the relatives of the men killed in the first movie. The agent makes all manner of mistakes that would result in death in the real world, but that's OK, because the gangsters he's up against are idiots who let the hero make a lengthy cell phone call while they have him at gunpoint and forget to check to see if he has another phone stashed in his sock. Even the racist, overprotective dads to whom this movie is pitched will be offended by this. Also with Famke Janssen, Maggie Grace, Leland Orser, Jon Gries, D.B. Sweeney, and Rade Serbedzija.
The Thieves (NR) In Choi Dong-hoon's convoluted caper film, a bunch of Korean high-end robbers with names like Popeye, Pepsi, Zampano, and Chewing Gum team up with a group of Chinese gangsters to steal a $30 million diamond from a hotel casino in Macao. What ensues are a lot of silly disguises, professional and romantic betrayals between and within both groups, an insane shootout among robbers rappelling down the side of an apartment building, and scenes played out in five different languages. It's all frenetic, confusing, and highly entertaining in spots. Starring Lee Jung-jae, Gianna Jun, Oh Dal-su, Kim Yun-seok, Simon Yam, Kim Hae-suk, Kim Hye-su, Kim Soo-hyun, Angelica Lee, Derek Tsang, Ki Gug-seo, and Shin Ha-kyun.
Trouble With the Curve (PG-13) The curve isn't the only thing troubling this flat, rhythmless, mawkish, badly written baseball drama. Clint Eastwood stars as an aging scout with failing eyesight who tries to repair his strained relationship with his attorney daughter (Amy Adams) while she helps him scout one last prospect. The flaws in this script could have been papered over, but first-time director Robert Lorenz (a longtime assistant director under Eastwood) has no idea how to build momentum within a scene or get to the next one. As a former player-turned-rival scout who falls for the daughter, Justin Timberlake isn't the most convincing ex-jock, but he snags all the best laugh lines and walks home with the movie. Also with John Goodman, Matthew Lillard, Joe Massingill, Bob Gunton, Ed Lauter, Jack Gilpin, Jay Galloway, and Robert Patrick.
Won't Back Down (PG) It's like Waiting for "Superman", only much dumber. This wearyingly self-righteous drama stars Viola Davis as a disenchanted schoolteacher and Maggie Gyllenhaal as a dyslexic single mom who battle the teachers' union to take over their failing Pittsburgh middle school. Even before director/co-writer Daniel Barnz (Beastly) takes a left turn into two subplots' worth of weepy domestic drama, his cardboard villains and ham-fisted theatrics insult your intelligence at every opportunity. A quietly seething Davis and an unquietly raging Gyllenhaal turn in stellar performances, but this ramshackle vehicle isn't remotely worthy of them. Also with Oscar Isaac, Rosie Perez, Ving Rhames, Bill Nunn, Ned Eisenberg, Emily Alyn Lind, Dante Brown, Marianne Jean-Baptiste, and Holly Hunter.
DALLAS EXCLUSIVES:
The Inbetweeners Movie (R) Based on the popular British TV sitcom, this movie stars Simon Bird, James Buckley, Blake Harrison, and Joe Thomas as four socially inept teenagers who go for a vacation in the Greek islands. Also with Emily Head, Lydia Rose Bewley, Laura Haddock, Tamla Kari, and Anthony Head.
The Oranges (R) Leighton Meester stars as a recent divorcée who causes waves when she begins an affair with her father's best friend (Hugh Laurie). Also with Catherine Keener, Oliver Platt, Allison Janney, Tim Guinee, Alia Shawkat, and Adam Brody.
The Paperboy (R) Lee Daniels (Precious) adapts Pete Dexter's novel about an investigative reporter (Matthew McConaughey) returning to his Florida hometown to find the truth about a decades-old murder. Also with Nicole Kidman, Zac Efron, David Oyelowo, Scott Glenn, Macy Gray, and John Cusack.
The Revisionaries (NR) Scott Thurman's documentary about Don McLeroy's attempt to impose creationism and right-wing ideology on school students by taking over the Texas State Board of Education.
Smiley (NR) Caitlin Gerard stars in this horror flick as a mentally troubled college student who believes she's being stalked by a faceless killer with a smiley carved into his head. Also with Shane Dawson, Melanie Papalia, Andrew James Allen, Liza Weil, Roger Bart, and Keith David.