Brett Dillon and KHYI-95.3 "The Range" kicked off the 8th Annual Texas Music Showdown last night at the White Elephant Saloon, and it was fun to get back out there for another year to see some fresh new bands — and to serve as judge alongside Dillon and Robert Gallagher, the irrepressible Billy Bob's Texas entertainment director. Stockyards regular Brad Hines opened the show with a solid solo set that included Ryan Adams' "My Winding Wheel," the classic "House of the Rising Sun," and several Hines originals.
One of the originals was only a couple of days old, a pretty ballad that mentions rainbows.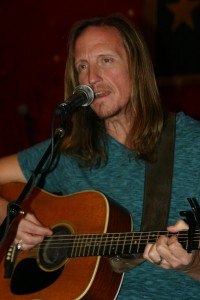 Later, I told Hines I liked the song but it needed a bridge.
He, in so many words, told me I was full of #%@!$!%*.
(As you can see, my judging extends far beyond the actual competition. In fact, you, dear reader, are too close to the screen as you're reading this. Please back away a couple of inches. There, isn't that better?)
Three bands competed in Round One of the competition, with The Band McGraw first at bat.
Lead singer Robert McGraw can sing his ass off, and he controlled the stage like a pro.
The band was tight.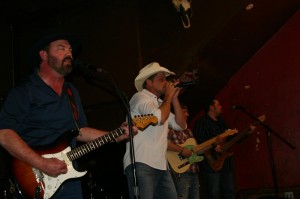 Two lead guitarists formed a nice yin-yang sound, with Larry Patton playing a straightforward Fender Stratocaster while Cody Chance blended effects-laden ethereal licks on a Telecaster.
Alas, the judges deemed the band too Nashville sounding.
(Today, I perused the band's website and saw that McGraw was a semi-finalist on the first season of Nashville Star.)
The Range's annual showdown at White Elephant typically selects an edgier sounding band.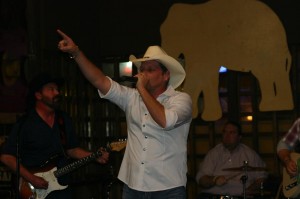 The ultimate winner gets several prized gigs at the big Texas Music festivals put on by Tommy Alverson and Larry Joe Taylor, along with money, gift certificates, and TV, radio, and studio time.
Next up was The Tyler Rogers Band, a funky little outfit with a cool vibe and a creative musical streak.
The guitarist and bass player are brothers and they're musically simpatico. And lead singer Rogers had a 1970s truck stop folkie aura that was interesting.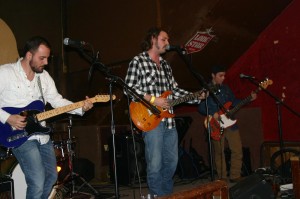 The McKinney-based foursome put on a pleasant show that pleased the patrons and judges, but wasn't spectacular.
Still, the bands are working under tough conditions.
They hurriedly set up their equipment, take a quick sound check, and then play three original songs and one cover song while a panel of judges and a bunch of people sit and stare at them.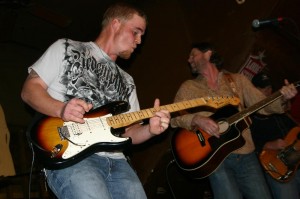 It's an environment that doesn't lend itself to polished shows. Some bands struggle to get in the pocket in such a short time.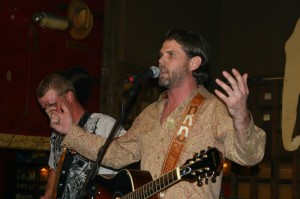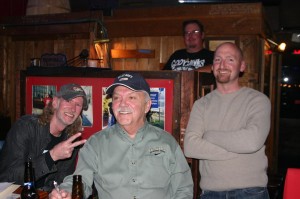 Next up was The Rob Donnelly Band, who some viewed as the frontrunner.
Donnelly is an appealing frontman with a big voice. He connected with the crowd, but the band stumbled here and there.
The band's bass player was missing (Donnelly said something about him getting thrown out of moving car before the gig, but didn't elaborate).
Another bass player stepped in at the last minute, and Donnelly had to feed him the chords before songs.
The replacement player did a fine job, but that couldn't have been an easy situation to handle for the band members.
Meanwhile, the lead guitarist seemed to have dropped in from a metal band. He overplayed at times, and while his crunch pedal sounded fine on the leads, it was overkill when he was chording the songs. His playing shone most when he toned it down during the slower songs. Hey, he's hardly the first guitarist to get carried away in the moment. It's a rock tradition.
Anyway, the judges conferred briefly afterward and narrowed it down to two choices — Rogers or Donnelly.
One judge favored Rogers. Another favored Donnelly. After a quick debate, the judges picked Rogers by a nose.
I like this band, but they'll need to step it up if they expect to come out on top in seven weeks.