Ain't Them Bodies Saints takes its title from a misheard country music lyric — Lowery said he can't recall which song it was, but a video clip of Casey Affleck explaining the title's genesis on The Tonight Show with Jay Leno went viral.
After he was done polishing his script, Lowery submitted it in 2011 to the Sundance Institute, which has a program for developing filmmakers' first or second feature films. Of the thousands of projects submitted, Ain't Them Bodies Saints was one of 12 selected for the screenwriting and producing labs. Those sessions with filmmaking professionals (who volunteer their time) serve as workshops for the films in development.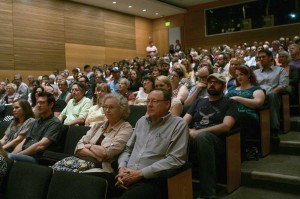 "I see lots of shorts, and Pioneer really popped," said Michelle Satter, who has been the program's director for more than 30 years. "I was excited about him as a regional voice. His work is beautiful, audacious. It's a privilege to work with a filmmaker with a clear, unique vision."
Before the festival in January 2012, Lowery and the other chosen filmmakers spent six days in Park City receiving feedback on their scripts from distinguished screenwriters such as Scott Frank (Out of Sight, Minority Report) and John Gatins (Flight, Real Steel), as well as the celebrated detective novelist Walter Mosley. In addition to the writing sessions, each filmmaker received a $10,000 grant for living expenses and pre-production costs. Private screenings of successive edits of the film provided the filmmakers with feedback.
Lowery and company picked up something else valuable at the institute. The film was originally planned as a $500,000 affair, but the math changed when the producing team of Jay van Hoy and Lars Knudsen, who advised Johnston in the producing labs, decided to go further and come on board Ain't Them Bodies Saints as producing partners. The team's firm of Parts and Labor Films had previously backed such acclaimed independent films as Cold Weather and Keep the Lights On, as well as Beginners, which won an Oscar for Christopher Plummer's performance. Knudsen and van Hoy not only provided additional financial backing but also distributed the scripts to A-list talent.
The story begins with Ruth Guthrie (Rooney Mara) telling her small-time criminal boyfriend Bob Muldoon (Casey Affleck), just before he goes off to rob a bank, that she's expecting a child. In a move typical of Lowery's elliptical style, we don't see the robbery itself; instead, the story takes viewers immediately to a gunfight at a cabin where Ruth shoots and wounds a deputy (Ben Foster). Bob surrenders and takes the fall for the shooting.
Mara received the script and a DVD of Pioneer from her agent. "David's a really talented writer," Mara told the internet program DP/30. "He has a special, specific voice, and the script really spoke to me right away. When I sat down with him and heard him talk about his project, I thought we could make a good movie together." The 28-year-old Oscar nominee was coming off a string of films in which she had acted for Spike Jonze (the upcoming Her), Steven Soderbergh (Side Effects), and David Fincher (The Girl With the Dragon Tattoo and The Social Network).
Lowery admitted being worried about following such giants, but he found her to be a down-to-earth actor to direct. "I like to work with friends," he said.
Also acting in the production was Charles Baker, the Fort Worth native who has performed in Terrence Malick's To the Wonder as well as in a recurring role on the acclaimed TV show Breaking Bad. He learned of the project via Twitter and promptly texted Lowery asking to be involved. "Fortunately, [the filmmakers] already had me in mind," said Baker, who had gotten to know Lowery as the editor of Knife, a short film directed by Johnston that starred Baker. "I had seen Pioneer, and I knew [Lowery] was headed for something big."
Baker read for several different parts and wound up cast as a character named Bear, a villainous role originally conceived for a large, hairy man. It was a bit of a stretch for the slender Baker, and he recalled a scene where he was supposed to walk into a general store and subtly threaten the shopkeeper, played by Keith Carradine. "I was trying to be scary, but David took me aside and told me not to try. If I just let Keith be scared and intimidated, that would make me scary and intimidating," said Baker. Judging by audience reaction at the movie's Fort Worth screening, the gambit worked. "David knows how to get what he wants from his actors without acting it out for them. I think I became a better actor from working with him," Baker said.
Though the story is set in Texas, most of the film was shot in Louisiana. That state offers a package of tax credits for movie productions and additional credits for hiring crew members from Louisiana. Johnston estimated that the producers saved $900,000 by filming there instead of in Texas, a vital difference for a movie budgeted at $4 million. Still, at a Q&A session at the Modern, Lowery called it "a great tragedy" that he couldn't film the story in his home state.
"All the movies are being filmed in New Orleans now, and they're all starting to look the same," he said.
Ain't Them Bodies Saints was Lowery's first film in which he didn't serve as editor. "We were on a tight timeline, and it made sense to have the movie edited while we were shooting," said Lowery. "I thought I'd like to have a relationship with a great editor and see how that changes the process." While he initially engaged Jane Rizzo (Compliance) as an editor, Craig McKay wound up doing more of the work; both are listed in the credits.
The decision was not an entirely happy one. "It was nobody's fault. They were great people. We never clashed," said Lowery. "Sometimes you have chemistry, and sometimes you don't. The editing was not intuitive."
Reached by phone, McKay (a veteran who received one of his two Oscar nominations for editing The Silence of the Lambs)  said Lowery was a pleasure to work with but not accustomed to working with an editor. "David wanted [the movie] to play longer, and I didn't necessarily agree with that," he said. "Once I understood that he had the final say, I just wanted to do whatever I could to help. We got the narrative to work." While there seem to be no hard feelings, Lowery said at the Q&A session that he's planning to edit his movies himself from now on.
Almost all the reviews have men-tioned the influence of Terrence Malick, whose 1975 debut feature Badlands bears a definite resemblance to Ain't Them Bodies Saints, in its Texas setting, outlaw main characters, and deliberate pace. (Lowery has also expressed his admiration for Malick's films on his blog.) However, Lowery's film is structured as a thriller and generates much more suspense than Badlands, as Bob breaks out of prison four years later to see Ruth again and see his daughter (played by twins Jacklynn and Kennadie Smith) for the first time. The film is little concerned with the grand philosophical questions that occupy Malick's recent work like The Tree of Life and To the Wonder. If anything, the film more strongly recalls Kelly Reichardt's slow-moving films like Meek's Cutoff and Old Joy. In addition to the lyrical landscapes (many of which were shot in Texas), the quality of the dialogue is particularly fine.
Critics at the festival and since then have responded mostly with raves. Chuck Wilson in The Village Voice described the film as "sublime," while Sebastian Doggart in the British newspaper The Guardian gave it the highest possible rating, calling Lowery "a fresh voice, exhilarating to hear."
The praise has not been unanimous: The New York Times' A.O. Scott praised the movie's visual beauty but said, "This film's longing for … a simple, elemental truth that will be both specific to its time and place and ripe with deeper meanings is precisely what makes it unconvincing." Entertainment Weekly's Owen Gleiberman dismissed the film as "one of those inertly 'visual' and high-toned indie films that's really a series of ersatz-Malick mannerisms."
Ain't Them Bodies Saints was in the running for the Sundance Film Festival's Grand Jury Prize, losing to Ryan Coogler's Fruitvale Station, which at the time was simply entitled Fruitvale. Coogler's film had been workshopped at Sundance at the same time as Ain't Them Bodies Saints.
"Fruitvale made me cry," Lowery tweeted during the competition. "I'm so proud of Ryan Coogler."
However, Lowery didn't leave Park City empty-handed. Bradford Young's work behind the camera won top honors in cinematography, and Johnston and co-producer Toby Halbrooks won the Indian Paintbrush Producer's Award, a $10,000 prize. The film's distribution rights were purchased by IFC Films for a reported low seven figures. The Texas filmmaker also won plenty of buzz by virtue of having his name on so many projects at the festival, including Upstream Color and Yen Tan's gay coming-of-age flick Pit Stop, which Lowery co-wrote.
Ain't Them Bodies Saints has opened up a multitude of opportunities for Lowery. The Disney Corporation hired Lowery and Halbrooks to write a script for a remake of the partially animated 1977 musical Pete's Dragon, which the studio says will be live-action and not a musical. "I like the idea of a boy being friends with a dragon," said Lowery, calling it "almost hilarious" that he got the job. "There's a sense of loss that comes with childhood. I have the maturity of a child most of the time, so I respond to a childlike perspective."
Another high-profile gig came courtesy of Robert Redford after the two met at Sundance. They sealed a deal for Redford, the festival's founder, to star in The Old Man and the Gun, which Lowery is adapting from a New Yorker article about a real-life bank robber who wanted to take up his old profession again at age 78.
"When you're with him, you feel like you're in the presence of a movie star," Lowery said.
Just this week, The Hollywood Reporter disclosed that Lowery has signed a deal to write and direct To Be Two, a science-fiction film adapted from a short story by Paul Broks. The movie will star Casey Affleck. The work is coming fast and furious enough that Lowery will have to do some serious schedule-juggling.
Through it all, Lowery is determined that his films will retain their individual character. He recalls a quote he once read from Kelly Reichardt.
"She said that she wanted all her movies to feel like handmade quilts," he said. "That always stuck with me. I want everything I do to have that kind of smallness, that handmade quality."