Jason Brown, a parent of two Fort Worth school district students, was frustrated with his school board representative, J.R. Martinez, whom he felt was ineffective. He was considering running for Martinez' seat on the board. He was approached by a neighbor who was a part of committee of parents, business leaders, and other concerned citizens who were looking for candidates to run for the board.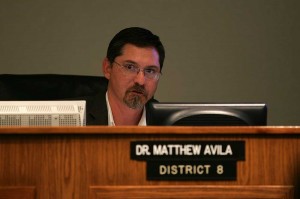 Brown wouldn't say who his neighbor was, but the committee was the Citizens for Greater Schools. He met with several representatives of the committee and came away impressed.
"They wanted to replace some of the old blood on the board with some new people," he said. "And they wanted to promote parents and professionals who had children in the district to be board members.
"They wanted to get away from what they perceive to be career politicians and power brokers and wanted it to be more people who have a vested interest in the district."
For Brown, a political newcomer, it sounded like a dream come true. A group of well-established political insiders and others were offering to help their candidate of choice with everything from organizing a campaign to funding it.
"They wanted to remove the impediment that running a campaign is for a private citizen," he said. "They were going to do whatever they could to support [the candidate], whether it came to organizing a campaign, doing mailers, whatever they had to do to help who they thought were qualified candidates make the jump.
"That's how they presented themselves to me, which is very appealing for someone like me who is a parent with kids in the district," he said. "My reaction was, 'Great, this is exactly what I need.' Not ever having done anything like that, my motivation was — looking at the guy who was there, who didn't show up for half the meetings, and kind of just seemed like a wallflower — I thought, man, we need a better representative for my district."
Brown heard that one of his neighbors, Matthew Avila, was also interested in running.
"The PAC did their research and told me, 'You're not electable in your district,' " Brown said. "They said, 'Put your name on a billboard, put Matt Avila's name on a billboard, he will win every time.' I said, 'I'm not going to cloud it up.' I knew there were other people who were interested in running. I didn't want to split the vote."
So Brown gave Avila his blessing, telling him: "You're as qualified as I am. Putting ego aside, you'll do great."
J.R. Martinez had a very different impression of the committee. Though Martinez would not comment to Fort Worth Weekly, former board trustee Carlos Vasquez said that the committee threatened to outspend Martinez if he chose to run for re-election.
"Basically [the committee] told [Martinez], 'We're going to put up $50,000 to $100,000 behind Avila … so either we crush you or you get out,' " he told the Weekly in April.
Northside businessman and former city councilman Steve Murrin denied that he was part of the committee — though several people, including Avila later confirmed that Murrin was working with them.
Murrin told the Weekly in April that he was looking to replace all of the board members. "I got interested as just a citizen and a taxpayer," Murrin said. "I was looking for candidates. My original thought was a clean sweep — let's replace the whole board. And five seats were available this year.
"I think [current trustees] have failed to understand the needs of the students that are a part of our abysmal attendance and drop-out rates," he said.
Rickey Brantley, a local attorney and spokesman for the PAC, said the group is very informal and its membership is diverse.
"The folks involved are people who want to have strong public schools in Fort Worth so all the kids here get a great education and the opportunities an education provides," he said in an e-mail. The committee has taken no "formal position" about supporting or not supporting current school board members, he said.
Vasquez said that the committee was targeting only Hispanics, which Brantley adamantly denied.
Murrin said the committee, which also includes former school board president Ray Dickerson and businessman Isaac Manning, was acting in the best interest of local businesses and students.
As a businessman, Murrin said, it is to his advantage to have a functional school board. "No industry in the world is going to bring their employees to your city if no thinking person in that city would recommend they send their children to the schools," he said.
Murrin said that the potential candidates for the District 8 seat came together and did what was best for the school district.
"They kind of made a pact," he said. "Why beat each other to death? The most electable guy is Matt, so let's let him be the board member, and let's all continue to participate. And I think that's the attitude it's going to take to solve our problems."
One observer familiar with the PAC, who asked not to be identified, said that the Citizens for Greater Schools committee has already approached potential candidates about opposing Sutherland when she comes up for re-election in 2015.
"I have had no contact with the Citizens for Greater Schools PAC," said Sutherland. "I cannot imagine why they would oppose me in an election, as my entire focus is on making our classrooms and teachers more effective, in part by controlling the continuing drift of money into the central office."
  *********