Arcade/Bowling Alley
Readers' choice: Lucky Strike, 2845 W 7th St, FW
Critic's choice: Tornado Terry's, 4530 Keller-Hicks Rd, Keller
The likes of Main Event International and Dave & Buster's have a better selection of games, while Barcadia keeps the price of its games to a reasonable 25 cents per play. The presence of alcohol at those venues makes them all better places to throw a party. Yet for an ordinary Saturday afternoon, it's hard to beat this unassuming arcade in Keller, which offers a good mix of both up-to-date games and classics. (We played Defender here for the first time in at least three decades.) With unlimited gaming for a flat fee of $13.50, you can rise up again and again each time you're killed in CarnEvil. Much less frustrating that way.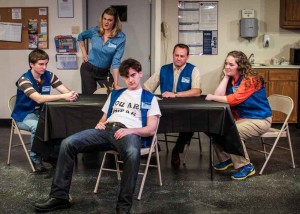 Background for Warped Christmas Card
Critic's choice: Bent-steel sculpture in the Cultural District
What better way to express your skewed vision of this beloved holiday than by standing next to something created by an actual act of God? A tornado in 2000 managed to bend four steel posts — uprights for a billboard — into a literal and figurative warped work of art near the intersection of University Drive, 7th Street, Camp Bowie Boulevard, and Bailey Avenue.
Day Trip
Critic's choice: Fort Parker, Mexia
A two-hour drive from Fort Worth, Fort Parker makes a wonderful road-trip destination for birdwatchers, the soloist intent on communing with nature, or the whole family. The state park is tucked away in tiny Mexia — that's right, you've probably never heard of it — but has a full complement of things to do, from camping to fishing (with equipment rentals, including canoes during off-season if you request them ahead of time) to swimming and hiking. It's not the biggest state park in Texas, but this little gem is worth a visit.
Green Space
Critic's choice: Tandy Hills Natural Area
If you think of Tandy Hills only in late spring, when Prairie Fest takes place, you're missing a lot. In fact, it's usually hot and sunny at that time, but autumn days are perfect for strolling around these 160 acres of pristine Texas flora and fauna. No fees, no crowds, and no shortage of beauty. Wildflowers and bunnies and native grasses elevate your spirits and put you in touch with the wonders of nature. Just park on View Street and let your feet be your guide. Don't forget your camera!
Outdoor Workout 
Critic's choice: Z Boaz Disc Golf Course, Benbrook
Though you won't find any free weights or even those splintery, 1970s-vintage balance beam/monkey bars combos at Z Boaz Park, the Benbrook disc golf course is a workout all the same. Whether you're a veritable sniper with an Innova or think disc golf is a nice walk with an optional objective, Z Boaz' 18-hole course takes you over hills and embankments, through thickets of brush, and across a creek. It may sound like a piece of cake, but the walk up the hill to the sixth hole will probably leave you panting.
Urban Redevelopment/Smart Growth
Critic's Choice: Riverside Arts District, 2900 Race St, FW
Though it still has a ways to go before the Riverside area gets anywhere close to rivaling the redevelopment of the Near Southside, the ambitious arts district is making strides in an area that desperately needs something to hang its hat on. Thanks to a new wave of developers, business owners, and myriad activists, the goal of making Riverside a funky family-friendly destination looks more viable now than it ever has.
Example of New Architecture
Critic's choice: iProspect, 1021 Foch St, FW
Designed by Fort Worth's VLK Architects, this newish, 25,000-square-foot home for iProspect is a rehabilitated one-story warehouse that's pure modern vintage. In an homage to the digital marketing company's former Stockyards location, the new space features gritty materials (wood, metal, railroad ties, historic glazing) and, to promote groupthink, an open layout.
Example of Public Architecture
Critic's choice: Ben Hogan Learning Center, 1900 Rockwood Dr, FW
The Ben Hogan Learning Center is elegant in its homespun simplicity. Part tin-roofed log cabin, part modernist house, the home for The First Tee of Fort Worth, a nonprofit organization devoted to youth golf instruction, is also a museum. In addition to assorted Hogan memorabilia, there's a wealth of information and artifacts related to the history of Fort Worth golf. The building was designed by Fort Worth's DMS Architects.
Rebirth/Relocation/Re-opening
Critic's choice: ACH Child and Family Services' revitalization of the Fort Worth Masonic Home and School, 3712 Wichita St, FW
In 2004 the century-old Masonic Home and School in southeast Fort Worth was shuttered. The closure cast a pall on a neighborhood already rife with abandoned buildings. In 2008 the developer who bought the 200-acre site deeded the eight school buildings and a defunct chapel to ACH Child and Family Services. The former All Church Home for Children started as an orphanage in 1915, but by the middle of 2007, ACH had outgrown its original Summit Avenue location. In 2010 the agency reopened the Masonic complex's Bell Tower Wedding Chapel, providing both a source of income and an employment training program for older adolescent clients. This year ACH moved the bulk of programs, including residential care for women and children, to the existing buildings, which were modernized and brought up to safety code. The only new construction was the Paul Andrews Welcome Center, which won the "best new building under $2 millon" award from the Texas Associated General Contractors of America.
Remodel
Critic's choice: Trader Joe's, 2701 S Hulen St, FW
The anticipation outstripped that for Krispy Kreme donuts, when Trader Joe's announced it would open its first Texas location in Fort Worth. The retail specialty grocery store took over the big building that had housed a high-end furniture and interior design store on South Hulen and made it into one of the most welcoming big little grocery stores in town, with local murals on the walls, hand-lettered pricing signs, wide aisles, and lighthearted touches. Hawaiian shirts on the staff don't count as "remodeling," but they're as nice a feature as the Three-Buck Chuck wine.
Place to Skateboard
Critic's choice: Marine Park, 303 NW 20th St, FW
While the Fort likely will never see a city-funded concrete bowl like the one way up in Allen, the fenced-in concrete park near the Marine Creek pool has lots of ramps, rails, and quarterpipes to provide your ride with plenty of transition and room to nail all those sick lines you've been envisioning. The funky Northside atmosphere gives you a kind of Venice Beach vibe, too, minus the bodybuilders and rollerbladers. And, y'know, massive ocean.
Place to Take Your Kids
Readers' choice: Fort Worth Zoo, 1989 Colonial Pkwy, FW
Critic's choice: Coyote Drive-In, 223 NE 4th St, FW
Remember the summer nights when your parents would pack you and your pajama-clad siblings into the back of the station wagon to go watch a movie under the stars? You probably don't if you were born after 1990 –– most of the drive-in movie theaters in Tarrant County had closed by then. But nostalgia is running full-tilt rampant on the banks of the Trinity River in the form of Fort Worth's first new drive-in theater in two decades. Admission is $6 for children four to 10, and anyone three and under gets in free. Coyote regularly offers kid-friendly double features. There's a good-sized playground where the little angels can run amok while parents eat good food and drink beer and wine in the cantina before the show. Did we mention Coyote is also horse-friendly?