Kids' Dining Venue
Reader's choice: Central Market, 4651 W Fwy, FW
Critic's choice: Twisted Root Burger Company, 310 E Abram St, Ste 100, Arl
Twisted Root is possibly the loudest dining establishment in Arlington. As a result, it won't matter what kind of noise your kids are making, and there's plenty of stuff for them to see and do. When you order, you're given the name of a character (Percy Jackson, Harry Potter, Dora the Explorer), and that's what the staffers holler when your food is ready.  While you're waiting, your kids can have as many (free) pickles as they want. Because life is short, order your dessert milkshake first. Both the milkshakes and the sides (fries, fried green beans) are big enough for families to comfortably share. And the restaurant has a serious commitment to the environment: The beverage cups and lids are made from corn, not plastic, the flatware is biodegradable, and your serving "plate" is cardboard — saving space in landfills for your kids' kids' trash.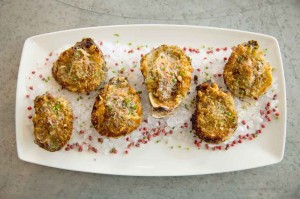 Atmosphere
Critic's Choice: Saint Emilion, 3617 W 7th St, FW
Tucked into the Monticello neighborhood, the French eatery is set in a quaint A-frame house that could have levitated out of a French village. The brick building, covered in sprawling vines, possesses a rustic charm. Inside, the dining room is cozily elegant and romantic. The waitstaff is a picture of ghost-like unobtrusiveness. It's the kind of place you go to propose marriage, celebrate a special occasion, or just pretend you're far away from home. Saint Emilion continues to charm its third generation of Fort Worth diners.
Homecooking
Readers' choice: West Side Café,7950 Camp Bowie Blvd W, FW
Critic's choice: Old Neighborhood Grill, 1633 Park Place Av, FW
The menu here is almost fancy enough to take this beloved joint out of the category, but the atmosphere, surroundings, and undoubted homecooked quality of the offerings keep it eligible. The traditional standbys indeed are available, along with fancier burgers, interesting veggies, and, of course, lots of luscious desserts. The folks who run the place come out to greet customers, and the service is fast and friendly. Only problem: making your choices from the very full chalkboard menu before you get to the head of the line.
Deli
Readers' Choice: Oliver's Fine Foods
Critic's Choice: Carshon's Deli, 3133 Cleburne Rd, FW
Carshon's is a throwback kosher deli that could easily fit in on the streets of a city in Yankeeland. The menu is simple, classic, and timeless. It also features the best salmon lox in the Fort and a darned good corned-beef sandwich. 
Greasy Spoon
Critic's choice: Vickery Café, 4120 W Vickery Blvd, FW
Owner/chef Curtis James has been operating Vickery Café for more than a  year now, to the point that his café may not much longer fit the "greasy spoon" category. The migas are a scrumptious hot mess of eggs, sausage, cheese, and corn chip pieces. The meatloaf is a steamy, tender paté-like wonder lavished with a hearty tomato dressing and stringy onion rings. And the New York-style Reuben sandwich drips with tangy-sweet Thousand Island and savory sauerkraut atop sliced piles of house-cured corned beef.
Indian Food
Readers' choice: Maharaja Indian Restaurant, 6308 Hulen Bend Blvd, FW
Critic's choice: Star India, 703 W Park Row Dr, Arl
Yes, it's a small-ish divey joint in a strip mall, but don't let Star India's digs fool you. As in many Indian eateries, the operators pour much of their time and attention into daily lunch and dinner buffets. The chicken, beef, and goat dishes are as fresh and plentiful as the lentils, spinach, peas, and other curried veggie delights. Big plus: The soft, hot naan (bread) is baked daily on the premises.
Cajun
Readers' choice: Boo-Ray's of New Orleans, 7255 Boat Club Rd, FW
Critic's choice: Boo-Ray's of New Orleans
Boo-Ray's is a crowd-pleaser for a good reason –– the owners are just as interested in comfort-food detail as they are in the authenticity of their intricately spiced Louisiana-style dishes. Decadent menu items like Cajun caviar (deep-fried jalapeños stuffed with shrimp and crabmeat) and chicken tchopatoulas (a chicken breast smothered with potatoes, onions, and crawfish hollandaise) are the rule rather than the exception here.
French Cuisine
Critic's Choice: Saint Emilion
The Westside mainstay transports its diners to an elegant café in southwestern France. New Chef Summer Jones has maintained the same stubbornly old-school mentality of unwavering quality and fresh, seasonal ingredients. The food is just as good now as it's ever been, the service is second to none, and the environs may be the most quaintly charming in the city.
Chinese
Readers' Choice: Pappa Chang Asia Bistro, 1526 Pennsylvania Av, FW
Critic's Choice: King Chinese BBQ, 907 E Pioneer Pkwy, Arl
King Chinese is one of a dying breed — a Chinese food restaurant for Chinese people. There are duck carcasses hanging above the counter, the waitstaff barely speaks English, there's no kitschy décor, and the menu teems with items like "pork blood congee" that clearly aren't meant for occidental palates. But forget all that and just remember the food. Everything is authentic, fresh, and delicious. The hot pots and crispy duck are must-tries, and the place is open until 2 a.m. on weekends.
Tex-Mex under $10
Reader's choice: Mexican Inn Café, 5716 Camp Bowie Blvd, FW
Critic's choice: Elote Mexican Kitchen, 12584 N Beach St, FW
The eclectic Tex-Mex menu created by husband-and-wife team Justin and Cynthia Loeb is full of high-quality, reasonably priced eats. For under $10, you can get a taco and a huge order of chips fiesta –– salsa, delicious queso blanco, and some of the best guacamole ever. The giant burritos or salad with a protein will run you less than $7. Or you could pick an order of nachos and one of the $5 (all day, every day) margaritas. And that's a steal.
Tex-Mex (Over $10 entrée)
Reader's choice: Uncle Julio's Mexican Restaurant, 5301 Camp Bowie Blvd, FW
Critic's choice: Gloria's Latin Cuisine, 2600 W 7th St, Ste 175, FW
The Fort Worth outpost of this Texas chain reliably offers Tex-Mex standbys, Salvadoran specialties, steak, and dishes you won't find many other places in town, like salmon chimichiurri salad, Salvadoran-style fish, pupusas, and a rich pollo con champiñones. The upscale décor at the Montgomery Plaza eatery will make you forget about serapes and piñatas, while the food brings home the breadth and richness of Latin American cuisine.