Green Salsa
Critic's choice: Los Paisanos, 1446 N Main St, FW
The tacos, tostadas, and enchiladas are tasty on their own, but they become otherworldly when slathered in the colorful and zesty salsa verde that's handmade at this newish Northside restaurant. The blend of jalapeños, garlic, onion, and cilantro makes every entrée a treat for the adventurous diner willing to take a walk on the green side.
Quesadillas
Critic's choice: Enchiladas Olé, 901 N Sylvania Av, FW
This shining new addition to the city's Mexican dining scene serves up a terrific plate of the cheesy treats. Portions are large enough to constitute a meal all on their own. You can order them plain, but the brisket and chicken versions strike just enough of a balance between meat and cheese that you can eat them without feeling like you're gaining five pounds. They're all served with sour cream, pico de gallo, and a particularly bright guacamole with lots of lime juice and cilantro.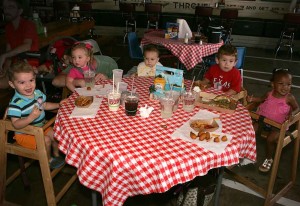 Sushi
Readers' choice: Blue Sushi Sake Grill, 3131 W 7th St, FW
Critic's choice: Little Lilly Sushi, 6100 Camp Bowie Blvd, FW
If you want a brilliant culinary experience, walk into Little Lilly and sit at the sushi bar. Don't even look at the menu. Just ask Chef Jesus Garcia to make you something — and prepare for an evening of inspired, authentic Japanese fare. If you're a fan of gimmicky rolls with fried fish, then Little Lilly isn't your place. But if you enjoy fresh, seasonal ingredients used in creative ways, there's nothing better in town.
Pizza
Readers' choice:  Mama's Pizza, 1813 W Berry St, FW
Cheap Pizza 
Critic's choice: Campisi's, 6150 Camp Bowie Blvd, FW
Much has been made of the Dallas-based, family-owned Campisi's, and there's a good reason. People have been eating pies made at Campisi's for more than 65 years — they're fantastic. When they finally opened a spot on Camp Bowie this spring, Fort Worth got a taste of the legendary thin-crust creations, and the parking lot has been full ever since. Better yet, Campisi's delivers, and a large two-topping pizza will set you (and your pizza party) back about $15 — about $5 a person for delicately flavorful, square-cut pie.
Gourmet Pizza
Critic's choice: Fireside Pies, 2949 Crockett St, FW
Trés chic location? Check. Nice wines, craft beers, and high-end cocktails? You bet. Huge list of organic, gourmet ingredients? Mama mia! Fireside Pies is everything it's cracked up to be, from the cozy yet sophisticated atmosphere to its signature pies like the Iberian (fennel salami, smoked provolone, soffritto veggies, castelvetrano olives, yellow tomato, and old manchego cheese) and the decadent, Calabrian-chile-spiced Lardo Red. Your best bet is to split a bottle of wine with a dining companion and try several, because the menu makes you want to try everything.
Seafood
Readers' choice: Waters – Bonnell's Coastal Cuisine, 2901 Crockett St, FW
Critic's choice: Waters – Bonnell's Coastal Cuisine
Jon Bonnell's glamorous, all-things-fish restaurant (his third establishment in Fort Worth) features sustainably raised seafood on more than 75 percent of the menu.  The main offering is oysters, and the theme reverberates throughout the restaurant, from the ice-laden oyster bar to the bleached oyster shells serving as décor. The oyster choices have their own one-page menu. Calamari, crab cakes, and an impressive rotating catch-of-the-day menu complete the seafood offerings. Working at a restaurant where the daily special arrives maybe 12 hours before it's going to be lunch must be like living an episode of Iron Chef daily.
Fried Chicken
Readers' choice: Babe's Chicken Dinner House, 104 N Oak St, Roanoke
Critic's choice: Golden Brown Fried Chicken, No. 2, 1717 Everman Pkwy, FW
It's a well-kept secret that Chinese cuisine has its own proud tradition of frying chicken, carried on locally by this Chinese restaurant/fried-chicken place on the city's southern edge. This roadside stop will never be mistaken for fashionable, but the fried bird is succulent and reasonably priced. It comes with delicious traditional sides (mashed potatoes, corn fritters, fried okra) in addition to Chinese cuisine items. Who knew that fortune cookies would make such a good end to a fried chicken meal?
Fish Entrée
Critic's choice: Chirashi at MK's Sushi, 2901 Fair Dr, Ste 100, FW
Mind-blowing. A huge bowl loaded with sushi rice, assorted spices, and a variety of raw fish, MK's chirashi is huge, hearty, and full of so many complementary flavors (sweet and savory, spicy and soothing) that you'll seriously consider having this meal every meal.
Sandwich 
Readers' choice: The Great Outdoors Sub Shop, 3204 Camp Bowie Blvd, FW
Critic's choice: Cuco's Sandwich Shop, 6650 Glenview Dr, FW
Cuco's in North Richland Hills is a can't-miss spot for two reasons: It's painted bright pink, and it has the best Cuban sandwich in town. What makes Cuco's roasted pork, ham, and salami so special is a secret, but the combo of salty meat, tangy mustard, and the absolutely crucial pickle slice make the Caribbean export worth every minute of Mid-Cities traffic. The Cuban grocery's other sammies are pretty bueno too — you might even develop a taste for sardines — and the tostones (salted crisp plantains) are perfect with a cup of black bean soup.
Wings 
Readers' choice: Buffalo Bros., 3015 S University Dr, FW
Critic's choice: A&D Buffalo's, 4005 E Belknap St, Haltom City
Scholars might debate who first said, "It ain't a thang but a chicken wang," but maybe that metaphor for a trifling matter needs to be retired, because some places take chicken wings very seriously, like A&D Buffalo's. For one thing, you get a ton of them, but the quality is better than the quantity. You'll find the usual row of sauces (Buffalo, BBQ, and lemon pepper), each of which provides a mouth-watering symphony of flavor for a great price. Fried just enough to give a bit of crunch, A&D's wings are a tasty departure from the usual sports bar flappers, and they have multiple heat levels, including one for folks who wish to sear their taste buds with fiery goodness.
Bakery
Readers' choice: Swiss Pastry Shop, 3936 W Vickery Blvd, FW
Critic's choice: Central Market
A wide selection of bakeries in a town is a sign that something's right (and delicious smelling) in the world, and Fort Worth's got 'em, from hole-in-the-wall donut dealers to venerable standbys, sophisticated cake shops, Mexican pastry purveyors, and places offering dreamy artisanal breads. But for the combination of quality and breadth of offerings, you really can't beat Central Market, with its unsurpassed selection of specialty loaves, ethnic breads, bagels, cookies, scones, pies, and cakes both plain and uber-fancy. Roll your cart quickly through this section if you're watching your weight — the temptations are tremendous.
Bread (at a restaurant)
Critic's choice: Blue Bonnet Bakery, 3905 Camp Bowie Blvd, FW
The sandwiches at Blue Bonnet (yes, it's a restaurant, too) are stuffed with the fillings of your choice — chicken salad, turkey, pimento cheese, and more — but what really makes the sammies pop is the fresh-baked bread. Besides basic wheat, white, and rye, varieties like cinnamon, pecan, and raisin are also available. If you really like the bread you're eating, you can buy a loaf, take it home, and make your own sandwich.
Dessert
Readers' choice: Stir Crazy Baked Goods, 106 E Daggett Av, FW
Critic's choice: Cannoli at Macaluso's Italian Restaurant, 2443 Forest Park Blvd, FW
The housemade cannoli at Macaluso's is a small miracle not only of sweet flavors but wonderful textures –– the pastry shell is crunchy and flaky, the mascarpone filling rich, creamy, and studded with chocolate chips. The whole thing is kissed with an artful touch of cinnamon.
Appetizers
Critic's choice: Magnolia Cheese Co., 1251 W Magnolia Av, FW
The little cheese shop/eatery's motto is "Cheese, wine, learn & dine." Owner Elizabeth Northern loves cheese, tapas, small plates, and variety. Tell her or any of the staff what you like or don't like, and they'll create a five-cheese board with which you can experiment. Each cheese or charcuterie plank comes with appropriate additions of nuts, honey, or other condiments, seasonal fruit, and some kind of bread or cracker to scrape up the cheesy, chewy goodness.
Ice Cream
Critic's choice: Beth Marie's Old Fashioned Ice Cream, 117 W Hickory St, Denton
This popular hangout for UNT and Texas Woman's University students alike ticks all the boxes. Locally owned? Check. Friendly staff and welcoming atmosphere? Yep. House-made ice cream? Uh-huh. Creative flavors? Try their Bee's Nees, flavored with lavender and lily. They even have a waffle iron on the premises to make their own waffle cones. All this and prices low enough for the college crowd — which means you can afford them too. It's worth the trip up to Denton.
Frozen Yogurt
Readers' choice: Yogurtland, 2600 W 7th St, FW
Critic's choice: Zinga!, 6370 Camp Bowie Blvd, FW
In Fort Worth's crowded fro-yo scene, this West Fort Worth location of a national chain stands out for offering a kids' table and for its selection of "bottomz" — that is, cupcake, brownie, and waffle-cone layers as a base for your frozen yogurt and toppings. All the locally owned yogurt shops should consider this a challenge to do something special in serving the icy treat.
Wine List
Reader's choice: Winslow's Wine Café, 4101 Camp Bowie Blvd, FW
Critic's choice: Grace, 777 Main St, FW
Two sommeliers. Two Wine Spectator awards. And a multi-page menu featuring wines by the glass (many in the $10 range), half bottle, or bottle or — for the fully committed — 1.5 and 3-liter sizes. There's even grappa on the menu. Best of all, the bartenders are well-educated and can make excellent suggestions if you give them parameters (not too sweet, dry, tastes like oak, whatever) about what you want to drink.
Place to Buy Ethnic Food
Critic's choice: El Rancho Supermercado, 1212 N Beach St, FW
Not to say the Vietnamese, Indian, and other ethnic markets aren't fascinating, but this area's real standout ethnic market is El Rancho Supermercado. Yes, it's part of a chain. But you can also recognize most of what's for sale and probably even have an idea of what to do with it once you've got it in your kitchen. Unlike a Mediterranean grocery where you'll probably be lost once you're past the curries, dates, and olives, El Rancho has a huge selection of meat cuts, a good fish market, nice food for snacking or taking home, a terrific bakery, and all the fixings you need to make great Mexican and Central American food. The produce is fresh and appealing, and there's a fresh juice counter — heck, we might just move in there if they'd let us.
Place to Dine al Fresco
Readers' choice: Joe T. Garcia's Mexican Restaurant, 2201 N Commerce St, FW
Critic's choice: Flying Saucer, 111 E 3rd St, FW
When the Flying Saucer moved into 8.0's location last year, the shift came with some prime outdoor property. The location on a busy corner of Sundance Square with a roof, performance stage, ample seating, and a great selection of beer-inspired culinary delights make this spot something of a mecca for lovers of beer and outdoor dining.
Place to Dine Alone 
Critic's choice: Campisi's
While Campisi's patio and dining room are often full of friends, families, and people on dates, the smoldering atmosphere and marble counter of its bar create a quiet, elegant spot for solo dining. Besides the respectable menu of pasta and pizza staples, the bar carries a nice array of locally made crafts on tap (a pint of Lakewood Lager is a nice finish to a plate of garlic and olive-oil beef ravioli), plus you get the benefit of friendly bartenders who know when to spark up a conversation and when to leave you to your musings. And even though the bar isn't sectioned off, it manages to be a dark, intimate oasis in the midst of the dinner-shift hustle, where you can choose to  make friends with another solo diner or just read and eat in peace. 
Place to buy car food
Critic's choice: El Mil Tacos, 3910 Hemphill St, FW
The dining room closes at midnight, but the kitchen stays open until 3 a.m. on weekdays and 4 a.m. on weekends, so you can grab some quick, cheap, greasy, flavorful, protein-packed tacos at the walk-up window and keep the party rolling for hours.
Place to Buy Fresh Fruits and Veggies
Readers' choice: Central Market
Critic's choice: Cowtown Farmers Market, 3821 SW Blvd, FW
Health-conscious herbivores don't have to travel outside of Fort Worth to get fresh-from-the-farm produce. Cowtown Farmers Market offers a wide selection of produce, cheeses, raw honey, herbs (many organic), and more. The market even promises that your veggies won't have traveled more than 150 miles to reach your shopping cart.
Meat/Seafood Market
Critic's choice: Central Market
What's a poor critic to do?  If you want good beef, buffalo, lamb, pork, or chicken or if you're in the mood to make an appetizer of fresh sea scallops or mussels or even a few bites of swordfish, where else can you go? The array of fish and seafood on display is something you don't usually see outside of the East or West coasts, and nobody in town can touch the meat selection, including their homemade burgers, sausages, and Kobe beef cuts. So once again, and to no one's surprise, Central Market deservedly takes the (crab)cake.
Food Truck
Readers' choice: Salsa Limón
Critic's choice: Holy Frijole
Name the other truck that serves authentic taqueria fare as well as crab cakes, mussels, and the kind of food you might expect at a four-star restaurant. Answer: There is no other truck, and few brick-and-mortar restaurants, that serve the range and quality of food available at Holy Frijole. From its spot behind The Usual on West Magnolia Avenue, the truck churns out impressive food for some of the city's most discerning palates. But Holy Frijole's food is more than a way to soak up cocktails. It's a bona fide treat that you can get until 2 a.m.
Presentation
Critic's choice: Paco and John's Mexican Diner, 1116 8th Av, FW
This lovely little place is located in a former convenience store where the unassuming exterior is matched by the décor inside. But if you judge the book by its cover in this case, you will have missed one of the most welcoming and sophisticated food experiences in town. The menu is inventive (quail, salmon, and duck dishes are frequently among the specials), and each plate is a delight to behold. There are no white tablecloths or fancy china here, but there is immense attention to detail, and the food is served with obvious pride.
Wait Staffer
Readers' choice: Nick Miller, Pappadeaux
Critic's choice: Don Mueller, Little Germany, 703 N Henderson St, FW
There's nothing worse than going to a restaurant where a waiter squats down beside your table and says, "Hi! I'm Chad! I'll be your waiter! And maybe even your BFF! What's your name?" That won't happen when Don Mueller waits on you. The affable and efficient server at Little Germany (and on weekends at Edelweiss German Restaurant) has the perfect tableside manner. The gray-haired gentleman approaches tables respectfully, careful not to interrupt or startle diners. He's knowledgeable about the food, drinks, and specials and delivers the grub while it's fresh and hot. The dude is a pro and a pleasure.
Restaurant
Readers' choice: Ellerbe Fine Foods
Critic's choice: Ellerbe Fine Foods
From Bon Appétit to Southern Living to Texas Monthly, it seems that every food editor in the country has noticed chef Molly McCook's little restaurant. McCook's farm-to-table approach, combined with recipes from Grandma's book — Maw Maw's Bread Pudding is the bomb — have made for national, regional, and local success over the past four years.  The food's not cheap, but it's beautifully prepared with thought to both sources and sustainability. When you're on the  EveryDay With Rachael Ray radar (Ellerbe was singled out when the Super Bowl hit town in 2011), you've made the big leagues.
New Restaurant
Readers' Choice: Waters – Bonnell's Coastal Cuisine
Critic's Choice:  Waters – Bonnell's Coastal Cuisine
It's been an up-and-down first year for Jon Bonnell and his new seafood restaurant. Not every food critic has raved about the place, though plenty have. The reason Waters wins this award can be summed up in one word: ambition. Bonnell doesn't lack for chutzpah. The challenge of running a restaurant that serves fresh, creatively prepared seafood in a landlocked city has sunk other restaurants in this town. But, based on the consistently full dining room, it seems local diners have embraced the concept — and the other food critics will come around eventually.
Host or Hostess
Readers' choice: Doug White, Shaw's Patio Bar & Grill, 1051 W Magnolia Av, FW
Critic's choice: Brenda Garcia, Bonnell's Fine Texas Cuisine
For some, a swanky place like Bonnell's can be a little intimidating. Luckily, the first thing diners see upon entering is Garcia's warm and welcoming smile. Her charm and professionalism make the ultimate first impression.
Chef
Readers' choice: Jon Bonnell
Critic's choice: Jon Bonnell, Bonnell's Fine Texas Cuisine, Waters, and Buffalo Bros.
Jon Bonnell's namesake Fine Texas Cuisine celebrated its 10th anniversary last year. The restaurant has become a go-to place for business lunches and celebrations –– if the chef knows it's your birthday, he might deliver a dessert inscribed with raspberry coulis. Bonnell was one of the first local chefs to plan menus using locally sourced and seasonal items whenever possible. That philosophy extends to his new "Fort Worth fancy" seafood restaurant, Waters. And he is perhaps the most generous restaurateur in the Fort. Bonnell's is ostensibly closed Sundays and Mondays, but the chef often opens the place to host local charity events. Although he's been cooking as long as he can remember (kids in the Bonnell house took turns with "kids cook nights") his first career was as a math and science teacher. And his love of teaching is still apparent: He's got a no-secrets kitchen. If you want a recipe, just ask.
Fries
Critic's choice: Live Oak Music Hall & Lounge, 1311 Lipscomb St, FW
The Live Oak changes its menu often, but one appetizer that's managed to stick around is the loaded fries. Covered in a hot mess of cheese, lettuce, tomatoes, and tender pulled pork, they are a meal unto themselves, with fatty goodness to soak up that glass of stout.
Salad
Critic's choice: Woodshed Smoke-house, 3201 Riverfront Dr, FW
The three-kale salad with celery greens comes kissed with a little oil and lemon and topped with smoked pumpkin seeds, thick strips of manchego cheese and a dainty dice of guanciale — pancetta's fancier, chewier cousin. It's minimalist, tasty and beautifully executed — even if you don't relish kale.
Hot Dog
Readers' choice: Chipotle dog at Shaw's Patio Bar & Grill
Critic's choice: The Flying Saucer
While the Flying Saucer's umpteen-million taps might distract you, try to focus on the menu for two seconds, because you'll find that the Sheboygan Side-by-Side is the wurst plate you'll want more than anything. Two hefty beer brats lie on a bun smothered by sauerkraut, spicy mustard, and red onions. The creamy German potato salad makes a great finish, especially if you wash it down with a nice pilsner.
Nontraditional Burger
Critic's Choice: Quail sliders at Billy Bob's Texas, 2520 Rodeo Plaza, FW
A lot of people don't know that the world's biggest honkytonk has a restaurant. Not only does it have one, but it's run by the former chef of Saint Emillion, Mark Hitri. While the restaurant's transition from a menu of fried everything to fresh ingredients and made-from-scratch cooking has been slow, there are already signs of great things to come. Exhibit A: the quail sliders. The little boneless birds are served with a tangy salsa verde aioli and will make you forget you're at a Country-Western concert venue — unless of course you open your eyes when you eat.
Spicy Dish
Critic's choice: Guiso al tomatillo verde at Los Paisanos
Los Paisanos' guiso al tomatillo verde (pork stew in green tomatillo sauce) features big pieces of tender sautéed pig mixed with a pulpy, slightly seedy sauce made from ripe, fresh tomatillos. The stuff has a wonderful fruity undertone, and the plentiful chile spices make it as hot as an August day in Laredo.
Carb Loading
Critic's choice: Zorro's Buffet, 4421 S Fwy, FW
Some people think carb-loading is simply a question of stuffing limitless volumes of spaghetti down your throat. Why people would want to do that is beyond us. But if you do feel the urge to carb, then get on over to Zorro's all-you-can-eat buffet. You can eat pasta if you like or load up on carbs from stuffed potatoes, avocados, enchiladas, pizza, potato salad, and a host of daily specials designed to taste good and fill you up. And at about $10, it's a darned good deal.
Menudo
Critic's choice: Esperanza's Mexican Bakery and Café, 2122 N Main St, FW
Anybody with a Latino soul knows menudo makes the perfect dish to start a long day (particularly after a long night). Unlike many eateries that serve menudo only on weekends, the excellent Esperanza's has a pot boiled up and waiting for you every day.
Buffet
Readers' choice: Terra Mediterranean Grill, 2973 Crockett St, FW
Critic's choice: Terra Mediterranean Grill
Terra features the only Mediterranean buffet in town where you can get as much beef/lamb gyro meat as you can stand. All the other favorites are represented too: lentil soup, hummus, baba ghannouj, dolmas, addictive roasted cauliflower (a Terra trademark), and veggie, beef, and chicken kebabs. There's also saffron rice and some other items. Skip those and focus on the good stuff, but beware: That fourth plate might be a mistake.
Fast Food
Critic's choice: Pappa Chang Asia Bistro
You don't have to wait for good, inexpensive food at Pappa Chang, because the buffet is always ready. The cooks keep the food fresh and hot, and the selections are consistently good and hearty enough to thrill a Mongol soldier. Salad and desserts are included.
View
Critic's choice: The Point, 1349 Bomber Rd, FW
Drive out past Lockheed (known to old-timers as the bomber plant) and keep going until the road ends at The Point. Stroll around the grounds and admire views of Lake Worth from many angles. Toss a few horseshoes if you like. Have a cold one in the outdoor lounge that will remind you of the Gulf Coast. Enjoy the super-sweet service that will remind you of times gone by. Listen to good music on Sunday afternoon while the kids romp on the lawn. The burgers and catfish will make you smile. Inside, enjoy a "scene" that's cool while vastly different from, say, West 7th.
Soul Food
Critic's Choice: Ma'dea's Down Home Cooking, 1019 W Enon Av, River Oaks
The portions at Ma'Dea's could feed Mao's army and then some. But the sheer volume of food isn't what makes this place the best. The kitchen cranks out authentic soul food with flavors so rich and bold, you'd think you were sitting at your grandmother's table at Christmas. You might need an insulin shot afterward, but the food is worth a short diabetic coma.
Restaurant Serving Locally Sourced Food
Critic's choice: Ellerbe Fine Foods
What's the height of civilization in our fair burg on the Trinity? Keep your museums and opera — Ellerbe's is the real sine qua non, a temple of inventive food greatness that manages to be as welcoming and unpretentious as your Great-Aunt Clara's kitchen (and has a collection of colorful aprons that likely matches hers, to boot). The food is inventive, the surroundings both sophisticated and unpretentious, and the service excellent.
Field of One
Critic's choice: Potager, 315 S Mesquite St, Arl
Upscale restaurateurs have caught on to the trend of using local and organic foods. Potager's been doing that from the start, but nobody else uses their business model. Walk up to the counter and read the chalkboard menu. (It changes constantly but always includes "some kind of quiche." Other recent items on the board include a stellar red pepper bisque, pulled pork, coffee-rubbed sirloin, cheese grits, roasted baby okra, and chocolate coconut cake.) Ask for this or that or a taste of everything. Serve yourself some iced mint tea. Use a cloth napkin! Enjoy your absolutely amazing meal. Go back for seconds, but don't waste this luscious food. Then …  pick up a handmade envelope and tuck your money inside. Slip it into the big watering can. Yes, it's the honor system: Pay what you think it's worth. But your good karma requires open pockets because we want Potager to stick around for a long time.
Best-Kept Secret
Critic's choice: Oscar's, 3400 Denton Hwy, Haltom City
Find a place in Haltom City amid stretches of urban blight punctuated by signs advertising psychic readers — that's how to hide a good café, all right. But as you approach Oscar's, you hear the sound of running water blended with Mexican music; you see a shady patio and big double doors welcoming you inside. Much more Mex than Tex-Mex, the menu offers many vegetarian selections. Among our favorites are three vegetarian varieties of enchilada: mushroom, spinach, and squash. The mole is pretty decent too. On a recent visit, we were blown away by the lunch special of a rib-eye topped with two big shrimp and white wine and cilantro sauce. And there's a full bar.