Late-Night Dining
If you can't find a great bite to eat in this town after midnight, you're just not looking. This year's collection of late-night eateries only includes places that are open until at least 2 a.m. on weekends.
The holy trinity of Hemphill Street taquerias is a great place to start. Every weeknight, El Mil (3910 Hemphill St) stays open until 3:30 a.m. (and 4 a.m. on weekends). Ernesto's (4050 Hemphill St) and Juanito's Taqueria (4150 Hemphill St) stay open past 3 a.m. on weekends.
In the TCU area the after-bar crowd has a lot to chose from, including Mexican faves Fuzzy's Tacos (2917 W Berry St), open until 3 a.m. on weekends; Salsa Limón (2916 W Berry St), open until 2 a.m. on weekends; and non-taco joints Café Brazil (2880 W Berry St), open 24 hours, and Buffalo Bros (3015 S University Dr), open until 2 a.m. every night.
West Magnolia Avenue has become a mecca for those with late-night tummy rumbles. The venerable Benito's (1450 W Magnolia Av) still serves up exquisite Mex-Mex until 2 a.m. on weekends, newcomer The Bearded Lady (1229 7th Av) offers upscale comfort until 2 a.m. every night, and Holy Frijoles (1408 W Magnolia Av) likewise is open until 2 a.m. every night.
Taco Heads (2700 W 7th St), open until 2 a.m. Wed-Sat, still rules West 7th Street, while pizza purveyors Picchi Pacchi (512 Main St), open until 3 a.m. on weekends, and the vastly underrated Embargo (2010 E 8th St), open until 2 a.m. every night, hold it down downtown.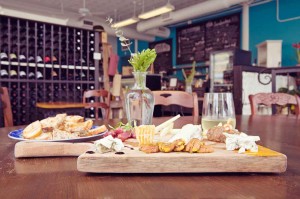 All-Star Mexican Food
You could spend a year sampling the Mexican places in this town, but you have errands to do, right? While you're out running 'em, make a quick stop at Salsa Limón (929 University Dr) for its juicy, melt-in-your mouth lengua tacos. When you're ready to sit down, swing around the traffic circle to Salsa Fuego (3520 Alta Mere Dr) and enjoy piquant, hearty Mexican lasagna. In the West 7th neighborhood? Try La Familia (841 Foch St) for the peppery steak a la Mexicana.
If guisada is your go-to dish, El Asadero (1535 N Main St) has a must-try version, the hotter the better. At Elote (12584 N Beach St), you'll find some inventive antojitos, but you can't go wrong with braised beef enchiladas. Finally, when your hair-of-the-dog needs a little help, the tripe tacos at El Mil Taqueria (3910 Hemphill St) are to die for.
All Star Meal: Homecooking
Bread: The buns at Smokey's BBQ (5300 E Lancaster Av, FW) are homemade daily. When you order your barbecue, the rolls are cut, toasted, and buttered, all Texas toast-like.
Sandwich: At Lee's Grilled Cheese (5040 N Tarrant Pkwy, FW, or a food-truck park near you), you can get a plain grilled cheese, or you can get the super-stretchy deluxe version with cheddar, mozzarella, Swiss cheese, and bacon. There are actually 13 versions of grilled cheese at Lee's.
Entrée: Go for the fall-apart pot roast with the luscious, salty juice served with homey carrots and potatoes at Old Neighborhood Grill (1633 Park Place Av, FW) or the grilled pork chops at Brickhouse Lounge (2525 E Arkansas Ln, Ste 253, Arl) –– two giant chops coated with a spicy rub and grilled to moist perfection.
Sides: The house-made mac 'n' cheese at Chop House Steak & Seafood (2230 W Park Row Dr, Pantego) is actually macaroni and five cheeses, including creamy Monterey Jack and white cheddar. It's a sumptuous take on a childhood favorite.
Dessert: Magnificent strawberry shortcake — assembled with fresh house-made shortbread biscuits, homemade whipped cream, and sliced strawberries macerated in their own juices — is topped by a generous scoop of Plano-based Henry's Homemade Ice Cream. Vanilla, of course. Taste it at DeVivo Bros. Eatery (750 S Main St, Ste 165, Keller).
All Star International
Appetizer: The most delicate, delicious starter to any meal has to be the Hokkaido scallops and tuna tartare served on a lotus root, crisp, with roasted rice pearls at Shinjuku Station (711 W Magnolia Av, FW). The little morsels pack a ton of flavor into the tiniest bite, but they're so good you'll be tempted to eat them like potato chips. Another option: the trio appetizer — featuring  causa crocante de mariscos (little panko-crusted fried potato balls stuffed with seafood), Peruvian-style ceviche, and huancaína de rocoto (boiled potatoes slathered in a sauce of aji amarillo and pureed peanuts) at Nustas Café (1730 W Randol Mill Rd, Arl). They show why Nustas is the premier Peruvian restaurant in North Texas.
Entrée: The chicken saagwala at Bombay Grill Indian Restaurant(4625 Donnelly Av, FW), cooked with creamed spinach and a touch of curry sauce, may not sound like much. But when you find yourself drinking the sauce after devouring the tender chicken, you'll understand why it's the best.
Dessert: How can something so light be so decadent? The ile flottante (floating island) at Saint Emilion (3617 W 7th St, FW) is an airy meringue hovering in a pool of crème anglaise, topped with caramel and sliced almonds. Though it seems simple, it is one of the most elegant, flavorful, and satisfying desserts in town.
All Star Meal: Barbecue
Sausage: Picture a giant rolling smoker hitched to the back of a pickup truck. The unconventional delivery method produces a surprisingly good product. The sausage links at  Big Steve's Barbecue (visiting various bars in Fort Worth) are intensely smoky, with a chile pepper spice and a casing that snaps back at you. They're served on a hamburger bun with pickles.
Ribs: One serving of ribs on the sampler plate at Woody Creek Bar-B-Q (6986 Green Oaks Rd, FW) amounts to two Fred Flintstone-style tusks, with a great 'cue crust. The ribs are falling off the bone (thanks in no small part to a hefty layer of luscious fat), and the excellent dry rub coating reduces the sauce to a mere condiment.
Prime rib and smoked sirloin: The open pit of mesquite wood creates a subtle smoke flavor that permeates these fancy cuts of beef at Cooper's Barbecue (301 Stockyards Blvd, FW). The prime rib is extremely well-marbled, but the sirloin is relatively lean. Both are melt-in-your-mouth tender.
Lamb: The words "lamb" and "barbecue" aren't a natural combo for Texans, in theory. But in practice, the barbecued lamb at Woodshed Smokehouse (3201 Riverfront Dr, FW) is coated with a lovely, heavily rosemary-flavored rub. The long smoke bath renders a lot of the fat, leaving a relatively lean product with a slightly chewy texture.
Chicken: The smoked half-chicken is available only on certain days, but the crispy skin and juicy insides make the treat worth the wait at Railhead Smokehouse (2900 Montgomery St, FW).
Dessert: What better way to end a good barbecue meal with than with a homemade fried pie? At Baker's Ribs and the Original Fried Pie Shop (921 S Main St, Weatherford) the crescent-shaped pie's thick crust tastes a little like funnel cake. There are traditional flavors –– cherry, blackberry, peach, and apricot –– but you can also get pepperoni and brisket pies.
All-Star Chain 
As much as people search for that phenomenal hole-in-the-wall or the finest white-tablecloth temple to food, just about everyone ends up at a chain restaurant at some point — and why not? There's no shame in savoring La Madeleine's roasted pear and prosciutto salad (6140 Camp Bowie Blvd, FW) or the lemon pepper zucchini at Saltgrass Steak House (4601 Citylake Blvd, FW). And while Austin-based Torchy's Tacos (912 Northton St, FW) might not be as ubiquitous as T-Bell or T-Bueno, its poblano-heavy Dirty Sanchez breakfast tacos are good any time of day. On the other side of the food globe, the pan-Asian bowls at Genghis Grill (4469 Bryant Irvin Rd, FW) are a build-it-yourself bonanza. Of course there's the great debate about the merits of In-N-Out Burger (2900 W 7th St, FW), but even the biggest Whatafans owe it to themselves to give an animal-style Double-Double a chance.