In May 2012, Fort Worth Police Officer Jody Timmons was chasing an assault suspect over a chain-link fence and fell on her right side. When she fell, she fractured her collarbone and tore the meniscus in her knee, and a disc in her neck slipped out so far it pushed against her spinal cord.
"When I was standing there, my knee started hurting, and I felt a pain in my shoulder that radiated down to my fingers," she said.
She hasn't been able to work since that day. CorVel initially denied her request for surgery on the basis that she had not yet tried enough physical therapy. Eventually, the company approved a surgery that fixed her knee, but CorVel denied that her neck issues were caused by her fall.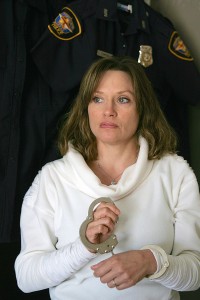 After the initial injury, with CorVel's approval, she was treated for her neck injury, although doctors believed it wasn't serious. After a few days of rest, however, the pain in her neck became worse.
Since then, the company has repeatedly denied permission for the various treatments recommended by her doctors for both her neck and shoulder. But because her injury occurred more than a year ago, the city of Fort Worth expects her to get back to work any day now.
It was her CorVel claims manager, Terry Marshall, who denied the claim on Timmons' neck injuries, not a doctor. In fact, even CorVel's doctor agreed that she needed surgery on her shoulder and neck, but that finding was overruled by Marshall.
CorVel did not respond to questions about the medical qualifications of its caseworkers. However, on the company's website, medical training is not listed as a requirement for the position.
"With everything being denied, denied, denied, you basically feel helpless," said Timmons. "You reach a point where you feel like giving up, which is what [CorVel] wants you to do."
Though Timmons has officially been back on active duty since Sept. 1, she has yet to return to work. She has been able to stay home only by burning through her sick days and other paid days off. She takes pain pills daily to manage what she described as a constant pain throughout her body. The medication and stress have caused her to fall into depression, so she now takes an antidepressant in addition to the pain medication. The amalgam of pills has affected her short-term memory, which she described as being "shot."
The ordeal has also strained her marriage, she said.
In receiving treatment, she has been shadowed by what's known as a nurse facilitator, who acts as a medical liaison for CorVel, following patients as they see their doctors.
"I had [a nurse] who asked to go to my doctors' visits, and I refused," she said. "I didn't want her there while I was getting treatment. So she'd have to make her own appointments."
In October, Timmons filed a complaint against CorVel with the Texas Insurance Commission, but she hasn't heard back from them. She filed for an injury leave extension with the city so she could have more time to recover but characterized that process as another maze of red tape and bureaucratic gymnastics.
The city employees "were horrible with me," she said. The police department said she couldn't get another extension unless she was recovering from another surgery — which she was trying to get for her neck but which had been denied by CorVel.
Timmons and her husband have hired an attorney and plan to pursue legal action.
Her story is typical of the reports the Weekly heard from various city staffers who have dealt with CorVel.
One tactic those staffers said CorVel commonly uses to deny medical treatment is to claim that an injury was caused by a degenerative condition, not the incident that precipitated the workers' compensation claim.
In Gillette's case, his back pain became degenerative because of the constant strain he's put on his body while working for the police department, he said.
"The only reason I have a degener-ative condition is because of what I've been doing in my line of employment," he said.
Over the course of his career, Gillette has been treated for a ruptured disc and had vertebrae fused together, and he suffers on-again, off-again back pain.
After his most recent injury, his doctor recommended a neural stimulator — like a pacemaker for the spine — and physical therapy.
After waiting almost five months, Gillette called CorVel and found out that his request had been denied because his doctor allegedly didn't do a peer-to-peer interview with CorVel's doctor. His doctor assured Gillette that he had contacted CorVel and that no one had responded to his calls.
Eventually, CorVel responded by asking for a second opinion. In such cases, the patient can go see the specialist of his or her choice. The doctor he saw for the second opinion recommended another procedure that would essentially burn the nerves between his discs so he won't feel the pain of them rubbing together.
His doctor requested permission for that procedure several weeks ago and still hasn't heard back.
"I've never been through this rigmarole with my other injuries," said Gillette. "I've had broken bones, legs injured, ankles rebuilt, etc. I'm pretty well bionic by now.
"I had a doctor tell me that [CorVel's] intent is to do the bare minimum," he said. In the doctor's experience, Gillette said, "Their goal is to get you the minimum amount of treatment at the minimal amount of cost, regardless of your condition."
Gillette said he still feels a dull, persistent pain in his back and is not well enough to return to duty.
"On a 10-scale, I constantly run about a two or three," he said. "I'll go from the couch to the chair to the bed, then stand up for a while, then walk around. I drive my wife nuts."
Another officer, who asked not to be named, said another third-party administrator  also tried to deny his claim based on his "degenerative" condition.
In 1997 the officer was rear-ended by a drunk driver while stopped at a traffic light. He ruptured two discs in his neck and needed to have three vertebrae fused together. Contract Claim Services, the firm handling the city's workers' compensation claims at the time, approved, and the surgery was performed.
A decade later, the repaired discs broke apart, causing him severe pain. This time, Contract Claim Services refused to OK the surgery, saying the problem was degenerative and thus not covered.
The officer paid more than $2,000 for various tests to prove that his condition was not degenerative. He sued to force the city to pay for the surgery. On the morning, 18 months later, when the case was to go to trial, Contract Claim Services dropped their opposition and agreed that the problem was work-related and therefore covered.
The officer was seen by a doctor selected by Contract Claim Services who recommended new surgery. But this time, the claims company responded that surgery wouldn't fix the problem and denied the claim again.
CorVel inherited the problem but still hasn't approved the surgery. The officer said CorVel officials have told him the company considers the matter settled. Now, he said, CorVel won't return his calls.
The officer said he has been in serious pain since 2007. It's often so bad, he said, that he can't get out of bed.
If injured workers use their personal insurance to see a doctor for medical procedures related to their injury, they run the risk that their cases will no longer be considered workplace injury.
"I'm just stuck," the officer said. "I can't go to the doctor on my regular insurance because [the injury] is work-related, and I can't go to a workers' comp doctor because they just won't let me. It needs to be fixed."
Gillette expressed the frustration the other officers say they feel.
"This could have been done months ago," he said. "I could have been back to work last July or August, but now I'm looking at February or March."
 ********