Burnam learned firsthand just how vocal the anti-Obamacare crowd is during the 2013 legislative session. He attached an amendment to a budget bill that would have created a mechanism for implementing Medicaid expansion in a way particular to Texas — giving some legal wiggle room, in effect, in case the governor and the federal government figured out some compromise on Medicaid expansion.
"It passed with bipartisan support, but as soon as it did, the people who see Obamacare as a red flag began twittering and e-mailing and messaging their representatives," the Fort Worth Democrat said. Within hours, the House voted to reconsider that approval. Seeing which way the wind was blowing, Burnam pulled down the amendment.
The ideological war with the president in general and the Affordable Care Act in particular is simply unbelievable, said Burnam. "In Kentucky they love the new Kynect Health Care but hate Obamacare, and they don't realize that Kynect is Obamacare. That's the kind of thing you're up against here in Texas. It doesn't matter that a million people would get health insurance. It doesn't matter how many thousands of jobs would be created. The only thing that matters is that they hate Obamacare and won't let their representatives forget it."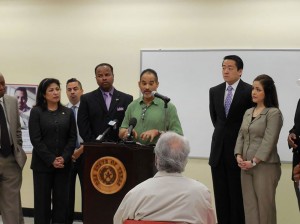 Texas' Republican members of Congress, especially Sen. Ted Cruz, have worked and spoken repeatedly against the ACA. Mel Moss, with the Arlington Tea Party, is similarly opposed to it.
"Obamacare will destroy the traditional system we have in Texas of employers covering healthcare," and will generally increase healthcare costs, she said. "Just about every bad thing you have heard about it has come true."
Coleman said he finds it "so hard to accept that people think that way. It's hard because Texas has the highest rate and number of uninsured people in the country, and we'd benefit the most from the full implementation of the Affordable Care Act."
Coleman acknowledged fears that states with full ACA implementation could see insurance rates climb next year. However, in the last week, officials in both Connecticut and Arkansas — among the first states to make projections about insurance costs — have said they anticipate modest decreases in healthcare premiums.
In other ways, by most accounts, the act, even without the Medicaid expansion, has had positive impacts.
Kids can now stay on their parents' insurance policies until they are 26. Insurance companies have had to return billions of dollars to their customers because of a rule in the new law that requires insurance companies to spend 80 percent of their insurance premiums directly on actual healthcare, rather than on administrative costs. Hundreds of worthless insurance policies have been cancelled because they don't meet the basic requirements of a policy under the ACA. Insurance companies can no longer charge a higher premium for women than men or turn people down for coverage because of a pre-existing condition. Nor can insurers any longer set annual or lifetime caps in coverage and then drop policyholders who have paid premiums for years.
Hector Carrillo, executive director of the Fort Worth chapter of LULAC, the oldest Hispanic organization in this country, sees some racism associated with the issue.
"A lot of people think that undocumented people will be getting free healthcare, but undocumented people don't qualify for shit, of course," he said. "Who is suffering because of this are all the people in that huge space between abject poverty and middle-class earners."
An administrator at John Peter Smith hospital system, who asked that her name not be used, said their emergency room is as full as it was before the ACA was passed, because of the decision not to expand Medicaid.
"A lot of our people are poor, and the people who didn't have Medicaid before don't have it now," she said. "So we do the best we can. The people … didn't get anything that affects them from the new law. But that would change if Medicaid was expanded."
Anne Dunkelberg, associate director of the Center for Public Policy Priorities, said that, without Medicaid expansion, "We have not done anything for the poorest people, which is why emergency rooms in Texas are still full.
"But we have seen reports from Arkansas where they accepted the expansion and have seen their emergency-room entries drop, as people now have an option of seeing a doctor in an office rather than going to the ER," she said.
Coleman hasn't given up. "My job and my colleagues' job in the legislature is to work until we get something like the Medicaid expansion and get people good healthcare," he said. "It's hard to watch people like Gov. Perry put their foot on people's necks for political reasons."