Art Collective
Critic's choice: Wildcatter Exchange
Hey, did you hear the one about the writers, filmmakers, musicians, poets, cartoonists, and various other creative types who converged on the Near Southside in March for a two-day event to celebrate the art of telling a good story? Despite the rainy weather, the inaugural event attracted a decent-sized crowd. The panel discussions were interesting, the beer was cold, and the party afterward at Shipping & Receiving was crowded and energetic. Everyone had such a good time, organizers decided to do it again next March.
Comic Book by a Texas Author
Critic's choice: Masters of the Obvious
Created by Austinites Dan Price and Bonn Adame, Masters of the Obvious is a romp through both space and pop culture. Climb aboard the Battle Toaster USS Screensaver and join Dr. Biclops (he has two eyes), The Visible Woman ("you can't miss her"), and their crewmates as they battle baddies and sometimes themselves. Visit mastersoftheobviouscomic.com.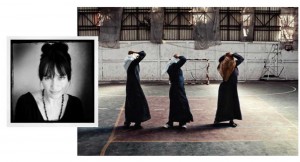 Outsider Artist
Critic's choice: Jack Russell
Jack Russell, who plays upright bass for Whiskey Folk, specializes in linoleum-cut printing, whipping up incredibly intricate, gloomy, and psychedelic tableaux and portraits, most in just black and white. Check out his work at facebook.com/jackdawfolkart.
Arcade/Bowling Alley
Readers' choice: Cowtown Bowling Palace, 4333 River Oaks Blvd
Critic's choice: Main Event, 4801 Citylake Blvd E
Might as well give this award to a place that combines the best of both worlds. Not only does Main Event boast lots of lanes for tenpin, but the venue also has a video game section that can stand up to the best pure arcades in Tarrant County. There's beer, pizza, karaoke, and laser tag here, too.
Background for a Warped Christmas Card
Critic's choice: The nearest gas well
Nothing says, "Merry Effin' Christmas!" like a photo of the fam gathered around any one of the dozens of gas wells soaring over Tarrant County. To make sure recipients feel the sarcasm, be sure to don your gas masks.
Day Trip
Critic's choice: West Vickery Boulevard
This little stretch of road that runs west of downtown and disappears into Benbrook is home to a few hidden treasures and the best free art museum in Tarrant County. Trains coming out of the Davidson rail yard are adorned with some of the most vivid, interesting artwork in the county. Vickery has plenty of parking lots to pull into for great views of the tracks. If hunger strikes, stop by the Vickery Café and have some breakfast for lunch or a slice of buttermilk pie. Bring a camera and soak in the moving canvases of the colorful rail cars.
Green Space
Critic's choice: Burnett Park
Despite rah-rah talk from health-minded Mayor Betsy Price, Fort Worth is pretty much in the middle of the pack when it comes to parks. Our city's park system tops Houston's and El Paso's, but we aren't as green as Dallas or Austin. Still, downtown workers have a little slice of heaven right outside their skyscraper windows. Burnett Park won't make anyone forget Central Park, but our gorgeous urban green space offers lawns, breezes, and shaded benches.
Outdoor Workout Space
Critic's choice: Stripling Middle School, 2100 Clover Ln
It's not the fanciest gym in the city –– it's a public school –– but the outdoor fitness system on the basketball courts at Stripling is way cooler than the usual monkey bars. There are five stations with various bars, steps, and platforms, with signs that list several exercises you can do at each. There's also a beginner, intermediate, and advanced workout posted on each sign. When you're done feeling the burn, there's a nice, relatively new track just a few feet away. The best part is that there's no standardized test to take when you're finished with the workout.
Urban Digs
Critic's choice: The Lofts at West 7th, 929 Norwood St
The Lofts at West 7th are set smack in the middle of the shopping, dining, and entertainment offerings along West 7th. The apartments boast hardwood floors and granite countertops, and the property offers a fitness center and pool.
Urban Redevelopment/Smart Growth
Critic's choice: Nearer Southside
We all know how hip and happenin' West Magnolia Avenue is, but if you want to get in on the ground floor of the next big boom, open your lofts/bar/club/Mex-Asian-luau-fusion restaurant on the "Nearer" Southside. Sure, the blocks around South Main Street are still a little rough, but their awesome watering holes (Shipping & Receiving, Republic Street Bar), theater (Amphibian Stage Productions), and close proximity to Fort Worth's burgeoning gayborhood (Jennings Street area) make the neighborhood prime real estate for realizing your urban dreams.
Example of New Architecture
Critic's choice: Piano Pavilion, Kimbell Art Museum, 3333 Camp Bowie Blvd
Seemed like all of Fort Worth was up in arms after the Kimbell said it was going to trade a huge swath of green space for additional gallery space. But a lot of minds have changed since the 101,000-square-foot Piano Pavilion opened in November. Designed by brilliant Italian architect Renzo Piano, the pavilion consists of two galleries connected by a glass passage, with nearly two-thirds of the building below ground. Piano has described the low-lying glass and concrete structure as an "expression of simplicity and lightness." We'll just say it's awesome.
Example of Public Architecture
Critic's choice: 7th Street Bridge
This is just a gem, made more wonderful by the realization that the innovative design came from none other than the Texas Department of Transportation, that it cost only about one-seventh of what Dallas' big-deal new bridge cost, that it is walkable, and it's beautiful from both a distance and close-up. Driving across it gives one the feel of rolling motion, like momentarily being on the ocean. An equally rollicking feeling came from reading the Dallas Observer's tongue-in-cheek suggestion that, after comparing our new span with Dallas' Margaret Hunt Hill Bridge, Fort Worthians "should slink back into their vibrant downtown, human-scale developments, and bikeable neighborhoods and think long and hard about what truly makes a great city."
Rebirth/Relocation/Reopening
Critic's choice: South Main Street
What an exciting feel there is in this area these days –– a great bakery, a soulful bar, the headquarters of BikeShare, Amphibian Stage Production's new home, and lots of creative types in PR and marketing firms that have moved here, joining the urban pioneers making their homes in this back-from-the-brink neighborhood. The inaugural (we hope there'll be more) Wildcatter Exchange weekend festival brought poets, screenwriters, filmmakers, songwriters, and fans of all sorts of storytelling, most of whom had probably never been in this part of town before, except driving through. An extension of the wider revitalization going on in the Near Southside, South Main's resurgence makes our urban-villager hearts go pitty-pat.
Remodel
Critic's choice: Casino Beach, Lake Worth
Plenty of work remains to be done, but Casino Beach is looking better than it has in decades. Developers are trying to raise money to re-establish the historic beachfront property, complete with a boardwalk, boat slips, pavilion, restaurant, and marina. In the meantime, developers have cleaned up the shoreline, and the city has spent the past two years dredging the lake, making the waters cooler, cleaner, and deeper than they've been in many years.
Place to Skateboard
Critic's choice: Westover Hills
First and foremost, if you want to bomb the hills in what's probably the toniest neighborhood in Fort Worth, do so at your own risk, because while there are several miles of exhilarating slopes in this part of the town on which to wipe out, the local cops have very little to do and consequently are quick to identify outsiders and hassle them. Having said that, Westover Hills is a longboarder's paradise, with nice hills, minimal traffic, and great scenery. Just don't eff it up for everyone — save your tags and stickers for someplace else.
Place to Take Your Kids
Readers' choice: Coyote Drive-In, 223 NE 4th St
Critic's choice: The Stockyards
There's a reason the Stockyards remains one of Fort Worth's best attractions. It simply has a sense of wonder to it. The red-brick streets, Pawnee Bill's Wild West Show with its trick shooting and roping, the twice-daily longhorn cattle drive, and the stagecoach rides will make your kids' eyes light up. And then there are the restaurants, the shops, and, for dessert, The Bull Ring.
Top Five Artworks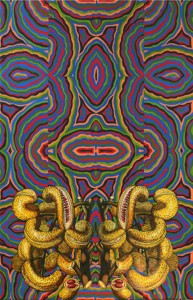 Champion by John Hartley: A painting of a toy racer riding a futuristic motorcycle, this painting is as subversive –– why paint a toy? –– as it is masterful. Exhibited at Artspace 111 as part of the one-man show Now and Then, "Champion" is photorealist John Hartley at his best.
The Eagle Has Landed by HOMECOMING! Committee: Inspired by Alexander Calder's 39-foot sculpture that stood in front of the Fort Worth National Bank Building (now The Tower) for 17 years before disappearing rather suddenly in 1999, HOMECOMING!'s most ambitious project yet was a huge hit. As part of the multiplatform The Eagle Has Landed, the 13-member group erected and disassembled throughout town an inflatable mobile just as red and just as angularly modern as Calder's, the goal being to raise awareness of the fragility of public art funding. Based on the massive amount of tweets and Facebook likes that followed, HOMECOMING! can honestly say, "Mission accomplished."
Seedpod by Linda Dee Guy:
It's painting as adventurous, progressive, and eerie as installation art. With swirling primary colors in a geometric, East Asian pattern and anchored by a clump of odd, ripening fruit, "Seedpod" was one of several amazing pieces that were part of Guy's solo exhibit, Omnibus, at TCU's Moudy Gallery.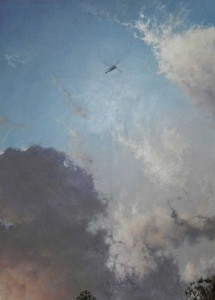 Untitled by J.T. Grant: Just another incredible photorealist painting by the maestro, this one is a flurry of puffy clouds dotted near the center by a helicopter whose spinning blades are, of course, incredibly lifelike. Exhibited at William Campbell Contemporary Art as part of Parables. New Work, his first one-man show in a long time, "Untitled" is subtle but powerful.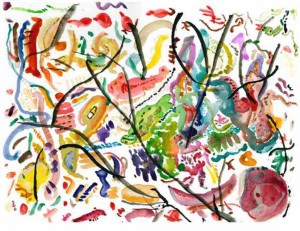 Untitled  by Lois (using her first name only as a courtesy): Like the other seniors who exhibited work as part of Beyond Memory: Paintings by People with Dementia at Gallery 76102, Lois is battling the crippling, debilitating disease. But that hasn't stopped her from being able to create, and the piece she displayed was riotous and beautiful, almost Kandinsky-esque in its soft, squishy geometric poetry.