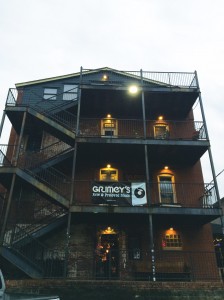 If you ask practical-minded people (parents or spouses, for example), the entire enterprise of trying to make a living playing music sounds ludicrous, about as viable a career as playing slot machines professionally. Even if your musical aspirations don't extend beyond the clubs and bars of your hometown, playing music is an expensive hobby. Used entry-level gear for a guitarist (typically a guitar, cables, a tuner pedal, and an amplifier powerful enough to be heard above drums) ends up being a few hundred bucks. It costs at least twice that much to be a drummer. Acoustic performers or other solo acts have it a little easier. The gear investment is comparatively less. Still, there are a ton of incidental costs that add up, making your creative endeavor something you still pay more for than if your hobby is more sedentary and/or house-bound. Binging on Netflix is way more cost-effective than leaving the house and trying to Live the Dream, in other words.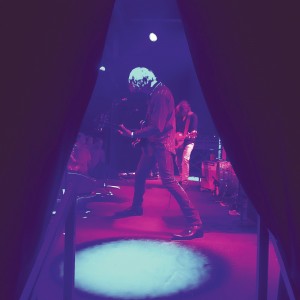 And yet. For many musicians, the dream itself is a living, whether you end up with a mansion and a seat at the Kennedy Center Honors or a box of a couple hundred unsold CDs gathering dust in the garage. Should a muso's dream transcend pretexts about "artistic expression" into the nebulous definition of "trying to make it," taking his or her music on the road is a logical step. Or as logical a step one can make in an effort that's probably doomed to failure.
Does that sound cynical? I certainly hope so, because I, like many of my peers, have been playing this particular game for a long time. I started out wanting to play covers for my friends at a bar in exchange for beers 13 years ago, and I've been driving up and down I-35 (and I-30, I-10, and I-40) since 2005 in the pursuit of the proverbial "golden ring" (the one Sammy Hagar sings about in "Dreams") of supporting myself and paying my bills by playing bass in a band. I don't even want to think about the total financial outlay I've made over the past decade. I'd probably have enough to make a sizeable down payment on a house. Or, better yet, a down payment on one of those boutique hand-crafted bass rigs I see on Instagram and salivate over.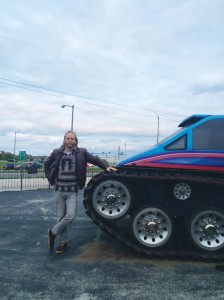 But despite the specter of fiscal common sense looming ominously and responsibly over road trips to possibly sucky, definitely faraway clubs, the notion of being "all about the music" is still a motivating force. You can't truly understand it unless you've been onstage, but even when exterior circumstances (usually personal monetary obligations) are frustrating or worse, the buzz you get from switching on an amp and clanging out a barre chord is undoubtedly better than opening a laptop and scheduling ad placements, or whatever else you're supposed to use a laptop for, in exchange for a salary, benefits, and long-winded quarterly meetings. Being a musician is probably one of the easiest, most gratifying jobs in the world.  Or it can be. You just have to get there first.
 ******
Getting "there," a.k.a. that sweet career spot in which you spend the time in between tours waiting for the checks to roll in, is sort of fun, certainly more so with the distance of hindsight. I would guess that it's more fun when you don't spend a decade trying to make it, but whatever. Some people are simply born to play music, having few other life skills that don't involve a pentatonic scale. When these people toil away in the musical trenches living check-to-check, gig-to-gig, or hand-to-mouth without hitting it big, it's depressing — for every Leon Bridges success story, there are hundreds more that will bum you out if you think about them too long. Because I'm a pessimist, I measure my own musical success by how much my bands cover my monthly financial obligations. If I'm paying more bills from gigs than I am from bartending shifts (or, for that matter, Fort Worth Weekly articles), I feel like I'm doing great. I think that happened last September, but I also found an extra $100 in a coat pocket that month, so who really knows.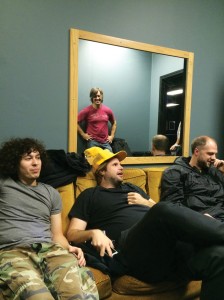 I talked to my friend Cliff Wright about measuring musical success. He thinks touring is a metric in its own right. A founding member of The Orbans and the guy who played bass on Leon Bridges' major label debut album, Coming Home, Wright got his start slapping a five-string for a hugely popular Christian rap-metal band in the late '90s (called Travail, if you're curious and want to embarrass him should you meet him). Now he runs his family's glass business, but much of his teenage and adult life has been spent loading and unloading speaker cabinets from a van. The first thing I asked him was "Do bands need to tour?"
"Not if they're just getting together with their buddies in the garage or happy playing a local club every month or two," he said. "But touring, it's a measurement of momentum. If you can play 300 miles from home and your crowd is bigger the next time you're there, it shows you're making headway."
Sure, other metrics like album sales, YouTube views, Facebook likes, and film or television placements (also known as "synchs") let you know how you're doing. Eventually, he said, "those people are gonna wanna see you play live."
Touring is a "necessary evil," he said, especially for small indie bands.
"You spend a lot of money, and you don't really get it back a lot of times. You can play a club far away a dozen times and never gain any ground, but it's just kind of part of it all. And it's crazy how fast people forget about you. You can't have a good show somewhere and then not come back for six months, because then you're practically starting over."
And then, even if your band has a lot of the integral pieces together (good songs, a captivating image, a reputation for memorable shows, even the financial backing of "industry money"), you're still subject to the vagaries of luck.
"I mean," he said, "how many bands are there where people say, 'In a just world, these guys would be huge'? It really just takes the stars aligning."
 ******