Art Gallery
Critic's choice: Weiler House Fine Art Gallery, 3126 Handley Dr
Working for years as a picture framer at Adobe Art Gallery in the Stockyards, Bill Ryan always harbored a goal to open his own art space one day. Several years ago, he brought us Weiler House. Situated in a two-story frame house built in 1906, which is a work of art in itself, Weiler offers paintings, glass, watercolors, etchings, woodblock prints, jewelry, bronzes, and other items created both locally and nationally.
Visual Artist
Readers' choice: Jay Wilkinson
Critic's choice: Devon Nowlin
Experimental photorealist Nowlin may not win the hearts of many local-yokel collectors, but the next step for someone with this kind of painterly talent and wild imagination is typically up and into big museums with super-serious names. If there's an heir to Fort Worth giant Vernon Fisher, it may be Nowlin.
Photographer
Critic's choice: Loli Kantor
Locally, Kantor may be best remembered for her series of Hip Pocket Theatre actors and sets that hung at the Arlington Museum of Art over a decade ago, but the Fort Worth native who has shown at The Museum of Fine Arts, Houston; the Photography Museum of Lishui, China; and the Lviv National Museum in Ukraine received some New York Times love for her new photobook, Beyond the Forest: Jewish Presence in Eastern Europe, 2004-2012.
Theater Troupe
Readers' choice: Stage West
Critic's choice: Fort Worth Opera
The more you think about it, the more sense it makes. The troupe's compressed season has led to productions of consistently high quality in terms of singing and staging, and its commitment to putting on new works has brought it back from the brink and made it into a vital cultural force in the city. This year's season had everything from an opulent La Traviata to a brutal staging of David T. Little's apocalyptic Dog Days, with an impeccably sung Hamlet thrown in as a bonus.
Male Actor
Critic's choice: Jim Covault, Red
As one of only two actors performing in Stage West's drama about Mark Rothko, it wasn't hard for Covault to own the spotlight. Even so, the troupe's pillar did tremendous work conveying the artist's truculence and brooding over his integrity and his relationship to the world. His unquiet longing for peace of mind was the overwhelming impression left by this production.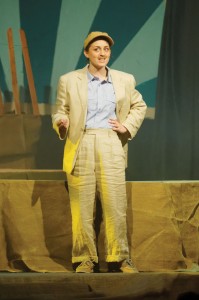 Female Actor
Critic's choice: Erin Hardy, Twelfth Night
In Artes de la Rosa's Brazilian-themed musical adaptation of Shakespeare's comedy, Hardy had the toughest role as the shipwrecked girl disguised as a boy trying to make her way through a strange new world. She not only captured all of the layers of this heroine's deceptions and inner life but also brought the house down with her rendition of Gloria Estefan's "Coming Out of the Dark."
Production Staged by Local Theater
Readers' choice: Big Fish, Casa Mañana
Critic's choice: The Quixotic Days and Errant Nights of the Knight Errant Don Quixote, Amphibian Stage Productions
Brenda Withers' weird, funny, postmodern take on Miguel de Cervantes' novel brought the most ingenious set all year to local theater, so much so that Amphibian Stage Productions had to warn its audience not to take smartphone pictures of the set during the performance. Despite its flaws, this show captured the novel's questing spirit in stark and moving terms.