Bowling Alley/Arcade
Readers' choice: Cowtown Bowling Palace, 4333 River Oaks Blvd
Critic's choice: Barcadia, 816 Matisse Dr
Barcadia's concept is so simple it's brilliant: If boozed-up adults at bars are going to act like children anyway, they might as well relive their misspent youth. The West 7th bar has about a dozen '80s-era video games plus skeeball, pool, and other traditional arcade must-haves. It's just like when you were a kid, except you're not spending 14 hours in your room trying to get to the next level of Asteroids, and you can imbibe openly.
Day Trip
Critic's choice: Jacksboro Highway
Most locals have a tale or two of wild nights spent in a Jacksboro Highway juke joint. The roadway looms large in Fort Worth lore. Also known as Texas 199, the stretch runs northwest through Fort Worth and goes about another 50 miles before ending. Driving it takes you through various small towns and farmland pastures, past a huge sign outside of Springtown that says, "Land of Goshen," and on to Jacksboro, a quaint little town that serves as the highway's namesake. Grab a chicken-fried steak at the Green Frog Restaurant before heading back to Fort Worth.
Green Space
Critic's choice: Japanese Garden, 3300 Japanese Garden Ln
When you need some instant tranquility in your life, nothing beats a $5 visit to the 7.5-acre Japanese Garden in the Fort Worth Botanic Garden. Your troubles vanish the minute you begin strolling the cobblestoned path down to the koi pond, home to hundreds of these huge ornamental varieties of carp. The garden is lush, the design makes it feel even larger than it is, and peace pervades.
Urban Redevelopment/Smart Growth
Critic's choice: Six Points
Six Points marked its 10th anniversary as a city-designated urban village this year, and while there are still a few reactionary neighbors who have done their utmost to block anything new or at least exciting, signs of realizing the economic and cultural promise hinted at a decade ago are showing like bluebonnets out of cracks of an abandoned parking lot. For one thing, the 'hood overlaps with the Riverside Arts District, itself a creative force in the community, and additions like Born Late Records and Tattoos are giving the area the counter-culture vibe that attracts young people. That it is sitting on a $1.5 million federal improvement grant doesn't hurt either.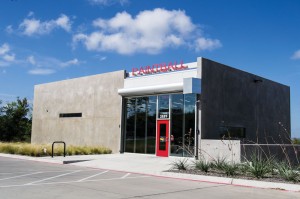 Example of New Architecture
Critic's choice: Fun on the Run Paintball Park, 2621 Roberts Cut Off Rd
When the Creamer family asked Fort Worth architect Bart Shaw to design the centerpiece for their popular paintball complex, they wanted him to build something that was a cut above the pre-fab sheds that are the industry standard. The result of their collaboration won a 2014 Citation Award from the Fort Worth chapter of the American Institute of Architects. The two-story tilt-panel concrete structure has retail space on the top floor and a bunker-like staging area below. Both elegant and utilitarian, Shaw's design uses industrial materials to create a unique and memorable sense of place, proving that good design is good business.
Example of Public Architecture
Critic's choice: Tom Vandergriff Civil Courts Building, 100 N Calhoun St
This new structure manages to pull off the tricky balancing act of embracing both the contemporary and the historic. The Tom Vandergriff Civil Courts Building's gracefully curved front facade and clean styling look modern, but its red brick and pink granite pay respect to downtown's vintage fabric. The building defers to the landmark Tarrant County Courthouse to the west while establishing its own identity: neither too staid nor too flashy. As a bonus, the construction of the new building meant the demolition of the old, which rid downtown of one of its ugliest structures. Its only good parts –– a series of sculptures of the angels of justice –– were removed and installed on the new building. Wins all around.
Rebirth/Relocation/Reopening
Critic's choice: Taco Heads, 119 S Main St
Sarah Castillo's outstanding food truck has spawned a new brick-and-mortar location, in one of the fastest growing areas in town. By putting down stakes in a revitalized warehouse smack in the middle of the South Main Street area, Taco Heads is the first eatery to open in the blossoming neighborhood just south of downtown and not far from the bustling Fairmount.
Place to Skateboard
Critic's choice: Roanoke Skate Park
Along with its interesting culinary claim –– "Unique Dining Capital of Texas" –– Roanoke also boasts a sophisticated concrete skate park, featuring some 20,000 square feet of carve-ready bowls, rails, steps, and ramps. As an added bonus, the publically/privately funded skate park is easy on the eyes –– some of that concrete topography could pass for modern outdoor sculpture, though the tricks and lines performed by local skaters are the real art.
Place to Take Your Kids
Readers' choice: Fort Worth Zoo, 1989 Colonial Pkwy
Critic's choice: Flight Deck Trampoline Park, 7751 Scott St
Who doesn't love a trampoline? Why settle for one when you can walk into a sea of them? Flight Deck will wear your kids out and get them to bed early. Hundreds of connected trampolines provide hours of flight for children and even the big kid inside all parents. Go for an afternoon with the family or reserve a space for a party.