Fort Worth Weekly Homebrew Throwdown Reflections
Thank you to all the homebrewers who entered, breweries that came to serve beer, panelists for the Q&A sessions, and, most importantly, the craft beers fans who came out to the Fort Worth Weekly event last Sunday. We tallied more than 400 folks who came to sample local beers and cheer on the competitors. Speaking of competitors, the winners are Clifton Ellis (first place) for his "IB-U-tiful" American IPA, Mike Treadway (second place) for his "You Win or You Die" stout, and Shane Smith (third place) for his "Dublin Dry Stout" Irish Stout. You can count on an even bigger and better Homebrew Throwdown next year as part of North Texas Beer Week.
Rabbit Hole Brewing
Episode Two — Crazy Water and Hockey
Last week, I told readers about Rabbit Hole's mobile canning collaboration with Armadillo Mobile Canning that allows the Justin-based brewery to reach thousands more customers. This week, I am telling a bit of the origin story behind Rabbit Hole Brewing and highlighting its beers.
The first questions I had for Rabbit Hole head brewer Matt Morris was about the role Mike Modano played in the business. The image of the retired center for the Dallas Stars is found on the brewery's 561 Kölsch-style beer.
The short answer, Morris said, is that Modano likes their beer.
The long answer is that Modano, the three founders of Rabbit Hole Brewing, and a company called Crazy Water share an interesting history. Mineral Wells-based Crazy Water sells bottled water from local wells. The name is a relic of a past quality of the water, which mysteriously calmed people suffering from mental illness. It turns out that the water had trace amounts of lithium in it. Don't worry, it no longer does, but the name stuck.
Modano has been a fan of the stuff for years. During his career, the product was always in his water bottle. A few years back, Crazy Water directors approached Morris to make a 20-gallon batch of beer using the company's water. Morris was homebrewing at that time. When the beer came out, Modano, who was an investor in Crazy Water, was given a few bottles of the batch. He loved it
Word got back to Morris and Rabbit Hole co-founder Tom Anderson, who were thrilled to hear the celebrity really dug their brew. Anderson and Morris asked Modano which style of beer he enjoyed the most and made a special batch in honor of the all-star's retirement in 2011. That gesture only solidified the hockey player's appreciation for the duo's beer. When Anderson, Morris, and Laron Cheek were preparing to opening Rabbit Hole Brewing, Modano agreed to be an investor. His favorite beer at the time was Rabbit Hole's Kölsch, so the athlete is now the face spokesperson for that beer.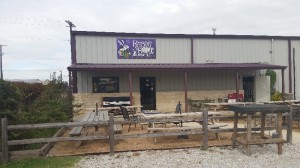 As for suds, Rabbit Hole offers three year-round beers in addition to rotating seasonals and one-offs.
"The Kölsch uses English hops and authentic German yeast strains," Morris said. "Rapture Fusion Brown ale is probably our most celebrated beer. It won silver at the recent Great American Beer Festival. It's an English beer with American attitude. We use American yeast and a combo of English and American hops. Third is the 10/6 English Pale Ale. We use English hops across the board and all English malts."
Seasonally released Off With Your Red is an aggressively hopped red IPA with a substantial malt backbone. And for all you hop-heads out there, Rude Jester is an American-Style IPA with 72 IBU's.
Look out a special release in December. Hole Lang Syne is a tribute to New Year's Eve.
"It's going to be a Belgian Golden Strong with 10.5 percent ABV," Morris said. There will be hints of  blackberry and raspberry too. Christmas gets plenty of billing and overshadows New Year's Eve. Our New Year's beer needed to be something big, fruity, and special. It's a celebration time of year."
Hole Lang Syne will be available in bottles December 12 in specialty stores and gas stations around Justin.
Anderson is the creative genius behind all these recipes. He joked that coming up with new ideas takes a lot of "liquor and guessing."
"I liken it to being a chef," he said. "You have to keep practicing and not be afraid to make mistakes. Sometimes something that sounds like a good idea will come out really bad. And sometimes you come up with a crazy idea that works out."
In the end, a brewer needs to humble, he said, and realize classic styles are classic for a reason. Finding the right balance between experimentation and reverence for time-tested recipes is part of the art of making great beer.
Rabbit Hole Brewing, 608 Topeka Ave, Justin.
Tours & Tastings are 12-4pm every Saturday.
On Tap this Week:
The Brass Tap Beer Bar.
This Friday, Lone Star 92.5 FM, will be broadcasting from the downtown craft beer gastrpub. Brass Tap is offering 20 percent off draught beers that day from 3 to 7pm. And there will be a special selection of $3 beers.
On Tap for next week is an announcement of our Instagram contest that was done in collaboration with The Collective Brewing Company.