Astrid is a young mother of a 2-year-old from Guatemala who has been in the Dilley detention center for 24 days. In a recent phone interview conducted in Spanish, she explained her circumstances.
"I was having problems with a gang there," she said. "Early this year, they started demanding money from me. They thought my father, who lives in Boston, had money, and they demanded money. We didn't really have it. I went to the police and explained about the gang, but the police didn't help us. Then, on April 4, the gang said they would keep harassing me. In Guatemala, they don't talk a lot. They tell you what you will do, and you do it or pay the price. They would simply kill us. My family, me, my child.
"So I left on April 6 with my baby. I got to the [Rio Grande River] and crossed it with a coyote. Then I got caught, and then I told the officers I needed asylum."
She was sent to the Dilley facility, where she awaits her credible fear interview.
Astrid said that the conditions in Dilley are not good: "My baby has had diarrhea for 15 days now and fever for eight days. There is no one to help him. They just tell me to give him water, but the water just makes it worse."
She blames the diarrhea on the food: "The food is not good. It's nothing that we're accustomed to eating. For me, it's OK, but not for my son. It's older than what we would eat in Guatemala. Not really bad, but it smells a little. All of us here think it's not good when we talk in a group. For the mothers, it's OK. We can adapt. But the kids all have diarrhea."
Though no date has been set for Astrid's credible fear interview –– "to see if I am a real refugee" –– she is hopeful that she will be believed.
"If I go back to Guatemala, they will kill me and my baby," she said. "If I get to stay here, I will go to Boston, where my father and my brothers are and live there."
While neither CCA nor the GEO Group would respond to my questions, Nina Pruneda, an ICE spokesperson, denied there is an issue with the food at Dilley.
"As part of ICE's commitment," Pruneda wrote in response to an e-mail I sent her, "residents at our family facilities are provided with three meals per day, which are approved by a licensed dietician and are culturally sensitive."
Pruneda also noted that, "Additional items are available for purchase from the commissary, and microwaves are also available for heating food."
Ian Philabaum contradicts Pruneda's assessment. As an advocacy program coordinator for the CARA Family Detention Pro Bono Project, an umbrella group that includes four nonprofits all working to protect the rights of refugees, he works at the Dilley facility.
"The women here, like Astrid, are treated like incarcerated second class citizens," Philabaum said. "They've got long wait times for medicines, and many are just not available. The food is not good. A lot of these refugee seekers travel across several countries to get here, and a lot of them are raped along the way. So we need a gynecologist onsite, but there is not one. The women have to be treated at an offsite hospital. There are over 1,000 people in this facility, and just under half are mothers. Why don't they have a doctor?"
Pruneda denied that charge as well. ICE, she wrote, "takes very seriously the health, safety, and welfare of those in our care. The facility in Dilley, Texas, is staffed with medical and mental health care providers who monitor, diagnose, and treat residents at the facility. ICE also uses outside, private medical/mental health care service providers as needed. The agency is committed to ensuring that all individuals housed in our family residential centers receive timely and appropriate medical screenings and treatment.
Philabaum is also upset that a childcare license might be granted to Dilley –– pending the outcome of a lawsuit filed by Grassroots Leadership and others to strip Karnes' provisional childcare license.
"There is a nursery here that is so small," Philabaum said, "and so understaffed that we are regularly told by women that they are not allowed to drop their children off so that they can get legal counsel for their credible fear interviews. That's outrageous. That means they have their sick, crying children in their laps who are forced to listen to the horror story that the mother is telling, which is why she is fleeing her country of origin. That is traumatic to both the mother and the child [or children] and detrimental to their legal proceedings because the mother is liable to hold back on some of the worst abuses she suffered in order to spare her child from hearing it."
Mohammad Abdollahi, RAICES' advocacy director who works at the Karnes detention center, shares Philabaum's opinion of the credible fear interview: "We've got a woman now whose brother-in-law was killed by a gang in El Salvador. The gang then raped her and told her that they'd go after her 12-year-old daughter if she told anyone, particularly her husband."
The brother-in-law was killed in January, quickly followed by the gang rape and regular harassment of the daughter. "Then, in March, the gang gang-raped her again, and at that point she took her daughter and came to the U.S."
Abdollahi said that she arrived at the point of entry on March 24 and explained to the border patrol officers that she needed asylum. When she explained it to them, Abdollahi said the border patrol told her that her problem was not America's problem but El Salvador's.
"The next person in uniform she saw was an asylum officer during her credible fear interview, and she didn't mention the rapes or threats to her daughter because she didn't think the U.S. cared about that — and she was not going to discuss that in front of her daughter, who was with her during the interview — and so she got a negative interview response because she didn't mention that. So we asked for a new interview at the asylum office in Houston, and she was turned down. We're asking for another interview based on her daughter being with her during the first one and because of what border patrol told her."
The woman's story got worse while she was in Karnes. Another woman deposited into the small eight-bed dormitory sexually molested the 12-year-old daughter in the shower in mid-April.
There is no resolution at this point, Abdollahi said: "She's no longer sharing the room with the same woman, but she is sharing with another mom. The daughter is terrified and traumatized and will not leave her mom's side. She sleeps in her mom's bed, very afraid that something bad will happen to her again."
Abdollahi said that RAICES, through CARA, of which it is a part, has filed requests for a second interview with several agencies to stall deportation: "If this woman is deported, she'll be killed. It's as simple as that."
 ******
Before the Hutto family detention center opened, and in the years between its closing and the opening of the Karnes and Dilley facilities, a person arriving at the southern border of the United States was generally "given a notice to appear at a detention court and then told to check in with an ICE worker and let go," said Bob Libal, executive director of Grassroots Leadership. "They are not generally considered a flight risk, and they frequently go to sponsors or family already living in the U.S. When they appear for their hearing, they have their credible fear interview, and if they pass that, their request for asylum moves through the system. If they don't pass, they can request a second interview, or they are scheduled for deportation."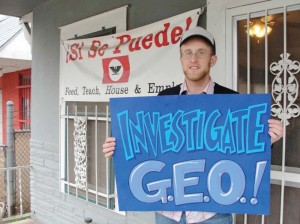 These days, when the women at Karnes and Dilley are released, many are given ankle monitors rather than simply told to report for their trial date. The trial, which generally lasts just a day, is the final adjudication for being granted or denied refugee status. In the time between their release from family detention and their trial, many of the women are told to report regularly to either CCA or GEO Group, depending on the facility in which the women were held.
ICE's Pruneda wrote that "family residential centers are an effective and humane alternative for maintaining family unity as families go through immigration proceedings or await return to their home countries."
Libal doesn't buy that.
"There is an arbitrariness to who gets detained," he said. "I think that they fill the detention centers, and when those beds are all taken, the other asylum seekers are simply told when to appear for their credible fear interview."
Those who are simply told to appear can find assistance with a number of issues at volunteer stations that dot the U.S. border at points of entry. Some are run by the Catholic and Methodist churches, others by nonsectarian organizations whose members want to make certain that asylum seekers have a place to go and can secure a lawyer to help them through the process.
But despite the fact that many women with children are simply allowed to enter the country and are expected to report for their credible fear interview and for periodic check-ins with ICE, Pruneda insists that housing families in detention centers is vital to protecting the security of our nation: "Family residential centers are an important part of the U.S. government's comprehensive response to the unprecedented spike in illegal migration."
Pruneda did not discuss the fact that once a person requests asylum, he or she is no longer an illegal immigrant.
"Look," Libal said, "this policy is enormously profitable for CCA and GEO. And they don't want to lose that cash cow. They've even joined the lawsuit we filed against Texas — filing amicus briefs on behalf of Texas — to push for childcare licenses in order to stay open."
Grassroots Leadership and others sued Texas earlier this month, claiming the state had no authority to issue a childcare license to GEO Group's Karnes family detention facility and has no authority to issue one to Dilley or any other detention center. A hearing on that lawsuit will take place on June 1.
Libal is not wrong in his assessment that the family detention centers are cash cows for the private prison companies: In a May 4, 2016, press release, CCA CEO Damon Hininger noted that his company's "financial performance was driven primarily by stronger than anticipated demand from our federal partners, most notably Immigration and Customs Enforcement. … The increase in revenue was primarily attributable to a contract at the South Texas Family Residential Center [Dilley], which commenced during the fourth quarter of 2014.  This facility generated approximately $70.8 million in revenue during the first quarter of 2016, compared with $36.0 million in the first quarter of 2015, as the facility was still under construction in the prior year quarter."
An April 28, 2016, conference call from GEO Group to shareholders, published on the Seeking Alpha investor website, noted that "the activation of the 626-bed expansion of the Karnes residential center in December 2015" was an important reason the company's "revenues for the first quarter of 2016 increased to approximately $510 million from $427 million a year ago."
"What the government should do," said Libal, "is ensure that these asylum-seeking families have good legal representation, and if we spent some of the money we're spending on family detention on good representation, that would go a long way to creating an orderly system and a just system. As it is, a lot of these people don't speak English. Some are indigenous-speaking people from Guatemala who don't even speak Spanish or don't speak it well, and to expect these folks to navigate the very difficult asylum system is just not right."
As it stands, he said, the system is broken: "To have someone deported to their death should not happen over a clerical error or because a woman couldn't go into the details of a traumatic experience in front of her children."
H.R. couldn't agree more. "I do not want to leave this sanctuary church and get deported so that my son and I die. That's not right."