New Brewery Happenings
When are Fort Worth's next craft beer breweries coming online? As in, when are Wild Acre Brewing Company and HopFusion Ale Works open for business? Last week, I spoke with Wild Acre founder John Pritchett. You can read that article here. This week, we have an update from HopFusion co-founder Macy Moore.
"We are looking to open the doors late July," he said. "The taproom itself is almost complete, along with [related] construction. Our production system has been shipped and [our boiler and fermentors] are expected soon. We have a second shipment coming in late June of additional fermentors."
If you're curious to learn more about HopFusion Ale Works, I profiled the place a few months ago.
Acre Distillery's Craft Beer Roots
There's a new distillery downtown  — Acre Distillery (1309 Calhoun St.) — with deep craft beer roots. If the names Tony Formby and JB Flowers ring a bell then you know what I mean. If not, here's a refresher.
In 2006, Rahr & Sons Brewing Company was in need of an investor. Canadian native Formby was heading an etched glass signage company at the time when he met Rahr & Sons founder Fritz Rahr. Rahr purchased several signs and mentioned he was looking for someone to buoy the brewery's finances.
Formby agreed to help, and he brought on Flowers as head brewer. Over the next few years, Formby increased Rahr & Sons' brewing capacity and pioneered the now wildly popular taproom tours.
Formby and Flowers are taking that experience into the craft spirits world, making small batch bourbon, gin, vodka, and whiskey. All the cocktail mixes are made in-house too. Most days and nights you can catch Formby and Flowers at Acre Distillery. Don't hesitate to chat them up about their Rahr days and the similarities they now find between brewing and distilling.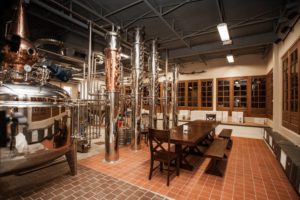 On Tap this Week:
Untapped Music & Beer Festival
Untapped comes to Fort Worth on Saturday, June 11, at Panther Island Pavilion (395 Purcey Street, 817-698-0700). Doors open at 3pm, and in addition to performances by Built to Spill, Bummer Vacation, White Reaper, and more, the event features 80 breweries and 300 beers. You can view the beer list here and purchase tickets here. Cheers.